The prolific, liquids-rich Permian Basin and Eagle Ford plays have attracted more than a dozen midstream companies interested in meeting the growing need for natural gas processing plants, fractionators and natural gas liquids pipelines. Some of the larger players have assembled broad-based portfolios of assets, while others have focused on more stand-alone NGL pipeline or gas processing investments. Today we begin wrapping up our series on NGL-related assets in two of the nation's most important shale plays.
NGL production in the Permian and Eagle Ford has been rising even more quickly than predicted a year or two ago. As we said in Episode 1 of our series, that rapid growth has put renewed pressure on midstream companies to increase the gas processing and NGL take-away capacity from the two prolific "triple-plays"— favored by producers for their ability to generate large volumes of crude oil, gas and NGLs. In the next four episodes, we considered the NGL-related assets of some of the larger players. In Episode 2, we reviewed Enterprise Products Partners' (EPD) infrastructure in the Permian, and in Episode 3 we discussed EPD's assets in the Eagle Ford and DCP Midstream's assets in the Permian and the Eagle Ford. In Episode 4, we looked at Energy Transfer, and in Episode 5 we considered Targa Resources, which is in the process of acquiring Atlas Pipeline. This time, in our next-to-last episode of the series, we look at nine other companies that own NGL-related assets in the two plays.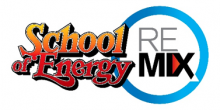 It's a REMIX! SCHOOL OF ENERGY CALGARY!
RBN's School of Energy has been reworked, restructured and reorganized to make the conference even better - more content, more models and more labs.
Calgary - March 30 - April 1, 2015
ONEOK Partners
ONEOK Partners is a master limited partnership (MLP – see Masters of the Midstream for more on MLP's) controlled by ONEOK Inc. In November 2014 ONEOK Partners purchased (from Chevron) two major pipeline assets that move Y-grade NGLs to fractionation plants in Mont Belvieu, TX. One is an 80% ownership interest in the West Texas LPG Pipeline, which includes NGL gathering pipelines in the Permian Basin (and in the Barnett Shale) and a pipeline from the Delaware, Midland and Central areas of the Permian (through the Barnett) to Mont Belvieu (dark green lines in Figure #1); Martin Midstream Partners owns the other 20% of the West Texas LNG Pipeline.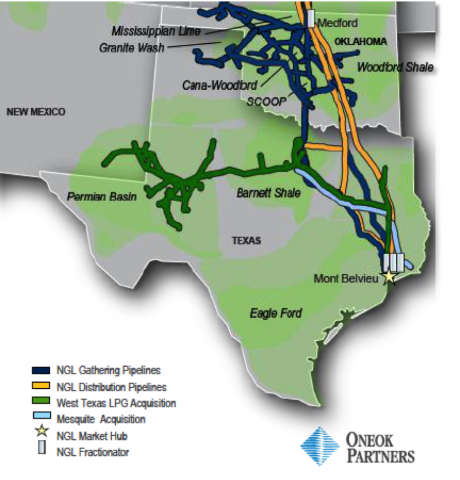 Figure #1; Source: ONEOK Partners (Click to Enlarge) 
ONEOK's other new pipeline asset is the Mesquite NGL Pipeline from the Barnett to Mont Belvieu (light blue line). Taken together, the West Texas and Mesquite assets include 2,600 miles of NGL pipeline, and add about 230 Mb/d of takeaway capacity to ONEOK's existing NGL pipeline network. ONEOK also owns two 75 Mb/d fractionators outright and an 80% stake in a third 160 Mb/d fractionator as well as a 40 Mb/d ethane/propane splitter in Mont Belvieu. The company has indicated it may expand its West Texas LPG Pipeline and add more fractionation capacity in Mont Belvieu. ONEOK does not own any natural gas processing plants in the Permian or the Eagle Ford.
To access the remainder of I'll Take You There—Other Key NGL Players in the Permian and Eagle Ford you must be logged as a RBN Backstage Pass™ subscriber.
Full access to the RBN Energy blog archive which includes any posting more than 5 days old is available only to RBN Backstage Pass™ subscribers. In addition to blog archive access, RBN Backstage Pass™ resources include Drill-Down Reports, Spotlight Reports, Spotcheck Indicators, Market Fundamentals Webcasts, Get-Togethers and more. If you have already purchased a subscription, be sure you are logged in For additional help or information, contact us at info@rbnenergy.com or 888-613-8874.