Production of natural gas liquids in the liquids-rich Permian Basin and Eagle Ford has been rising even more quickly than had been predicted a year or two ago. That's put renewed pressure on midstream companies to further increase the natural gas processing and NGL take-away capacity from the two prolific "triple-plays"—which are favored by producers for their ability to generate large volumes of crude oil and natural gas as well as NGLs. Assessing the existing and planned NGL-related infrastructure of the Permian and the Eagle Ford is the focus of our new series, "I'll Take You There". In our opening episode, we consider what's driving NGL production growth—and the need for new processing and pipeline capacity--in two of the most important US production regions.
In today's topsy-turvy energy world, producers are understandably striving to reduce costs, minimize risk, and to focus on plays that give them the best rates of return. There are few, if any, better hedges against volatility than production diversity: a well's ability to produce significant volumes of crude, gas and NGLs. In so-called "triple-window" plays like the West Texas Permian or the South Texas Eagle Ford basins, producers can roll with the ups and downs of crude, gas and NGL prices better than a producer in a single-commodity play. The Permian and Eagle Ford are unusual (though not quite unique) in their complex (and often challenging) geologic layers, and, with horizontal drilling and vastly improved completion techniques, their ability to produce very healthy volumes of crude, gas and NGLs.  Only a few years ago, many underestimated the potential of the two regions. Now, it's become clear that NGL production in the Permian and the Eagle Ford—which currently totals 1.2 MMb/d, up from 0.5 MMb/d four years ago—has only just begun its rise. By this time next year, Permian/Eagle Ford NGL production could exceed 1.3 MMb/d; by late 2017 it may approach 1.5 MMb/d, and by late 2019,  top 1.7 MMb/d (see Figure #1). That's a heady rise, and requires a lot of new-build gas processing plants, NGL pipelines and other infrastructure.  (Of course, if lower crude prices over a long period of time result in a lot less drilling, than the numbers could come in lower.  But for now, let's stick with this outlook.)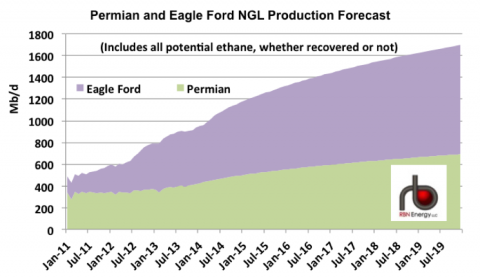 Figure #1
 Source: RBN Energy (Click to Enlarge)
As Figure #1 shows, NGL production in the Permian (light green shaded area) started off from a higher base (the Permian has been producing oil and gas for nearly a century) and has been rising—and will continue rising—at a more gradual (but consistent) rate. By late 2019, Permian NGL production could be almost 700 Mb/d, double where it stood at the start of 2011. NGL production in the Eagle Ford (lavender shaded area), meanwhile, already has increased by 340% from early 2011 to now (150 Mb/d to 670 Mb/d), and could rise by half again (to just over 1 MMb/d) over the next five years.