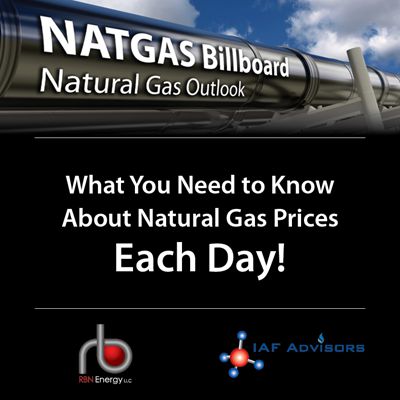 Natural gas markets are in turmoil.  Prices are being buffeted by surplus production, weather and other demand factors, inventories, imports and exports.  Do you need to understand how all these factors fit together in each day's natural gas market?  Your answer is Natgas Billboard, a daily, early morning email and report that provides an up-to-the-minute update on our view of the natural gas market outlook, including storage injections/withdrawals and price.
RBN has teamed up with Kyle Cooper of IAF Advisors to integrate the latest iterations of all the raw fundamental data each morning, including the weather forecast, pipeline flow data, storage and price data, and give our view on the net impact of it all on storage and price. Our aim is to deliver the report each morning by about 8 am CST.
The flagship feature of the report is a monthly price forecast going seven months forward. We will publish a new forecast at least once a week or so based on what we believe all our fundamental data reflects. The purpose of the price forecast is not to say that's where price will end up. That changes continuously. Rather, the price forecast bakes in all the fundamental factors and is meant to reflect/interpret what the total package tells us about market direction at a point in time. The report also includes a daily write-up and data summary that highlights our thought process and the rationale behind our price forecast.
Also Available: The Daily NATGAS Billboard Data File (XLS)
The Daily NATGAS Billboard Data File allows users to easily access the information supporting the NATGAS Billboard report to make better data models and more informed decisions. The Data File not only offers current and historical volumes shown in the NATGAS Billboard Report's Supply & Demand tables, but also includes the temperature and demand details behind our 4-6-week forecast!
More details about the Daily NATGAS Billboard Data File:
Updated and released each business day
Daily History dates back to Jan 1, 2010
4-6-week rolling forecast
15-day daily weather and demand forecasts
Similar to the tables in the NATGAS Billboard report, the data file is comprised of four sections; Supply, US Demand, Total Demand, and Implied US Storage. The Total Supply is made up of Production, Canadian Imports, and LNG Sendout. The US Demand is made up of Power Burn, Res/Comm, and Industrial. Total Demand is the sum of Mexican Exports, LNG Exports plus US Demand. The Implied Storage is merely Total Supply minus Total Demand. Finally, on a separate tab we provide the weather–modeled demand outlook, based on a 15-day temperature forecast.
This add-on subscription is only available with an annual Subscription to the Daily NATGAS Billboard PDF report.
---
For additional information about RBN Energy's Natgas Billboard, please complete the form below.