According to the Energy Information Administration (EIA), liquids production from the Utica shale in Ohio (identified as crude oil but more likely all lease condensate) has more than trebled since January 2014 from 19 Mb/d to a projected 64 Mb/d in May 2015. Regional production of plant condensate from natural gas processing has also increased with the build out of gas processing capacity in the Utica and nearby Marcellus plays and could reach 50 Mb/d by the end of 2015. Midstream companies have been busy developing infrastructure to get this condensate to market. Today we look at developing infrastructure and markets for Utica condensate.
The latest EIA monthly drilling productivity report (DPR) shows crude (condensate) production in the Utica increased rapidly in 2014 continuing into 2015. The DPR report uses estimates of new rig productivity and decline rates on old wells together with drilling activity to project near term production levels (see Every Rig You Take).  The chart in Figure #1 shows DPR Utica crude production estimates (blue shaded area against the left axis) increasing from an average of less than 12 Mb/d between 2011 and 2013 to an average 30 Mb/d in 2014 and a forecast 59 Mb/d for 2015 through May. As we have seen in many U.S. shale plays over the past 6 months, production has continued to increase this year even as the number of drilling rigs has declined in the wake of lower crude prices (red line, right axis). The recent surge in Utica production has been in part due to producers completing wells already drilled and waiting on the build out of processing infrastructure to handle natural gas liquids (NGLs) produced alongside condensate. We detailed the massive amount of gas processing and fractionation infrastructure coming online in the Utica and Marcellus in our recent "Join Together With Demand" series and Drill Down report. Plant condensate production from regional processing plants could reach 50 Mb/d by the end of 2015. Even if lease and plant production don't continue to increase at the blazing pace seen since the start of 2014, there will still be significant volumes of condensate looking for markets in the coming years.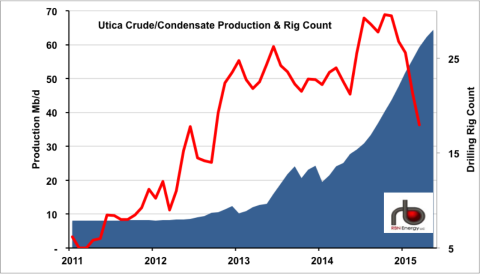 Figure #1; Source: EIA, RBN Energy (Click to Enlarge)
Our Join Together series dealt primarily with the challenges of processing and delivering natural gas liquids (NGLs) to market – including plant condensate. Lease condensate is produced at the wellhead and plant condensates are produced at various stages of gas processing – as part of the raw liquids stream separated from dry gas at gas processing plants as mixed NGLs (Y-grade), and ultimately as the output from fractionation of Y-grade.  (see Like A Box of Chocolates – The Condensate Dilemma). Both lease and plant condensate have similar end uses and in the Utica at least, they often share the same takeaway infrastructure. This blog describes growing midstream infrastructure being developed to deliver condensate to refineries – in the Ohio and Midwest region.
FUNDAMENTALS WEBCAST TODAY !!

RBN Energy's first 2015 Fundamentals Webcast for Backstage Pass subscribers has been scheduled for Wednesday, May 6th at 2:30pm central time. In this session, Rusty Braziel's presentation will examine the impact of low crude oil prices on oil, gas and NGL production.
The largest refiner in the Utica region is Marathon Petroleum Company (MPC). We first described proposals by their logistics affiliate MPLX to build one or more pipelines in central Ohio to deliver lease and plant condensate to area refineries in November 2013 (see Whole Lotta Splittin' Going' On Part 1 and Part 2). MPLX has just completed a successful binding Open Season for its proposed 50 mile up-to 180 Mb/d Cornerstone pipeline. The diagram in Figure #2 shows the MPLX proposed pipeline and associated projects being considered. The Cornerstone pipeline (red dashed line in the inset box) will initially connect to the MarkWest condensate stabilization facility at Cadiz and the UEO Midstream fractionator at Scio, OH and will run close to a UEO Midstream gas processing facility at Leesville, OH. From there Cornerstone will connect to the 90 Mb/d MPC refinery at Canton, OH. MPLX could also extend the Cornerstone project to connect to the MarkWest Hopedale fractionator and to deliver condensate and natural gasoline (as well as possibly butane) further west to refineries at Lima (orange dashed lines on the map) and connecting pipelines to Toledo and Michigan feeding other Midwest refineries. Extending those connections further west from Lima and north to Hammond, IL (solid green lines on the map) would also allow condensate to be shipped to Canada via the Enbridge Southern Lights and Kinder Morgan Cochin pipelines (see Parallel Lines U.S. Supplies). MPLX also delivers condensate by truck (potentially in the future by pipeline) to a 60 Mb/d barge terminal at Wellsville, OH, from where it can be delivered 260 miles down the Ohio River to their 242 Mb/d Catlettsburg, KY refinery.
Join Backstage Pass to Read Full Article