Canadian production of diluent range light hydrocarbon materials such as natural gasoline and condensate are not currently meeting demand from the oil sands region. Diluent is used to reduce the viscosity of heavy Canadian crude so that it can flow to market in pipelines. Diluent supplies required to supplement Canada's domestic output are nearly all imported from the U.S. via two pipelines that originate in the Midwest. Those pipelines are mostly supplied with diluent sourced from the Gulf Coast. Today we look at how imported diluent gets to Western Canada.
The first episode in this series (see The Diluent Trail Across Canada – Introduction) provided an overview of current and expected demand for diluent range materials for use by oil producers in the Western Canadian Sedimentary Basin (WCSB). The diluent is blended with heavy bitumen and heavy conventional crude to reduce its viscosity enough to flow to market in pipelines. We covered the range of diluent materials used by WCSB producers including natural gasoline and synthetic crude oil. Total Canadian demand for diluent in 2014 is expected to average 380 Mb/d – meaning that with 160 Mb/d of local supply about 220 Mb/d will be imported – mostly from the U.S. By 2019 that import requirement number will more than double to 485 Mb/d (assuming that Canadian domestic production doesn't increase dramatically – which it might.). This series details the distribution infrastructure being built out to deliver increasing quantities of diluent to production locations in the WCSB. In this episode we recap pipeline diluent routes from the U.S. to Western Canada.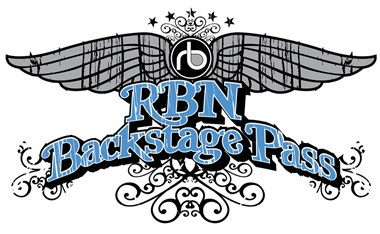 Houston, We Have a Problem
An Oil Storage Shortfall on the Horizon
We have released our tenth Drill-Down report for Backstage Pass subscribers examining the adequacy of crude storage in the Houston area, including a tabulation of major storage facilities in the region. More information about Houston We Have A Problem here.
The first and most significant pipeline system delivering diluent to Western Canada from the U.S. is the Enbridge Southern Lights that came online in July 2010 (see map in Figure #1). Southern Lights runs from Manhattan, IL to Enbridge's Strathcona County Terminal in Edmonton, AB. The pipeline consists of new construction from Manhattan to Clearbrook, IL and the reversal of Enbridge's Line 13 from Clearbrook to Edmonton – following the route of the Enbridge Mainline (for more about the Enbridge pipeline systems see our Take a Pipe On The East Side series). Southern Lights delivers up to 180 Mb/d of pipeline quality condensate to terminals at Kerrobert, Saskatchewan and Hardisty, AB as well as Edmonton. We will cover condensate quality issues later in this series but for now note that Enbridge only ship diluent materials on Southern Lights that meet their "CRW" condensate specification and that those specs are closer to natural gasoline in quality than to field or lease condensate, (which has not been treated to remove more volatile components). Enbridge is in the process of expanding Southern Lights to 275 Mb/d in late 2016 assuming approvals and permits.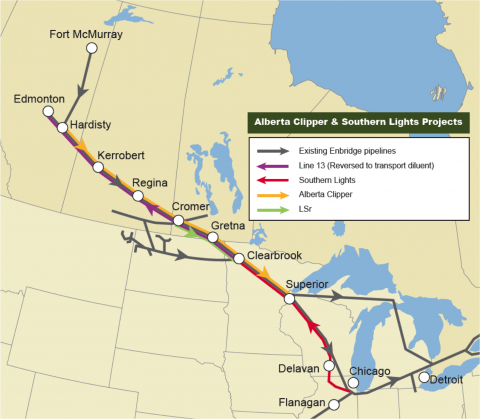 Figure #1
Source: Enbridge (Click to Enlarge)
The Southern Lights delivery point in Edmonton is the crude oil origination point of Enbridge's massive Mainline pipeline that ultimately delivers 2.6 MMb/d of light and heavy crude to the U.S. But Southern Lights condensate volumes are headed the other way – back out into the production regions north of Edmonton. They get there via the Enbridge regional oil sands pipeline system that supplies diluent to and delivers diluted bitumen (dilbit) from, a number of oil sands projects north of Edmonton in the Fort McMurray region. We will describe these in more detail later in the series. Most of the current flow of Southern Lights condensate appears to be routed north from Hardisty before it gets to Edmonton. The Enbridge terminal at Edmonton receives diluent from other local suppliers in addition to Southern Lights.
To access the remainder of Parallel Lines - The Diluent Trail Across Canada Part 2 - U.S. Supplies you must be logged as a RBN Backstage Pass™ subscriber.
Full access to the RBN Energy blog archive which includes any posting more than 5 days old is available only to RBN Backstage Pass™ subscribers. In addition to blog archive access, RBN Backstage Pass™ resources include Drill-Down Reports, Spotlight Reports, Spotcheck Indicators, Market Fundamentals Webcasts, Get-Togethers and more. If you have already purchased a subscription, be sure you are logged in For additional help or information, contact us at info@rbnenergy.com or 888-613-8874.