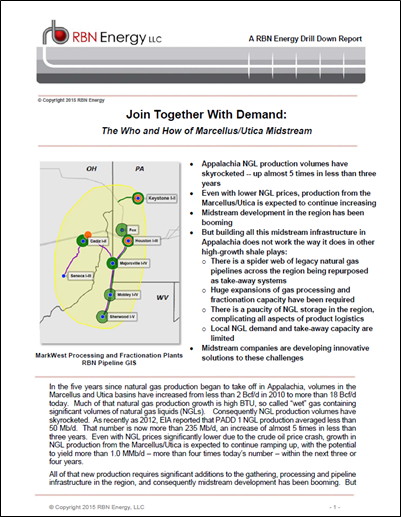 In the five years since natural gas production began to take off in Appalachia, volumes in the Marcellus and Utica basins have increased from less than 2 Bcf/d in 2010 to more than 18 Bcf/d today. Much of that natural gas production growth is high BTU, so called "wet" gas containing significant volumes of natural gas liquids (NGLs). Consequently NGL production volumes have skyrocketed.
All of that new production requires significant additions to the gathering, processing and pipeline infrastructure in the region, and consequently midstream development has been booming. But building all this midstream infrastructure in Appalachia does not work the way it does in other high-growth shale plays, particularly in terms of natural gas take-away pipelines, gas processing, fractionation facilities, NGL storage and access to NGL markets. This RBN Drill Down report catalogues the key midstream assets in the Marcellus/Utica, describes how these assets work together to meet the needs of regional players and explains how planned infrastructure will continue to enable growth in both natural gas and NGL production in the region.
It can be difficult to get a perspective on how all these assets fit together from a geographic perspective. To address this issue, RBN has developed a new mapping capability called Pipeline GIS (geographical information system). It is a web-based system that integrates all of the different types of energy infrastructure in a given region into one or more "GIS windows", which give you the ability to zoom and scroll around a given piece of geography, and to select/deselect different objects for viewing. Access to Pipeline GIS is included with the Join Together With Demand report.
Report highlights include:
Appalachia NGL production volumes have skyrocketed - up almost 5 times in less than three years
Even with lower NGL prices, production from the Marcellus/Utica is expected to continue increasing
Midstream development in the region has been booming
But building all this midstream infrastructure in Appalachia does not work the way it does in other high-growth shale plays

There is a spider web of legacy natural gas pipelines across the region being repurposed as take-away systems
Huge expansions of gas processing and fractionation capacity have been required
There is a paucity of NGL storage in the region, complicating all aspects of product logistics
Local NGL demand and take-away capacity are limited

Midstream companies are developing innovative solutions to these challenges
Join Together With Demand: The Who and How of Marcellus/Utica Midstream is the third of RBN Energy's Drill Down report series, a suite of twelve reports coming from RBN during 2015 covering many of the key issues expected to impact the markets for crude oil, natural gas and natural gas liquids.
Drill Down reports are part of RBN Backstage Pass™ premium resources that also include Blog Archive Access, Spotcheck Indicators, Market Fundamentals Webcasts, Get-Togethers and more. By subscribing to RBN's Backstage Pass Premium Services, you plug into our network and get direct access to our premium resources.
Click to download a preview of Join Together With Demand