Increasing production of naphtha range material such as condensates and natural gasoline in the southeastern Ohio section of the Utica shale will soon exceed the capacity of local refineries to process such light hydrocarbons. Midstream logistics companies like MPLX are developing infrastructure to transport condensate, natural gasoline and the more limited supplies of crude produced in the Utica to refineries further afield. There is also demand for condensate and natural gasoline to be used as diluent to reduce the viscosity of Western Canadian heavy crude bitumen. Today we describe MPLX and its sponsor Marathon Petroleum Corporation's (MPC) recently announced long term takeaway transportation plans.
This blog series covers midstream plans to capture and deliver condensate range materials to market from Utica shale production. In Part 1 we covered the expected surge in condensate, natural gas liquids (NGLs) and to a lesser extent crude oil production from the Utica shale in the next year (2014) as a result of new infrastructure coming online. Then we described condensate and crude supply infrastructure plans recently outlined by MPC/MPLX at the Hart Energy DUG East Conference (November 15, 2013). Initial MPC plans are focused on delivering local supplies of crude, condensate and natural gasoline to the company's Canton, OH and Catlettsburg, KY refineries. MPC is adding condensate splitters to both these refineries. This time we look at MPLX's longer term Utica transportation strategy to provide third party shippers with options to move liquids outside the region.
On the map below the purple line is an existing MPC crude pipeline that runs west to east from Lima to Canton, OH. That pipeline is primarily fed by crude supplies transported to Patoka and then east on the MPLX 268 Mb/d Patoka to Lima crude pipeline. [Recall that Patoka is the destination point for the 1.2 MMb/d capacity Capline pipeline that brings crude supplies north from the Louisiana Gulf Coast (see Draggin' the Capline) and Patoka also receives crude from Western Canada via the Keystone pipeline]. The MPC Lima to Canton pipeline provides crude and feedstocks to the MPC Canton refinery (80 Mb/d). Crude from MPC's tank farm in Lima can also be shipped north to their Detroit, MI refinery (120 Mb/d) as well as to third party refineries belonging to BP/Husky (152 Mb/d) and PBF Energy (170 Mb/d) in Toledo. The Patoka to Lima pipeline also feeds the Husky refinery in Lima (pink icon on the map - 162 Mb/d). The second phase of MPLX's Utica strategy is to provide a westbound pipeline route to feed condensate, crude and natural gasoline from East Sparta to Lima – allowing these supplies to reach the Husky refinery in Lima and to travel north to Detroit and Toledo refineries.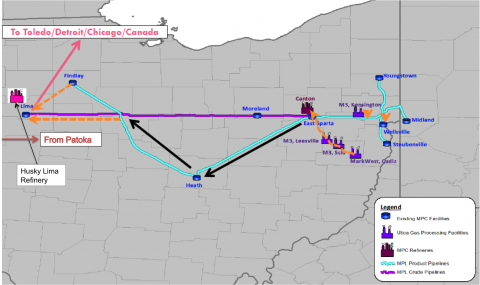 Source: MPC Presentation at DUG East November 15, 2013 (Click to Enlarge)
The map shows an initial option for repurposing existing pipelines to accomplish this East Sparta to Lima connection. The black arrows on the map indicate the first two legs of this pipeline option. The first leg would repurpose an existing 8-inch pipeline from East Sparta to Heath (30 Mb/d capacity). The second leg would repurpose either part or all of the Heath to Findlay 10-8-inch pipeline (20 Mb/d capacity).  The map shows two options being considered by the company to connect a final leg to Lima either via Findlay or more directly to Lima (orange dotted arrows). This initial route could be used to ship up to 100 Mb/d. When and if shipper demand exceeds 100 Mb/d, the company will evaluate another option to construct a new pipeline to move product directly from East Sparta to Lima.
The map also identifies a broad spectrum of markets to the west of Utica including Toledo, Detroit, Chicago, and Canada via pipeline. Yesterday we discussed the Wellsville facility that can supply the MPC Catlettsburg refinery and other refineries that can receive waterborne movements.
To access the remainder of Whole Lotta Splittin' Goin' On – Marathon Petroleum's Utica Shale Strategy – Part 2 you must be logged as a RBN Backstage Pass™ subscriber.
Full access to the RBN Energy blog archive which includes any posting more than 5 days old is available only to RBN Backstage Pass™ subscribers. In addition to blog archive access, RBN Backstage Pass™ resources include Drill-Down Reports, Spotlight Reports, Spotcheck Indicators, Market Fundamentals Webcasts, Get-Togethers and more. If you have already purchased a subscription, be sure you are logged in For additional help or information, contact us at info@rbnenergy.com or 888-613-8874.