We estimate October 2014 Eagle Ford condensate production at 690 Mb/d and have identified 450 Mb/d of stabilization capacity that meets Bureau of Industry and Security (BIS) standards to classify the processed output as OK for export. That should make it possible for an estimated 230 Mb/d of processed condensate to be exported from the Gulf Coast in 2015. All that is needed to open the floodgates are more transport routes to export docks. Today we describe current and future routes planned by Enterprise to get segregated processed condensate to market.
This is Episode 10 in our series updating analysis of Eagle Ford crude infrastructure. In Part 1 (see Condensate City – Finding a Home For Eagle Ford Crude) we described a five-fold increase in Eagle Ford crude oil production over the past three years to 1.5 MMb/d. We explained the varying quality and in particular the high percentage of condensate in liquids output (about 45 percent) that has caused headaches for producers and refiners alike. Two main pipeline routes to market have developed from the Eagle Ford – south to the Port of Corpus Christi and East to Houston area refineries. In Part 2 we described the crude takeaway systems developed by Magellan Midstream Partners and Kinder Morgan. In Part 3 we reviewed Plains All American Pipeline (Plains) and Enterprise Product Partners (Enterprise). In Part 4 we looked at Harvest Pipeline, Martin Midstream, Energy Transfer Partners and Trafigura. In Part 5 we covered infrastructure developed by Koch and NuStar. In Part 6 we looked at Devon and Genesis as well as Eagle Ford area refineries. Part 7 reviewed marine dock facilities at Corpus Christi. Part 8 looked at condensate stabilization capacity in the Eagle Ford and prospects for exports. Part 9 provided an inventory of actual and planned splitter capacity to process Eagle Ford lease condensate. This time we review Enterprise Product Partners' infrastructure plans for the export of processed condensate.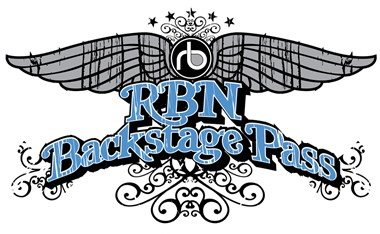 50 Ways to Leave the Marcellus:
We have just released our eleventh Drill-Down report for Backstage Pass subscribers examining Northeast natural gas take away capacity.
More information about 50 Ways here.
In Part 8 we identified 450 Mb/d of condensate stabilizer capacity in the Eagle Ford that we believe is being used to process condensate such that it passes muster with the Bureau of Industry and Security (BIS) as being sufficiently "distilled" to not be classified as crude oil and therefore to be OK to export. As we have described, the BIS has already provided letters of ruling to Enterprise Products Partners and Pioneer that classify their condensate processing as adequate to meet the requirements for export (see CCATS Scratch Fever). A third producer, BHP Billiton has determined they can self-classify their process. Our October 2014 estimate of Eagle Ford condensate production is 690 Mb/d. So given that there is plenty of condensate being produced and 450 Mb/d of stabilization capacity, the market is expecting a big increase in condensate exports over the next year. At the recent Argus Condensate and Naphtha Conference in Houston (November 13-14, 2014) RBN's Rusty Braziel projected that U.S. producers could be exporting 230 Mb/d of processed condensate in 2015, given the right pricing differential between U.S. and overseas markets.  Argus representatives predicted a similar number, and most attendees agreed that  the race is on to provide the infrastructure to get processed condensate to export docks. And as we pointed out (in Part 8) the biggest challenge is finding a way to get appropriately processed condensate to an export dock without tainting it with other crude or products.
To that end the balance of today's blog is based on an informative presentation from Enterprise Product Partners at the Argus conference we just mentioned, that detailed the company's process to keep condensate segregated and the different routes to market that they expect to use.
First, when Enterprise purchase processed condensate they seek to ensure that it has been processed according to BIS guidelines and that it has been segregated prior to delivery. This assurance is certified in the purchase contract as follows:
"As a condition of Buyer's, Seller acknowledges that – to the best of its knowledge and belief, the condensate sold hereunder is "Processed Condensate", meaning it has been processed through a distillation tower at a stabilizer, splitter or other distillation facility and has not been blended with other hydrocarbons since its distillation and prior to its delivery to Buyer at the Delivery Point"
Segregating processed condensate requires an integrated system. That means the transportation from field gathering, trucking to a terminal, pipeline transit, terminalling and export docks all need to be coordinated. Since using pipelines is the least expensive way to move condensate over distances, the seller needs to ensure that any pipelines used operate in segregated or batch mode (see You Can't Always Get Out What You Put In for more on batch pipeline systems). Any tankage at the pipeline terminal at either end must be properly prepared by either being dedicated to processed condensate or drained and flushed prior to use. Enterprise uses a pipeline control center to manage and monitor batches on its pipeline. The diagram in Figure #1 shows how different types of crude and condensate are segregated and tracked. The pipeline control center monitors the density of the batch in real-time to track its progress using a densitometer. The same instruments are used to determine when one batch starts and another ends. Records of the throughput process and any custody transfer along the route are retained for verification. Although the BIS do not (as far as we know) employ a team of inspectors to check every batch of condensate, they can and do require that meticulous records be kept.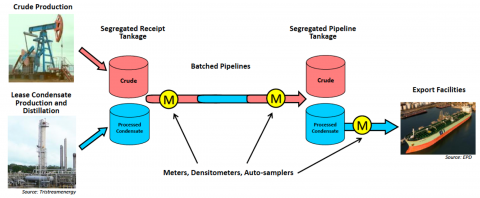 Figure #1 Source: Enterprise Presentation (Click to Enlarge)
The six or seven cargoes of processed condensate that Enterprise has exported so far have been loaded onto vessels at the company's Texas City marine dock. Figure #2 shows the existing route to market for those condensate exports. Note that the map depicts condensate flows in gray and crude flows in pink, with condensate tankage shown in blue.  This separation of flows and tankage is necessary to maintain segregation required to meet BIS guidelines.
Join Backstage Pass to Read Full Article