Just four years ago (October 2010) the Eagle Ford Basin was producing less than 100 Mb/d of crude oil. Now production is over 1.5 MMb/d and in the interim a network of gathering, pipeline and terminal infrastructure has sprung up to deliver crude and condensate to market via Houston and Corpus Christi. The quality challenge of handling up to 45 percent condensate has changed in the last year from one of "dealing with" unwanted super-light crude into a midstream scramble to build condensate splitters and now export facilities. Today we continue our survey of changing Eagle Ford infrastructure by looking at Harvest, Martin, Trafigura and Buckeye.
This is Part 4 in our series updating analysis of Eagle Ford infrastructure. In Part 1 (see Condensate City – Finding a Home For Eagle Ford Crude) we described a five-fold increase in Eagle Ford crude oil production over the past three years to 1.5 MMb/d. We explained that unlike other basins such as the Bakken in North Dakota, takeaway capacity has not been a big challenge for Eagle Ford producers. Instead the varying quality and in particular the high percentage of condensate in liquids output (about 45 percent) has caused headaches for producers and refiners alike. We also noted that two main pipeline routes to market have developed from the Eagle Ford – south to the Port of Corpus Christi and East to Houston area refineries. In Part 2 we described the growth and continuing expansion of the crude takeaway systems developed by Magellan Midstream Partners and Kinder Morgan. In Part 3 we reviewed the expanding takeaway infrastructure developed by Plains All American Pipeline (Plains) and Enterprise Product Partners (Enterprise). This time we look at relatively smaller infrastructure build out by Harvest Pipeline, Martin Midstream, Energy Transfer Partners and Trafigura.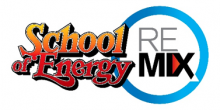 It's a REMIX!
RBN's School of Energy has been reworked, restructured and reorganized to make the conference even better - more content, more models and more labs.
Houston - October 29-31, 2014
Calgary - March 30 - April 1, 2015
Harvest Pipeline
The Harvest pipeline – also known as the Arrowhead pipeline - consists of a number of gathering systems in the western section of the Eagle Ford oil and condensate windows (see map in Figure #1). The system stretches from Maverick County in the west to Karnes County in the east. The mainline pipeline delivers up to 90 Mb/d of crude and condensate from Pearsall in Frio County to Gardendale and 250 Mb/d from Gardendale to Corpus Christi. The Gardendale to Corpus segment of the pipeline was originally anchored by a volume commitment from Shell Oil and can be expanded to 350 Mb/d if required. Shell sold their Eagle Ford assets to Sanchez Energy Corporation in 2013. Anadarko and BHP Billiton are also shippers on the Harvest pipeline. Harvest pipeline is a subsidiary of Hilcorp Resources – owned by industry veteran Jeff Hildebrand but 50 percent of the Harvest pipeline asset was sold to a financial consortium in 2012 that includes G.E. Financial.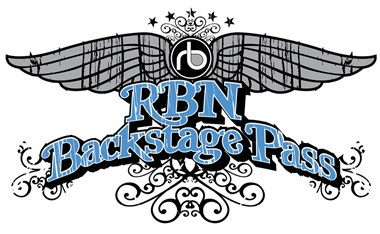 What's Crackin with Steam Crackers?
Petrochemical Markets, Feedstock Selection and NGL Prices
We have released our ninth Drill-Down report for Backstage Pass subscribers reviewing the relationships between petrochemical markets and NGLs, including the RBN Feedstock Selection Model. More information about What's Crackin here.
Martin Midstream Partners L.P.
Kilgore, TX based Martin Midstream Partners L.P. (Martin) is a publicly traded master limited partnership (MLP – see Masters of the Midstream for more on these structures) providing a wide range of terminalling and storage services, marine transportation, as well as natural gas and sulfur services. Martin's principal Eagle Ford crude transportation asset is the Corpus Christi Crude Terminal (CCCT) that began life as a barge terminal purchased in 2006 (long before the south Texas shale boom). Initial operations of the CCCT - that is the termination point for the Harvest Pipeline we just described - began in May 2012 with pipeline connections to the barge dock, 100 MBbl of storage and a truck unloading facility. By May of this year (2014) the Martin CCCT had expanded to include a new dedicated marine dock, 0.9 MMBbl of storage and throughput volumes of 180 Mb/d. Martin's current expansion plans for the CCCT include building a condensate splitter with 50 Mb/d initial capacity.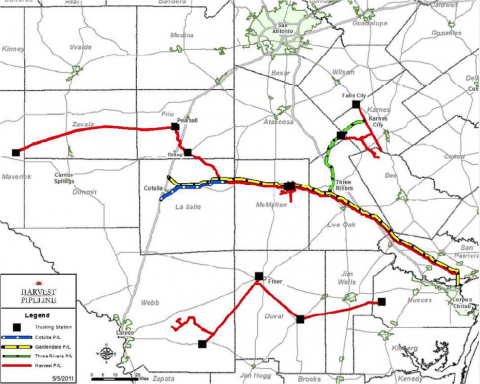 Figure #1 (Click to Enlarge)
Energy Transfer Partners
Energy Transfer Partners (ETP) is a leading midstream energy company with transportation, processing and terminal assets throughout the U.S. As far as crude oil assets go, ETP is perhaps better known for Permian Basin pipelines (Permian Express, West Texas Gulf – see Come Gather 'Round Pipelines) than for Eagle Ford crude systems, but they have a strong footprint in wet gas transportation and processing natural gas liquids (NGLs) in South Texas and they operate the huge Nederland Terminal in the Beaumont/Port Arthur refining region (see Million Barrel Quarter). ETP also owns an extensive network of intra state and interstate natural gas pipelines – including the Houston Pipeline System (HPL) along the Texas Gulf Coast. The HPL assets include the 84-mile Rio Bravo gas pipeline that ETP are in the process of converting to crude and condensate service as part of a 10 year deal with global energy trader Trafigura (more about them next) who are committed to 100 percent of the pipeline's 100 Mb/d capacity. The Rio Bravo pipeline stretches from McMullen to Corpus Christi (see Figure #2). The Corpus destination is a connection to the Trafigura marine and rail terminal. The pipeline has origin points with truck unload and storage terminals at McMullen and George West. The pipeline and terminals are expected to be operational during Q4 2014.
To access the remainder of Condensate City – Eagle Ford Crude Infrastructure – Part 4 – Harvest, Martin, Trafigura and Buckeye you must be logged as a RBN Backstage Pass™ subscriber.
Full access to the RBN Energy blog archive which includes any posting more than 5 days old is available only to RBN Backstage Pass™ subscribers. In addition to blog archive access, RBN Backstage Pass™ resources include Drill-Down Reports, Spotlight Reports, Spotcheck Indicators, Market Fundamentals Webcasts, Get-Togethers and more. If you have already purchased a subscription, be sure you are logged in For additional help or information, contact us at info@rbnenergy.com or 888-613-8874.