They say that being in the right place at the right time has a lot to do with success in business. Two companies with infrastructure in the Eagle Ford can certainly attest to that. Koch Industries and NuStar Energy both owned pipeline assets supplying crude to refineries in South Texas long before the shale boom – putting them in a strong position to benefit from the flood of crude on their doorstep. Since 2011 both companies have expanded pipeline and terminal infrastructure to ship nearly 600 Mb/d of crude and condensate between them. Today we explain how.
This is the 5th episode in our series updating analysis of Eagle Ford infrastructure. In Part 1 (see Condensate City – Finding a Home For Eagle Ford Crude) we described a five-fold increase in Eagle Ford crude oil production over the past three years to 1.5 MMb/d. We explained the varying quality and in particular the high percentage of condensate in liquids output (about 45 percent) has caused headaches for producers and refiners alike. We also noted that two main pipeline routes to market have developed from the Eagle Ford – south to the Port of Corpus Christi and East to Houston area refineries. In Part 2 we described the growth and continuing expansion of the crude takeaway systems developed by Magellan Midstream Partners and Kinder Morgan. In Part 3 we reviewed the expanding takeaway infrastructure developed by Plains All American Pipeline (Plains) and Enterprise Product Partners (Enterprise). In Part 4 we looked at infrastructure build out by Harvest Pipeline, Martin Midstream, Energy Transfer Partners and Trafigura. This time we take a look at infrastructure developed by Koch and NuStar.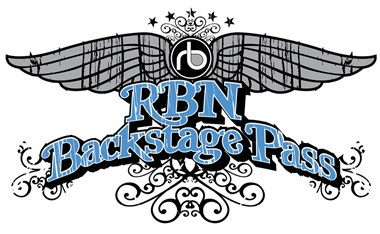 NEW !! Houston, We Have a Problem
An Oil Storage Shortfall on the Horizon
We have just released our tenth Drill-Down report for Backstage Pass subscribers examining the adequacy of crude storage in the Houston area, including a tabulation of major storage facilities in the region. More information about Houston We Have A Problem here.
Koch Industries
Koch Industries is one of America's largest private corporations with subsidiaries involved in refining (Flint Hills Resources – FHR) and pipeline transportation (Koch Pipelines Limited – KPL) as well as a host of other industries such as paper (Georgia Pacific). Koch's involvement in the Eagle Ford goes back to the early days of the play with the company seeking to feed local crude production to its FHR refineries in Corpus Christi. KPL already had legacy pipeline assets in South Texas that fed crude to the Corpus refineries from the Midwest. KPL's initial efforts centered on feeding Eagle Ford production from the western oil and condensate window to Corpus via the Harvest Pipeline Arrowhead gathering system that we described in Part 4. In 2011 Koch contracted with Anadarko to ship up to 50 Mb/d of crude on the Harvest Mainline Pipeline from Cotulla to Corpus via Three Rivers. The map in Figure #1 below shows the legacy Koch South Texas system (orange line) and the Harvest pipeline in dark blue.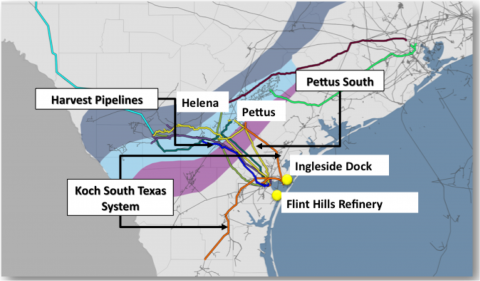 Figure #1
Source: RBN Energy (Click to Enlarge)
Later KPL developed infrastructure on the eastern side of the oil window in Karnes and Dewitt counties, building a gathering terminal at Helena and a 120 Mb/d pipeline south to the NuStar terminal at Pettus. In 2012 KPL leased the Pettus South pipeline from NuStar (a unsused gas pipeline) and used it to ship 30 Mb/d of crude to the Mayo station on the South Texas Pipeline 20 miles north of Corpus. At the same time KPL also constructed their own 250 Mb/d pipeline south from Pettus to the Mayo terminal, feeding into the South Texas pipeline. In all Koch has capacity to deliver up to 350 Mb/d to the Corpus area from Eagle Ford producers. Most of this oil and condensate production was initially being sent to the FHR Corpus refineries that have 300 Mb/d throughput capacity between them and can process about 140 Mb/d of Eagle Ford light sweet crude. FHR is upgrading the refineries to run an additional ~20 Mb/d light crude, but the excess supplies KPL ships to Corpus are destined either for other Corpus refineries (Valero and Citgo) or for a marine dock the company has built out at Ingleside. The marine dock is capable of shipping up to 200 Mb/d of Eagle Ford crude and or condensate out of the Port of Corpus Christi by barge or tanker to destinations along the Gulf and East Coasts as well as Eastern Canada. Earlier this year (2014) KPL completed a 20-mile 200 Mb/d extension from the South Texas pipeline into Ingleside. The Ingleside and FHR refinery facilities in Corpus have 2.6 MMBbl of storage capacity between them.
To access the remainder of Condensate City – Eagle Ford Crude Infrastructure Part 5 – Koch and NuStar you must be logged as a RBN Backstage Pass™ subscriber.
Full access to the RBN Energy blog archive which includes any posting more than 5 days old is available only to RBN Backstage Pass™ subscribers. In addition to blog archive access, RBN Backstage Pass™ resources include Drill-Down Reports, Spotlight Reports, Spotcheck Indicators, Market Fundamentals Webcasts, Get-Togethers and more. If you have already purchased a subscription, be sure you are logged in For additional help or information, contact us at info@rbnenergy.com or 888-613-8874.