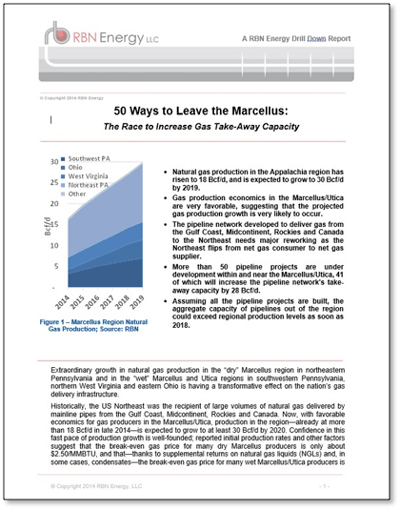 Historically, the US Northeast was the recipient of large volumes of natural gas delivered by mainline pipes from the Gulf Coast, Midcontinent, Rockies and Canada. Now, with favorable economics for gas producers in the Marcellus/Utica, production in the region—already at more than 18 Bcf/d in late 2014—is expected to grow to at least 30 Bcf/d by 2019. The only real limit on how much the Marcellus/Utica plays can produce is the capacity of the pipeline network in the Northeast and neighboring regions to take gas to market. But that is a problem, because the region's gas transmission infrastructure was designed decades ago to deliver large volumes of gas to the Northeast, not away from it.
RBN's Drill-Down Report on these market developments reviews the evolution of the gas market in the Northeast; the pace of gas production growth in the dry Marcellus and, more recently, the wet Marcellus and the Utica; and the market signals that show the region's pipeline constraints are worsening (and fast). After this discussion of basis differentials and their effect on pipeline development and production, the report gets into the meat of the matter, namely the dozens of pipeline projects that add take-away capacity out of the production area.
Report highlights include:
Natural gas production in the Appalachia region has risen to 18 Bcf/d, and is expected to grow to 30 Bcf/d by 2019.
Gas production economics in the Marcellus/Utica are very favorable, suggesting that the projected gas production growth is very likely to occur.
The pipeline network developed to deliver gas from the Gulf Coast, Midcontinent, Rockies and Canada to the Northeast needs major reworking as the Northeast flips from net gas consumer to net gas supplier.
More than 50 pipeline projects are under development within and near the Marcellus/Utica, 41 of which will increase the pipeline network's take-away capacity by 28 Bcf/d.
Assuming all the pipeline projects are built, the aggregate capacity of pipelines out of the region could exceed regional production levels as soon as 2018.
50 Ways to Leave the Marcellus is the eleventh in RBN Energy's Drill Down report series, a suite of twelve reports coming from RBN during 2014 covering many of the key issues expected to impact the markets for crude oil, natural gas and natural gas liquids.
Drill Down reports are part of RBN Backstage Pass™ premium resources that also include Blog Archive Access, Spotcheck Indicators, Market Fundamentals Webcasts, Get-Togethers and more. By subscribing to RBN's Backstage Pass™ Premium Services, you plug into our network and get direct access to our premium resources.
Click to download a preview of 50 Ways to Leave the Marcellus.