A five-fold increase in crude oil production over the past three years has given the Eagle Ford basin an instant star on the shale walk of fame. Unlike other booming shale basins the Eagle Ford has not suffered from a lack of crude takeaway capacity. Instead it has suffered from the challenges presented by a high percentage of condensate output and varied crude quality. These challenges may be addressed by infrastructure and changes in the regulations surrounding export regulations. Today we introduce a new series updating our analysis of Eagle Ford infrastructure.
The Eagle Ford is a sedimentary shale rock formation in South Texas stretching 400 miles east from just northwest of Houston, to an area south of San Antonio and finally all the way to Mexico. The shale lies between 4000 and 14,000 feet below the surface. The formation has 3 windows (see the map everyone uses in their presentations here). To the north is the oil window, directly

south of that is the "wet gas" window - high in natural gas liquids (NGL) and condensates, and further south, the dry gas window. Because of the high relative value of crude and NGLs versus natural gas most Eagle Ford drilling activity is in the northern part of the play.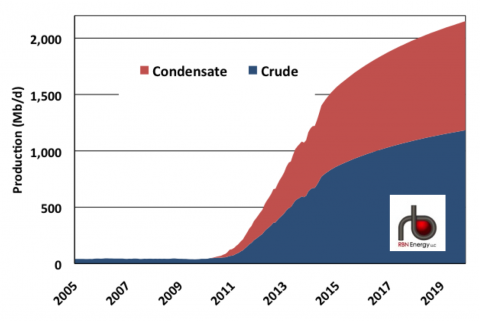 Figure #1
Source: RBN Energy (Click to Enlarge)
Growth in crude and lease condensate production in the Eagle Ford basin has been spectacular over the past three years – from 275 Mb/d in August 2011 to 1.5 MMb/d in August 2014 – a more than five fold increase. As you can see in Figure #1 above, Eagle Ford liquids production is divided between crude oil (that we define as having an API gravity of 50 degrees or less) and very light hydrocarbons called condensate that we define as over 50 degrees API. Undisputed data concerning condensate production in the Eagle Ford is as hard to find as a universal definition of condensate (see Don't Know Much About History). However the chart reflects RBN's estimate that condensate represents about 45 percent of Eagle Ford oil output meaning about 670 Mb/d out of the1.48 MMb/d August 2014 total. Production totals are expected to grow to 1.2 MMb/d of crude and 1 MMb/d of condensate by the end of 2019. We have previously discussed the differences between condensate and crude (see Like a Box of Chocolates). These differences have become increasingly important in the Gulf Coast refining market where there is a growing imbalance of light crude and condensate compared with refining capacity to process this type of crude (see Here Comes the Reckoning Day). 
To access the remainder of Condensate City – Finding a Home For Eagle Ford Crude you must be logged as a RBN Backstage Pass™ subscriber.
Full access to the RBN Energy blog archive which includes any posting more than 5 days old is available only to RBN Backstage Pass™ subscribers. In addition to blog archive access, RBN Backstage Pass™ resources include Drill-Down Reports, Spotlight Reports, Spotcheck Indicators, Market Fundamentals Webcasts, Get-Togethers and more. If you have already purchased a subscription, be sure you are logged in For additional help or information, contact us at info@rbnenergy.com or 888-613-8874.