Refineries located close to booming Eagle Ford shale production have nameplate capacity to process over 900 Mb/d of crude but can only consume 375 Mb/d of local output today. That is because the larger refineries in Corpus Christi were built to process heavy sour crude oil instead of ultra light Eagle Ford. New additions will expand light crude capacity by 100 Mb/d in 2015 (in addition to planned condensate splitters). Today we detail Devon and Genesis pipeline projects as well as regional refining capacity.
This is the 6th episode in our series updating analysis of Eagle Ford infrastructure. In Part 1 (see Condensate City – Finding a Home For Eagle Ford Crude) we described a five-fold increase in Eagle Ford crude oil production over the past three years to 1.5 MMb/d. We explained the varying quality and in particular the high percentage of condensate in liquids output (about 45 percent) that has caused headaches for producers and refiners alike. We also noted that two main pipeline routes to market have developed from the Eagle Ford – south to the Port of Corpus Christi and East to Houston area refineries. In Part 2 we described the crude takeaway systems developed by Magellan Midstream Partners and Kinder Morgan. In Part 3 we reviewed Plains All American Pipeline (Plains) and Enterprise Product Partners (Enterprise). In Part 4 we looked at Harvest Pipeline, Martin Midstream, Energy Transfer Partners and Trafigura. In Part 5 we covered infrastructure developed by Koch and NuStar. In this episode we look at pipelines developed to the east of Corpus on the Gulf Coast by Devon and Genesis as well as local refinery consumption of Eagle Ford crude.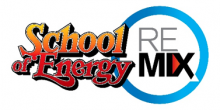 It's a REMIX! – PLACES STILL AVAILABLE FOR HOUSTON THIS WEEK!
RBN's School of Energy has been reworked, restructured and reorganized to make the conference even better - more content, more models and more labs.
Houston - October 29-31, 2014
Calgary - March 30 - April 1, 2015
Devon Energy
Devon Energy is a leading North American oil and gas producer with drilling acreage in several oil and gas shale plays as well as heavy oil production in Western Canada. Devon holds significant acreage in the condensate and wet liquids window of the Eagle Ford in DeWitt and Lavaca Counties that the company expects to produce an average of 46 Mb/d of oil in 2014 (mostly condensate). During September 2014, Devon brought online the $70MM Victoria Express Pipeline. Devon owns 100% of this 56 mile crude pipeline that connects the Blackhawk delivery terminal in DeWitt to a barge terminal at the Port of Victoria (see map in Figure #1). Victoria is about 86 miles North East of Corpus, linked by a canal to the Gulf Coast Waterway system at Port Lavaca. With Corpus Christi marine docks crowded with barges and tankers, Port Lavaca is an increasingly popular alternative with Eagle Ford shippers – our friends at ClipperData estimate average volumes over 100 Mb/d leaving Lavaca so far in 2014. The initial capacity of the Victoria Express pipeline is 50 Mb/d – expandable to 100 Mb/d. The Devon Victoria terminal has 300 MBbl of storage capacity and can load crude onto coastal barges that navigate the Gulf Coast waterway to Houston, Beaumont, Louisiana as well as the East Coast. Devon expects to drop the Victoria Express asset into their recently formed Master Limited Partnership (MLP – see Masters of the Midstream for more on MLP structures) Enlink Midstream – a combination of the former Crosstex Energy and Devon's midstream business.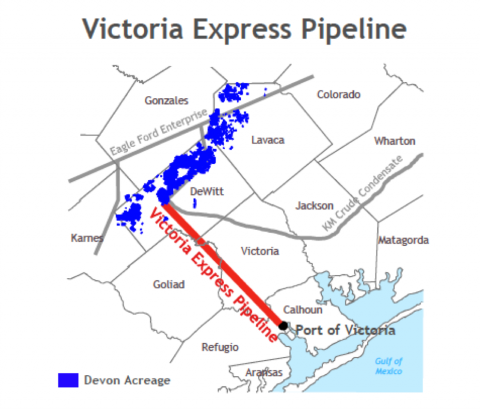 Figure #1
Source: Devon Energy (Click to Enlarge)
Genesis Energy
Genesis Energy provides pipeline transportation, refinery services and supply logistics in the Gulf Coast region. The company gathers and transports over 40 Mb/d of crude throughout Texas and the Gulf Coast. Their 90-mile long Texas System pipeline delivers up to 60 Mb/d of crude from West Columbia south of the Eagle Ford to the Marathon refinery at Texas City and other distribution points in Houston (see the map in Figure #2). The pipeline was originally built as part of a South Texas crude gathering system that delivers legacy conventional crude production from gathering systems in Brazoria County into the Houston area. Genesis has expanded the pipeline to carry production from the Eagle Ford and the growing Eaglebine shale play (see We Heard it Through the Eaglebine for more on that play). In 2013 Genesis completed a loop (parallel line expansion) to the pipeline between Webster and Texas City with capacity of 275 Mb/d. The pipeline expansion was supported by a term contract with Marathon. Also in 2013 Genesis constructed a truck station and tankage at West Columbia to unload Eagle Ford and other south Texas crude production into the Texas System. At Texas City, Genesis has built out an existing marine terminal with 230 MBbl of storage and 20 Mb/d crude barge loading capacity to deliver crude to refineries further east along the Gulf Coast. Genesis also owns a fleet of tank barges and acquired 9 additional coastwise barges (that can move crude along the Gulf Coast), with their purchase of Hornbeck Offshore Transportation earlier this year (2014).
To access the remainder of Condensate City – Eagle Ford Crude Infrastructure Part 6 – Devon, Genesis and Local Refineries you must be logged as a RBN Backstage Pass™ subscriber.
Full access to the RBN Energy blog archive which includes any posting more than 5 days old is available only to RBN Backstage Pass™ subscribers. In addition to blog archive access, RBN Backstage Pass™ resources include Drill-Down Reports, Spotlight Reports, Spotcheck Indicators, Market Fundamentals Webcasts, Get-Togethers and more. If you have already purchased a subscription, be sure you are logged in For additional help or information, contact us at info@rbnenergy.com or 888-613-8874.