Asia for years has been seen as the primary market for U.S.- sourced liquefied natural gas (LNG), and that's still true today as the first round of U.S. export facilities inch toward completion and operation. But an ongoing upheaval in the international LNG market—and the "destination flexibility" built into most U.S. LNG sales and purchase agreements--suggest that Europe may receive significant volumes of U.S. LNG as well. It's also possible that U.S. exporters may become "swing suppliers" like LNG trading giant Qatargas, ready to direct LNG-laden vessels across either the Atlantic or the Pacific, depending on where the price is higher. Today, we continue our look at the fast-changing LNG market and what it means to U.S. natural gas producers and LNG exporters.
Asian LNG buyers, led by Japan and South Korea, accounted for 75% of all LNG imports in 2014--180 million metric tons per annum (MTPA), or the natural gas equivalent of 23 Bcf/d— and it's expected that most of the growth in LNG demand over the next few years will come from China, India and other growing Asian economies. It's natural, therefore, that when U.S. (and Canadian) gas producers and prospective LNG exporters think about overseas markets, they think about Asia. But the international LNG market (and the energy market in general) has been going through some major changes the past few years, and the old assumptions about how the LNG export business will play out may need some tinkering.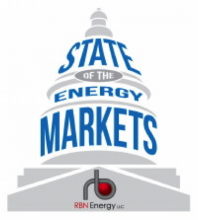 State of the Energy Markets
What is going on in today's markets for natural gas, NGLs and crude oil, why it is happening, and what is likely to happen next?
July 23rd, 2015 New York City
We started our series in Episode 1 with a look at the LNG market's evolution over the last half-century, and at the continued dominance of long-term supply deals (at least in Asia, but elsewhere too). In Episode 2 we discussed the major catalysts shaking up the LNG trade (more LNG capacity coming online; LNG export deals with fixed liquefaction tolls and gas costs linked to Henry Hub; the oil-price decline and its effect on oil-indexed LNG prices; the roll-off of long-term LNG supply deals; the increasing share of LNG capacity available to the spot market; and the recent slump in Asian LNG demand-and prices that have occasionally made Europe a more attractive market for spot LNG sales). Then we looked at existing and future demand in key Asian markets, starting with emerging LNG importing giants China and India (Episode 3) and then continuing with current leaders Japan and Korea (Episode 4) and with the rest of the Asian pack (Thailand, Singapore, the Philippines, Vietnam etc.; Episode 5), all of which plan to ramp up their LNG imports. In Episode 6, we discussed the various ways major Asian consumers of LNG are trying to bring down their energy costs (forming LNG-procurement alliances, reaching deals to pipe in gas from Russia and elsewhere, talking up plans for more nuclear generation). We also mentioned Singapore's long-shot effort to establish an LNG trading hub—an attempt to make the Asian LNG market more like its European counterpart.
To access the remainder of A Whole New World—Europe May Want U.S. LNG Too you must be logged as a RBN Backstage Pass™ subscriber.
Full access to the RBN Energy blog archive which includes any posting more than 5 days old is available only to RBN Backstage Pass™ subscribers. In addition to blog archive access, RBN Backstage Pass™ resources include Drill-Down Reports, Spotlight Reports, Spotcheck Indicators, Market Fundamentals Webcasts, Get-Togethers and more. If you have already purchased a subscription, be sure you are logged in For additional help or information, contact us at info@rbnenergy.com or 888-613-8874.