The latest forecast from the Canadian Association of Petroleum Producers (CAPP) was published last week (June 9, 2015). This annual survey of Canadian crude production, transportation and market demand differs from many forecasts because it is based on surveys of producers and refiners rather than price projections and models. In spite of lower crude prices CAPP continue to forecast growth in Canadian crude output to 2030 – albeit at a slower pace than previously expected.  Today we review CAPP's production and North American market demand forecasts.
CAPP is the voice of Canada's upstream oil and natural gas industry. Their annual long-term outlook for Canadian crude is good reading so - if you've got the time - check out the 52 page full report here. If not, read on for the RBN Cliff notes version. The forecast provides CAPPs first take on the impact of the crude price collapse during 2014 on future production prospects. We'll cover that as well as evolving demand for Canadian crude in North America today. A second blog will cover CAPP's update on Canadian crude transportation requirements. 
Regular RBN blog readers will be familiar with many of the challenges faced by Canadian crude producers that are central to the CAPP forecast – in addition to the crude oil price collapse. In 2014 Canada produced 3.7 MMb/d of crude – exporting about 2.7 MMb/d – with all but a drop going to the U.S. and the remaining 1 MMb/d being consumed at Canadian refineries. Those exports to the U.S. amount to Canada putting all its eggs in one basket and producers have suffered from the lack of alternative destinations – becoming essentially price takers. That means swallowing discounts every time transportation congestion constricts routes to market – an ongoing dilemma. During 2014 infrastructure improvements opened up new paths to the Gulf Coast - a critical market for the heavy bitumen crude produced from Western Canadian oil sands (see They Did it Seaway). But bitumen crude doesn't travel well and it requires blending with light hydrocarbon diluent to flow in pipelines or heating infrastructure to move by rail (see Go Your Own Way). Where heavy crude has reached Gulf Coast refineries it has run into competition from incumbent suppliers such as Mexico (see Mamma Maya). In the longer-term Canadian producers must pin their hopes on diversifying their markets and that means building pipelines to tidewater on the Pacific or Atlantic Coasts. Over the past 5 years Canada has also faced unexpected competition in the U.S. from the surge in domestic shale production. Although the two crude types are normally refined at different refineries that are configured to process light or heavy crude – they do compete for transportation capacity.  As we most recently discussed last month - that continues to be a challenge where North Dakota Bakken barrels travel the same routes as Canadian crude (see Watching the Defections).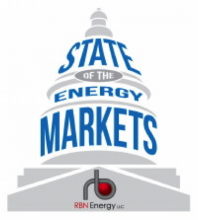 State of the Energy Markets
What is going on in today's markets for natural gas, NGLs and crude oil, why it is happening, and what is likely to happen next?
July 23rd, 2015 New York City
The CAPP forecast breaks down Canadian production by region and oil type. The two regions are Eastern Canada – that had about 200 Mb/d of offshore production on the Atlantic Seaboard in 2014 and Western Canada that produced over 3.5 MMb/d in 2014. The forecast then breaks down Western Canadian production further into conventional and oil sands production. The conventional oil (recovered by "conventional" drilling techniques) is a mixture of heavy oil – mostly from Alberta and Saskatchewan and lighter shale oil (including condensate). Oil sands production - as we explained in "We Are The Champions"  - is heavy bitumen that is either mined from the surface or extracted "in-situ" using various heating techniques. About 39% of Western Canadian production in 2014 was conventional oil and the rest came from the oil sands.
We started our analysis of the CAPP forecast by using data from the 2013 and 2014 reports to produce the charts in Figure #1. The data shows the impact of lower crude prices on this year's forecast versus prior years. Figure #1a (on the left) shows CAPP total Canadian crude in MMb/d. The forecast in 2013 (blue line) expected production to grow by 2.8 MMb/d from 3.9 to 6.7 MMb/d between 2015 and 2030. The 2014 forecast (red line) revised those growth numbers down slightly by 4% to 6.4 MMb/d in 2030. This year CAPP provided 2 forecasts based on different scenarios for oil sands production growth (more on the scenarios in a minute). Under the growth case (green dashed line) total production is forecast to increase 1.43 MMb/d from 3.9 MMb/d in 2015 to 5.33 MMb/d in 2030 – about 1.1 MMb/d lower than the 2014 forecast. Under the "operating and in construction" scenario (purple line) production growth between 2015 and 2030 only reaches 4.35 MMb/d –over 2 MMb/d less than the 2014 forecast.
To access the remainder of You Can Leave Your CAPP Off! - Canadian Crude Forecast Still Shows Growth you must be logged as a RBN Backstage Pass™ subscriber.
Full access to the RBN Energy blog archive which includes any posting more than 5 days old is available only to RBN Backstage Pass™ subscribers. In addition to blog archive access, RBN Backstage Pass™ resources include Drill-Down Reports, Spotlight Reports, Spotcheck Indicators, Market Fundamentals Webcasts, Get-Togethers and more. If you have already purchased a subscription, be sure you are logged in For additional help or information, contact us at info@rbnenergy.com or 888-613-8874.