The latest forecast from the Canadian Association of Petroleum Producers (CAPP) was published a couple of weeks ago. In spite of lower crude prices CAPP continue to forecast growth in Canadian crude output to 2030 – albeit at a slower pace than previously expected. Continued growth means that takeaway constraints getting Canadian crude to market remain a key challenge – even though increased use of crude-by-rail has taken up some of the slack. Today we conclude our review of the 2015 CAPP outlook.
CAPP is the voice of Canada's upstream oil and natural gas industry. Their annual long-term outlook covers Canadian crude production, markets and transportation. In Part 1 of our review we covered the latest CAPP crude forecast – that is based on producer surveys. CAPP still expects Canadian production to grow between 2015 and 2030 even after the crude price crash in the second half of 2014. About 94% of Canadian production in 2014 came from Western Canada 62% of that is heavy crude from the oil sands. The 2015 CAPP forecast includes 2 cases for oil sands production. Under the growth scenario total production is forecast to increase 1.43 MMb/d from 3.9 MMb/d in 2015 to 5.33 MMb/d in 2030 – about 1.1 MMb/d lower than the 2014 forecast. Under the "operating and in construction" scenario production growth between 2015 and 2030 only reaches 4.35 MMb/d –over 2 MMb/d less than the 2014 forecast. The biggest market for Canadian crude is U.S. refineries – that absorb nearly all exports. CAPP analysis of 2014 data shows that Canadian crude has achieved a 50% market penetration in the Midwest with far smaller shares of the East and West Coast markets. The largest opportunity for heavy oil sands crude remains the Gulf Coast – where Canadian barrels could potentially replace 2MMb/d of imports from other countries like Mexico and Venezuela. This time we review CAPP's analysis of progress in overcoming the infrastructure challenges faced by Canadian producers in delivering their crude to new markets.
An important aspect of the two CAPP scenarios is that the decline in production growth versus previous forecasts really only kicks in after 2020 – in 5 years time. Up until then both 2015 forecast cases are the same and they are only 300 Mb/d lower than CAPP's 2014 projection. In other words, although growth is slowing down – the majority of that slow down occurs after 2020. This is because most of the projects in the oil sands expected online before 2020 are already underway or are expansions to existing fields. For example Imperial Oil began production at its Kearl oil sands expansion project last week - three months ahead of schedule. Since most of the investment is upfront – for example to build water heating equipment for steam assisted gravity drainage (SAGD – see We Are The Champions) technology used to extract bitumen from oil sands – once the project is underway it is very unlikely that it will be shut in – even if oil prices stay low. This "business as usual" perspective to crude production in the short term has an important consequence for the Canadian crude delivery infrastructure challenge – namely that a decline in production is not likely to present a quick fix to the transport issue.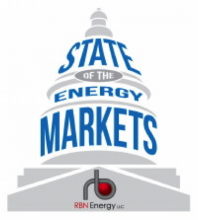 State of the Energy Markets
What is going on in today's markets for natural gas, NGLs and crude oil, why it is happening, and what is likely to happen next?
July 23rd, 2015 New York City
We have previously documented the trials and tribulations of the Canadian crude transport dilemma (see Go Your Own Way) that boil down to a lack of pipeline capacity to get expanding production from Western Canada to U.S. markets – particularly the Gulf Coast. CAPP's 2015 outlook reiterates the fact that even under a lower growth forecast the transportation infrastructure still needs to expand to connect growing crude supply to new markets. And that means either more pipelines, more rail or both will need to be completed by 2018 to avoid even more serious congestion than exists today. Trouble is that the history of Canadian pipeline build out over the past few years has been one of delays – because of big picture issues such as the U.S. Presidential Permit for the TransCanada Keystone pipeline or (more often) environmental and right of way issues. These delays have made pipeline congestion worse and make it hard to predict when projects will come online. Looking back and comparing the past two CAPP reports in 2013 and 2014 to this year we created a summary of outstanding projects to show the creep in their completion estimates (see Table #1). The table lists pipeline project details in the first three columns and then the various completion estimates published in the CAPP reports in 2013, 2014 and 2015 respectively. The only "new" project on the list this year is the Enbridge Line 3 replacement that will restore that line to its original capacity – adding about 400 Mb/d to existing throughput. The rest have been on the list for three years and in every case except row 1 (Alberta Clipper) have been delayed by at least another year during that time frame. It is a sobering picture of the ongoing challenges Canadian producers face getting their crude to market.
To access the remainder of You Can Leave Your CAPP Off! - Canadian Crude Transport Constrained At Least Through 2018 you must be logged as a RBN Backstage Pass™ subscriber.
Full access to the RBN Energy blog archive which includes any posting more than 5 days old is available only to RBN Backstage Pass™ subscribers. In addition to blog archive access, RBN Backstage Pass™ resources include Drill-Down Reports, Spotlight Reports, Spotcheck Indicators, Market Fundamentals Webcasts, Get-Togethers and more. If you have already purchased a subscription, be sure you are logged in For additional help or information, contact us at info@rbnenergy.com or 888-613-8874.