The US Energy Information Administration ranks Alberta's bitumen oil sands reserves second or third to those of Saudi Arabia and Venezuela. However, evidence from the field and new research indicate that Western Canada's oil reserves are possibly far larger and could rival or exceed those of the Saudis or the Venezuelans. Today contributor Mike Priaro begins a two part series describing Western Canada's vast bitumen resources.
The Western Canada Sedimentary Basin (WCSB) extends from the Williston Basin, which straddles the Canada-US border, north to the Mackenzie Basins, west to the Rocky Mountains and east to the edge of the Pre-Cambrian Shield, (see Figure 1).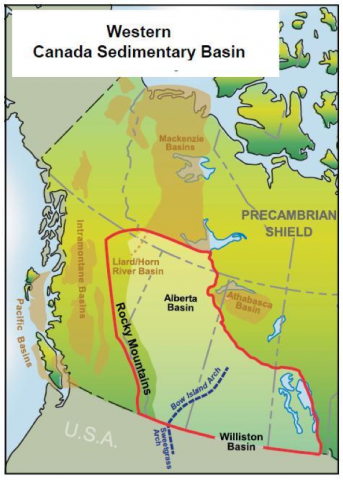 Figure 1
Source: Alberta Energy Resources Conservation Board report ST98-2013
Significant production of conventional oil, defined as crude light enough to flow in a pipeline (gravity lighter than 20o API), started in the WCSB with the discovery of the Turner Valley oilfield in the 1930s, expanded greatly with discovery of the Leduc reef trend by Imperial Oil in 1947, and peaked at 1.4 MMbd in 1973.
Over 200 years ago the first Europeans had noted bitumen seeps along the banks of the Athabasca River in northern Alberta.  The local Aboriginal people had long been using bitumen to waterproof canoes.  Bitumen is crude with a specific gravity greater than fresh water (less than 10o API) and is a thick, semi-solid fluid at room temperature that does not flow at commercial rates to a wellbore under normal reservoir conditions.
This bitumen crude was not considered commercially recoverable until Dr. Karl Clark, a scientist with the Alberta Research Council in the 1920s, pioneered experiments with a hot water flotation process to separate out bitumen from the sand it is found in.  The hot water flotation process was used to produce bitumen for roofing and road surfacing at a plant north of Fort McMurray, AB.  In 1936 Abasand Oils Ltd.'s  plant west of Fort McMurray produced diesel oil from the bitumen sands until it burned down in the 1940s.  In 1962, the Government of Alberta announced a policy to provide for the orderly development of the bitumen sands and Suncor's Great Canadian Oil Sands project came on stream in 1967 to become the world's first large-scale bitumen sands project.
Join Backstage Pass to Read Full Article