Natural gas liquids production in the Permian Basin has doubled in the past four years, and may well double again by 2022. That rapid growth — driven by the pursuit of Permian crude oil and the resulting production of large volumes of NGL-rich associated gas — threatens to overwhelm the region's existing gas processing and NGL-pipeline infrastructure. This is a big deal, because if there's not enough gas processing and NGL takeaway capacity out of the Permian, exploration and production companies (E&Ps) in the U.S.'s hottest shale play would be forced to slow the pace of their development. Today we discuss highlights from our new Drill Down Report on Permian NGL production growth and the need for more NGL-related infrastructure.
One of the surer bets in an energy industry rife with uncertainty is that production of crude oil, natural gas and natural gas liquids (NGLs) in the Permian will continue rising. The hydrocarbon resources in the best parts of the Permian are extraordinary, and E&Ps active in the play have — after considerable effort — cracked the code to wringing vast volumes of crude and NGL-packed associated gas from new wells there at a remarkably low cost per barrel of oil equivalent (boe). But production growth can only occur if sufficient supporting infrastructure is in place to process and transport all the crude, gas and NGLs emerging from wellheads across the 70,000-square-mile Permian region.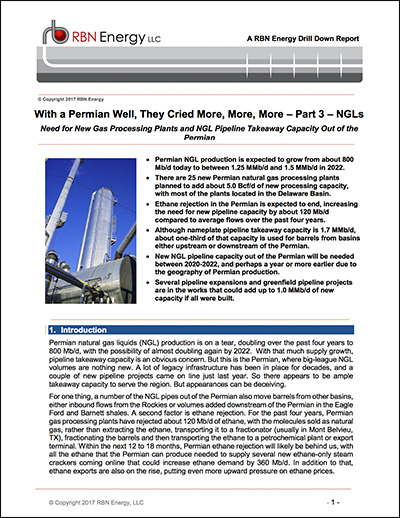 NEW Backstage Pass Drill Down Report
With a Permian Well, They Cried More, More, More Part 3 – Permian NGLs: Plants and Pipelines
Permian NGL production is on a tear, doubling over the past four years to 800 Mb/d, with the possibility of almost doubling again by 2022.  With that much supply growth, pipeline takeaway capacity is an obvious concern. But this is the Permian, where big-league NGL volumes are nothing new. A lot of legacy infrastructure has been in place for decades, and a couple of new pipeline projects came on line just last year. So there appears to be ample takeaway capacity to serve the region. But appearances can be deceiving.    Not all of the pipeline capacity exiting the Permian can be used by Permian producers, and there are a number of factors – such as the looming end of Permian ethane rejection – that will accelerate the need for more capacity sooner rather than later.   Fortunately for Permian NGL producers, several pipeline expansion projects are in the works.   But exactly how many pipelines, and how soon they will be needed remain open questions.  This Drill Down report addresses these questions and many others. 
In our two recent Drill Down Reports — one on Permian crude and the other on Permian natural gas — we explored the processing and pipeline-takeaway challenges due to fast-paced production growth in the Permian's Delaware and Midland basins. We also discussed plans for new crude and gas pipelines, as well as how soon new capacity would be needed under each of RBN's price scenarios. In our newest Drill Down Report, available today to RBN Backstage Pass subscribers, we examine the NGL side of the Permian.
To access the remainder of With a Permian Well, They Cried More, More, More - New Drill Down Report on Permian NGLs you must be logged as a RBN Backstage Pass™ subscriber.
Full access to the RBN Energy blog archive which includes any posting more than 5 days old is available only to RBN Backstage Pass™ subscribers. In addition to blog archive access, RBN Backstage Pass™ resources include Drill-Down Reports, Spotlight Reports, Spotcheck Indicators, Market Fundamentals Webcasts, Get-Togethers and more. If you have already purchased a subscription, be sure you are logged in For additional help or information, contact us at info@rbnenergy.com or 888-613-8874.