Mexico's energy relationship with the U.S. is undergoing radical changes as its oil production sags, its refineries produce too much high-sulfur fuel oil and too little gasoline and diesel, and its imports of U.S. natural gas and transportation fuels rise. Add to this already complicated story the Mexican government's efforts to inject competition and private-sector participation into a national energy sector long-dominated by state-owned Petróleos Mexicanos (Pemex) and that company's plan to swap light U.S. crude for heavy Mexican oil. In today's blog, "With A Little Help From My Friends—Mexico's Oil Sector in a State of Flux," Housley Carr begins a look at the ongoing transformation of U.S.-Mexico hydrocarbon trade and what it may mean for U.S. players—and Pemex.
A number of RBN posts over the past couple of years have detailed the evolution of the U.S. –Mexican energy relationship. The most significant development to date has been a large increase in Mexican imports of U.S. natural gas – aided by new cross-border pipelines and Mexico's build out of gas fired power generation assets (see The Gas All Went to Mexico). More recently we covered the existing and potential market for imports to Mexico of U.S. liquefied petroleum gas (LPG _ a mixture of propane and butane – mostly propane – see Light My Fire). But the energy trade traffic is not all in one direction. The U.S. is a significant importer of heavy Mexican crude that is refined by Gulf Coast refineries and we have described the battle for market share at those refineries between Pemex and rival Western Canadian oil sands producers (see Mamma Maya). In the past year the U.S./Mexico crude oil relationship has gotten even more complex with the advent of crude oil swaps that we described in "Have Another Swap of Mexican Crude" and which were finally approved to begin in early November 2015 at a rate of 75 Mb/d.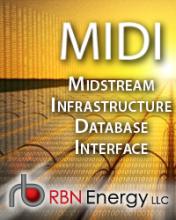 RBN's Midstream Infrastructure Database Interface
MIDI is an online toolset that links an energy project database and a mapping system. The Project Database includes U.S. crude oil, NGL and natural gas pipeline projects that are under development or have been placed into service within the past few months. MIDI also includes Featured Maps from selected RBN Drill Down Reports and blogs. Each of these maps is described in the text of its report or blog source material.
Best of all, MIDI is FREE! 
Despite its enormous oil-production potential, Mexico's output of crude peaked 10 years ago (at about 3.8 MMb/d); production fell by one-fifth in the 2005-09 period, and it's been inching down ever since, mostly because many of the major oil fields Pemex first developed years ago have been loosing their oomph and haven't been replaced by new discoveries in a timely manner. In 2014, Pemex production averaged 2.42 MMb/d, and so far in 2015 (through September) crude output is running at only 2.26 MMb/d. Earlier this month (November 2015), Pemex revealed that production at its Cantarell field (one of its four major offshore fields in the Gulf of Mexico's Bay of Campeche--Ku Maloob Zaap, Abkatun-Pol-Chuc and Coastal Tabasco are the others; see Figure 1 for 2014 output) in October slipped to its lowest level in 30 years: 206 Mb/d, or less than one-tenth of what it was producing in 2003-04.
To access the remainder of With A Little Help From My Friends—Mexico's Oil Sector in a State of Flux you must be logged as a RBN Backstage Pass™ subscriber.
Full access to the RBN Energy blog archive which includes any posting more than 5 days old is available only to RBN Backstage Pass™ subscribers. In addition to blog archive access, RBN Backstage Pass™ resources include Drill-Down Reports, Spotlight Reports, Spotcheck Indicators, Market Fundamentals Webcasts, Get-Togethers and more. If you have already purchased a subscription, be sure you are logged in For additional help or information, contact us at info@rbnenergy.com or 888-613-8874.