At a time when market prices have been weakened by a surplus of new natural gas production waiting for demand to develop, Mexico has been stepping up to the plate by increasing imports.  Gas demand for Mexican power generation, industrial use, and commercial and residential space heating continues to increase at a torrid pace south of the Rio Grande, much to the relief of gas producers in the Eagle Ford, the Permian Basin and other U.S. plays within reach of the international border. Today we provide an update on Mexico's growing dependence on U.S.-sourced gas, and the implications for producers and midstream companies.
There's said to be more than 500 Tcf of technically recoverable shale gas in Mexico, much of it in the Burgos and Sabinas basins just south and west of the Eagle Ford. But the shale plays south of the border are said to be geologically complex, and cracking their gas-extraction code is akin to cracking a very sophisticated safe. Besides, Mexico's gassiest areas lack the road and water infrastructure that development would require, and (yet another negative) they are rife with drug-cartel gangs and violence. For now, Mexico, (whose 2014 gas demand averaged 7.2 Bcf/d) is focused on maintaining its sagging domestic gas production (4.4 Bcf/d last year), and on developing the gas pipelines it needs to import increasing volumes of U.S.-sourced gas and move it south to population and industrial centers, where Mexico's state-owned Comisión Federal de Electricidad (CFE) and independent power companies are developing thousands of megawatts (MW) of gas-fired generating capacity to support a growing economy. It's been quite a ride for U.S. gas exports to Mexico that have more than doubled from 2010 to 2014 (900 MMcf/d to 2 Bcf/d) and averaged 2.5 Bcf/d in the first two months of 2015 (up more than 40% from the previous January/February); by 2016, gas deliveries from the U.S. to Mexico are expected to average more than 2.7 Bcf/d (or 1 Tcf/year, according to the U.S. Department of Energy's Quadrennial Energy Review released in April 2015; see Figure #1), and by 2030 DOE sees U.S. gas exports to Mexico doubling again, to 2 Tcf/year or nearly 5.5 Bcf/d.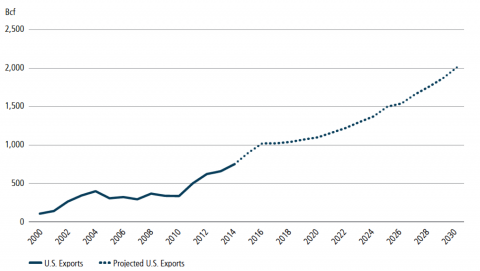 Source: U.S. Department of Energy Quadrennial Energy Review, April 2015 (Click to Enlarge) 
Continued growth in Mexican gas demand and imports is welcome news not only to U.S. producers, who are looking for incremental demand to match their rising production, but to U.S. midstream companies (and energy investors), who are provided new opportunities to co-develop and invest in Mexican gas pipelines. Given Mexico's growing need for U.S. gas, we've looked South of the Border several times, starting with our U.S. Natural Gas Headed Way Down South, Way Down To Mexico Way series, then in No Need for Mexicali Blues, and most recently in Help Me(xico) Make It Through The Night. (We also posted a blog last week about Mexico's application to import U.S. crude oil – see Have Another Swap). In our coverage of gas we traced the quickening pace of Mexican demand (most of it tied to new gas-fired generation) and gas pipeline development, as well as the opening up of Mexico's long-monopolized energy sector.
To access the remainder of The Gas All Went To Mexico—Moving U.S. Gas South Of The Border you must be logged as a RBN Backstage Pass™ subscriber.
Full access to the RBN Energy blog archive which includes any posting more than 5 days old is available only to RBN Backstage Pass™ subscribers. In addition to blog archive access, RBN Backstage Pass™ resources include Drill-Down Reports, Spotlight Reports, Spotcheck Indicators, Market Fundamentals Webcasts, Get-Togethers and more. If you have already purchased a subscription, be sure you are logged in For additional help or information, contact us at info@rbnenergy.com or 888-613-8874.