It's no secret that the past several months have been challenging for the wind power industry, especially when it comes to offshore projects. Major developers have sought to renegotiate power-purchase agreements (PPAs) signed years ago, delayed work on some projects, and walked away from others, despite severe financial repercussions in some cases. On top of all that, only one of three offshore tracts available in the U.S.'s first Gulf of Mexico lease auction for wind power attracted any bids. It all amounts to a major setback in the Biden administration's goal for the nation's electricity to be 100% carbon-free by 2035. In today's RBN blog, we look at the significant challenges being faced by wind power developers, what they mean for the projects currently under development, and some changes that could eventually help bring more of the renewable power online.
We've written a lot over the past couple of years about how the ongoing energy transition isn't going to be a straight line leading directly to abundant, carbon-free power and a net-zero world. The increased deployment of electric vehicles (EVs), the development of large-scale carbon-capture projects, and the creation of a flourishing clean hydrogen industry are all seen as important elements in a cleaner energy economy with significant long-term potential, but each faces their own headwinds to widespread adoption and long-term growth. For offshore wind, the tune is mostly the same, even if some of the notes are a little different.
On the positive side, U.S. offshore wind development has been growing at a crisp pace in recent years. The project development pipeline (see Figure 1 below) was at 52,687 megawatts (MW) as of May 31, 2023, according to the Department of Energy's (DOE's) annual Offshore Wind Market Report, up 15% from the previous year. In addition, the first two commercial-scale offshore wind power plants in the U.S. — Vineyard Wind 1 and South Fork Wind — have achieved major milestones this year. Vineyard Wind 1, which is located about 15 miles south of Massachusetts's Martha's Vineyard, completed installation of its offshore substation in July and its first turbine was shipped to its location in early September. The project is expected to begin generating power in October. (Vineyard 1 is a 50/50 partnership of Copenhagen Infrastructure Partners and Avangrid Renewables.) Construction on the South Fork Wind Farm, located between Martha's Vineyard and the eastern end of New York's Long Island, began in 2022 and it is expected to begin operations before the end of 2023. (South Fork is a 50/50 partnership of Ørsted and Eversource.)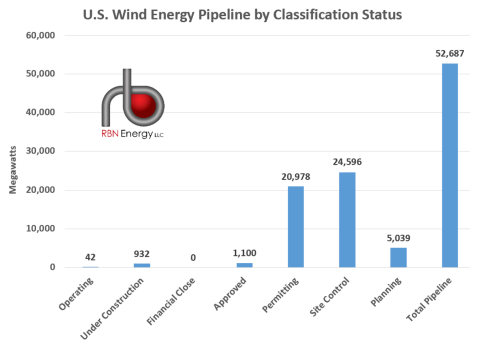 Figure 1. U.S. Offshore Wind Energy Pipeline by Classification Status as of May 31, 2023.

Source: Offshore Wind Market Report
Look a little closer, and the situation seems more fraught. Most of the 52,687 MW are in relatively early stages of the development pipeline, with just 42 MW already operational and 932 MW under construction (blue bars to far left in Figure 1), representing less than 2% of the total. In addition, most of the 6,915 MW added to the U.S. project pipeline over the past year was driven by activity that created three new lease areas in the Gulf of Mexico with an estimated capacity of 4,885 MW — but two of the three tracts available (representing a combined 3,226 MW) failed to attract any bids during a lease sale conducted in August by the Bureau of Ocean Energy Management (BOEM), even though major players like BP, Equinor and Shell had qualified to participate in the sale. The sole winner was RWE Offshore Wind, which secured the rights to an area off the coast of Lake Charles, LA, for $5.6 million, while two areas off Galveston, TX, received no bids. (The Lake Charles tract has an estimated capacity of 1,659 MW.) That result stood in stark contrast to the three offshore wind auctions conducted by the BOEM in 2022, which collected a combined $5.44 billion from 13 lease sales for areas off New York/New Jersey, the Carolinas, and California. The limited response to August's lease sale was likely due in part to the specific challenges to offshore wind in the Gulf of Mexico — including the threat of hurricanes and the need for bigger turbines to account for generally lower wind speeds in comparison to other areas — but it also speaks to some of the obstacles the offshore industry is facing.
The economic challenges can be broken down into three main categories:
Inflation: The just-in-time nature of the global supply chain has always been tricky to navigate for certain products and materials, even before the onset of the COVID-19 pandemic in 2020. The swift decline in manufacturing and demand, followed by a strong rebound for both during the post-pandemic recovery, exacerbated the existing challenges and drove up prices of products, materials and labor, raising the costs for virtually every type of project, including offshore wind. And as we noted in our Tell it Like It Is series, it's made it much more difficult to procure the minerals, metals and construction materials necessary for many clean-energy technologies.
Interest rates: The surge in prices has led the U.S. Federal Reserve to institute a series of interest-rate hikes over the past two years in an effort to get inflation under control. The Fed has raised the Federal Funds Rate — the interest rate that banks, credit unions, and savings and loans charge each other for overnight loans — 11 times since March 2022, pushing the rate up by 5 percentage points over that time. When interest rates go up, so does the cost of project financing, and many existing contracts for offshore wind don't allow for adjustments if and when costs or interest rates escalate. (More on that in a bit.) It's also worth noting that projects involving renewables can be very sensitive to changes in interest rates, given their generally high capital expenditures and comparably low operating expenses.
Subsidies: The Inflation Reduction Act (IRA) effectively extended offshore wind's eligibility for an investment tax credit (ITC) of 30% for at least a decade, with other bonuses possible, and also introduced per-watt manufacturing credits for domestic production of various clean energy technology components, including wind turbine blades, towers, foundations, and purpose-built offshore wind vessels. But project developers say the IRA's incentives — which are often critical to a project's economic viability — can be too hard to obtain. Some also argue that the IRA's incentives have played a big role in pushing up demand (and prices) for critical materials and minerals.
All this has led several developers to come to the same conclusion: Many of the offshore projects under development are no longer economically viable and are at risk of falling through. This is especially true for projects that have been in the works since before the pandemic and the inflationary surge of the past few years. For a microcosm of how this is playing out, let's look at four offshore projects planned for the Northeast and how their developers have responded to the more challenging economic environment.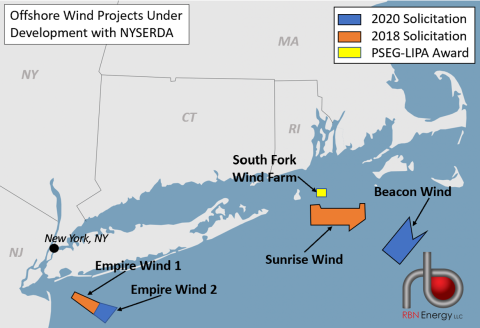 Figure 2. Offshore Wind Projects Under Development with NYSERDA. Source: NYSERDA
Beacon Wind (to right in Figure 2 above), a 50/50 partnership of Equinor and BP, is planned for an area about 60 miles east of Montauk Point, NY, and 20 miles south of Nantucket, MA. The lease was acquired in 2019 and the 1,230-MW project is expected to begin commercial operations in 2028. BP and Equinor are also partners in the 810-MW Empire Wind 1 and the 1,260-MW Empire Wind 2 projects (to left in Figure 2), planned for a site 15-30 miles south of Long Island. Equinor acquired the lease in 2017. PPAs have been signed for all three, but the developers filed a petition with the New York State Public Service Commission in June 2023 to revise the terms of the deals, citing inflation, supply-chain disruptions, the pace of the energy transition, and the Russia-Ukraine war for recent cost increases. The New York State Energy Research and Development Authority (NYSERDA) has said the companies' requests would increase the strike price — the guaranteed price the developers would receive for power produced by the offshore projects — by anywhere from 35% to 65% (see top three rows of Figure 3 below). Equinor and BP have asked the state to respond to their petition by the end of October and have said that the projects need sustainable economics to proceed.

Figure 3. Estimated Strike Prices and Increases Sought for Offshore Wind Projects. Source: NYSERDA
It's a similar situation for Sunrise Wind (center-right in Figure 1), an 880-MW project being developed about 30 miles east of Montauk Point. Like the previously mentioned (and nearby) South Fork Wind Farm, it is a 50/50 partnership of Ørsted and Eversource. The site is scheduled to begin testing and commercial operations in Q3 2025, according to a construction schedule posted by Ørsted, but the developers are seeking a 27% increase to the strike price (last row in Figure 3) that they say is essential to the project's success. Ørsted said the project's estimated return on investment (ROI) has dropped significantly since 2019 and that it would be unlikely to reach a final investment decision (FID) without an increase in the strike price. Ørsted has also said that it was considering $2.3 billion in impairment charges related to its U.S. wind portfolio, citing many of the same issues we noted above. The company has said that Sunrise Wind and two other projects in the area — Ocean Wind 1 (off southern New Jersey) and Revolution Wind (off the coast of Newport, RI) — had been adversely impacted by supplier delays. It also cited issues with South Fork Wind and Block Island Wind Farm in the same general area, as well as several onshore projects.
[RBN's Hydrogen Billboard report tracks the latest developments in the domestic and global hydrogen markets, filtering through the noise with an unbiased lens to deliver impactful hydrogen infrastructure and market analysis. Click here for more information and a sample report.]
So, what could make things easier for offshore wind? For starters, the IRA has the potential to play a significant role in the years ahead, even if many developers would like it to be easier to qualify for the tax credits. As noted earlier, the IRA extends the 30% investment tax credit for at least a decade and also offers bonuses that incentivize investments in energy communities and the domestic supply chain. (Under the IRA, energy communities include brownfield sites, coal communities and certain areas where employment and tax revenue are linked to fossil fuels.) It's also possible that rules around the tax credit could be revised over time, similar to how the guidelines around the tax credit for EVs have been adjusted, usually at the request of the auto industry.
Technical improvements could allow turbines to operate economically in deeper water, a necessity for long-term growth since prime shallow-water sites are becoming scarcer. (Onshore wind and solar farms are facing a similar predicament with some of the best locations no longer available and many other potential sites lacking sufficient access to transmission lines and the power grid.) The Biden administration announced the Floating Offshore Wind Shot in September 2022, which aims to reduce the cost of floating offshore wind by 70% to $45/MWh and sets the goal of deploying 15 gigawatts (GW) of floating offshore wind capacity by 2035. Additional technical improvements will also help determine the rate at which wind power expands to new areas such as Hawaii, the Great Lakes, and additional portions of the Atlantic and Pacific coasts.
We can't ignore the role that federal permitting reform could play in the years ahead, a topic we've discussed at length in our Don't Pass Me By series and Drill Down Report. The reality is that the permitting process for some important, badly needed projects can drag on for years and years. Permitting delays not only drive up project costs, but they also put additional stress on infrastructure that's already in place and prevent some projects from ever becoming a reality. In addition, newer offshore wind developments are likely to include measures to adjust PPAs in the years after they've been signed to reflect higher costs. As we noted with the four projects detailed above, economic conditions have the potential to change quickly (and unexpectedly), throwing the economic viability of some projects into doubt.
The headwinds facing the offshore wind industry are significant and we'll be watching closely to see how it all plays out. We'll pay particular attention to the attempts by project developers to renegotiate their strike prices as they consider their long-term commitment to the market.
"When the Wind Blows" was written by David Bowie and Erdal Kizilcay and appears as the first song on the soundtrack album for the 1986 animated film When the Wind Blows. Released as a single in October 1986, the song went to #44 on the U.K. Singles chart. The lyrics are based on the film's tale of a rural English couple's attempt to survive a nuclear attack and its aftermath. Personnel on the record were: David Bowie (vocals, production), Erdal Kizilcay and David Richards (production).
When the Wind Blows Soundtrack Album was recorded during the winter of 1985 in London. It features tunes written by Roger Waters and performed with his Bleeding Heart Band, along with artists David Bowie, Genesis, Hugh Cornwell, Squeeze, and Paul Hardcastle. Bowie was originally slated to provide the majority of songs for the album, but decided to pass so he could focus on his upcoming LP at the time, Never Let Me Down. The soundtrack album was released in May 1986 along with the film directed by Jimmy Murakami.
David Bowie (David Jones) was an English singer, songwriter, musician, and actor. He is regarded as one of the most influential artists of the 20th century. He released 26 studio albums, nine live albums, 26 compilation albums, two soundtrack albums, eight EPs and 128 singles. He has sold more than 140 million records worldwide. Bowie was featured in 37 motion pictures and television shows. He won four Brit Awards, six Grammy Awards, four Ivor Novello Awards and four MTV Video Music Awards. He was inducted into the Rock and Roll Hall of Fame, Songwriters Hall of Fame, has a Lifetime Achievement Grammy Award, and a star on the Hollywood Walk of Fame. Bowie died in January 2016 in New York City at the age of 69.