Close analysis of Houston area crude storage indicates it is only 52% utilized today even as regional crude inventories have reached record levels. Meeting refinery operational needs appears to be the main use of area storage – rather than speculative gains from buying today's cheap oil to store and sell later. Today we continue our analysis of Houston area refinery infrastructure.
The First Episode of this series reviewed the evolving crude supply demand balance into the Houston refining region that has 9 refineries and two new 50 Mb/d condensate splitters that are processing an estimated 2.4 MMb/d of crude between them. Crude supplies into Houston refineries used to be predominantly waterborne imports but rising U.S. and Canadian production is increasingly replacing overseas feedstock. In 2015 through May remaining waterborne imports were 0.9 MMb/d versus overland pipeline supplies that we estimated at about 1.5 MMb/d. Another 100 Mb/d of waterborne crude and condensate from the Eagle Ford are delivered to area docks by barge and tanker. These incoming supplies roughly balance with refinery demand. However - incoming pipeline capacity is less than 50% utilized even as more than 1 MMb/d of new pipes are expected online by early 2016 - suggesting that a lot more incoming crude is expecting to navigate the Houston area in the future (or that the incoming infrastructure is overbuilt).
In Episode 2 we looked at logistics challenges in the Houston area arising from crude quality differences between traditional imports that are heavy and medium grades and new domestic production that has been predominantly light crude or ultra light condensate. Existing refineries were built to process heavier crudes and can only handle so much lighter crude without investment and reconfiguration. That means heavier waterborne imports are still needed – although they are being slowly replaced by heavy crude coming by pipeline from Western Canada. At the same time changing interpretations of Bureau of Industry and Security (BIS) regulations governing the export of crude are now allowing exports of lightly processed condensate. However, that processed condensate requires segregation en-route to marine docks – complicating pipeline logistics. In Episode 3 we looked at the limited ways that crude coming into Houston by pipeline can currently bypass area congestion to get to refineries in Port Arthur/Beaumont or further along the Gulf Coast in Lake Charles and St. James, LA. Local traffic congestion in Houston and a lack of throughway capacity is currently preventing pipelines from delivering as much crude into Houston as they could and pushing barrels trying to reach refineries in Louisiana onto the water. The new Enterprise Products Partners (EPD) Rancho II pipeline will relieve some of that congestion but there is still a constraint east of Port Arthur/Beaumont. This time we look at the use of crude storage capacity in Houston.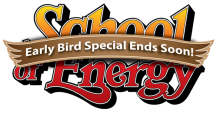 SCHOOL OF ENERGY HOUSTON!
EARLY BIRD SPECIAL ENDS IN 2 DAYS !! - August 28, 2015
+ Pre School International Energy Day
RBN's School of Energy returns to Houston with Guest content, CPE Credits and our full energy curriculum.
Houston - September 28 - 30, 2015
Ever since last December Gulf Coast crude oil stocks - as reported weekly by the Energy Information Administration (EIA) - have been running well above the previous 5-year average. Figure #1 shows actual crude inventory levels over the past year (blue line) as well as the range of values during the previous 5-years (dark gray shading) and the average of those 5-years (red line). The latest weekly data (August 21, 2015) shows crude stocks in the Gulf Coast region - known as Petroleum Administration for Defense District (PADD) III – at 223 MMBbl – about 44 MMBbl or 25% above the 5-year average. Crude inventory levels have been higher this year – peaking at an all-time record 244 MMBbl in April 2015 but have declined since in response to record refinery throughputs this summer (see Achy Breaky Refineries). The build up in Gulf Coast stocks to record levels in the past year was largely prompted by the crude price crash that created a contango market structure where crude sold today is less valuable than crude sold into the futures market – making storage an attractive option (see Skipping the Crude Contango). More generally though, crude stocks have been growing since new pipelines opened up from the Cushing, OK Midwest storage hub and from the Permian Basin to the Gulf Coast in 2013 and 2014 – bringing new domestic and imported Canadian barrels into the region.
Join Backstage Pass to Read Full Article