For gas producers in Appalachia, this has not been such a good summer for basis – the price they get for their gas versus the benchmark at Henry Hub, LA.  Basis in the eastern part of the Marcellus has been particularly weak, with negative differentials extending into New York.   Even at some West Virginia points like Dominion South, producers have faced ugly basis for the past few months.  But there are some points that have been relatively immune, including Columbia Gas TCO, which has been hanging in there at pricing pretty close to Henry.  Even when parts of the Dominion South and TCO pipeline systems are on top of each other.  Why are basis differentials in the Appalachian Mountains hopping around all over the place?  Today we look into why some Northeast prices have taken a hit and others have not.
The RBN blogosphere has been tracking the revolutionary developments in the northeast natural gas market for several years now, with most of the most recent focus on the development of new pipeline infrastructure, starting with Please Come to Boston—New England Needs More Natural Gas Pipelines, and detailing a couple of dozen projects in the series They Want to Be Close to You— Marcellus/Utica Pipeline Projects (Part 1, Part 2, Part 3, Part 4 and Part 5).  But even with all the infrastructure that has been built and will be coming on soon, it is clear that capacity constraints are taking their toll on prices. 
">

"SURVIVING THE FLOOD OF LIGHT CRUDE OIL"

  A JOINT CONFERENCE PRESENTED BY

RBN ENERGY AND TURNER, MASON & COMPANY

Why are refineries limited in the portion of light crude that can be run?  What are the current limits on light crude runs?  If U.S. refineries cannot absorb all of this volume and it cannot be exported, where will all this light crude go?    These questions and many more will be addressed at this conference, to be held August 19-20 in Houston.  More information on Surviving the Flood here.
If you are not familiar with the Northeast natural gas market, Figure #1 is a quick-and-dirty tutorial.  A few of the major pricing hubs are shown on the left.  Columbia Gas (TCO) is a spider-web system crisscrossing Ohio, West Virginia and into Pennsylvania.  Dominion Transmission (DTI) is another spider-web in West Virginia and Pennsylvania.  The location of those systems puts them in the epicenter of Marcellus/Utica production in those states.  Texas Eastern Transmission (TETCO), Tennessee Gas Pipeline (TGP) and Transco are all long line pipelines, previously moving gas from the Gulf Coast to the Northeast, that are now in the process of reversing to flow gas from Appalachia down to the Gulf Coast.   These pipeline source a lot of their growing supplies from the Marcellus production region in Northeastern Pennsylvania.  There was a time when all these points traded at a premium to the Henry Hub because gas was transported to them from the Gulf Coast.  But at least in the summer, that is no longer the case.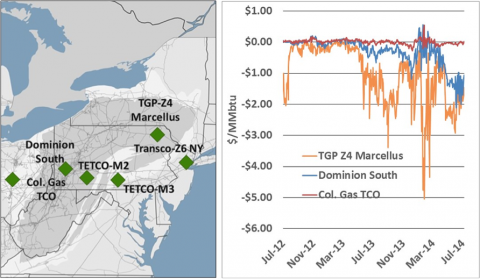 Figure #1 (Click to Enlarge)
Each of these points is now trading below Henry, due to the incredible onslaught of natural gas production in the region. But the impact on each point has been quite different.  Consider the chart on the right in Figure #1.  TGP Zone 4, right in the middle of one of the most prolific producing regions in the country has been hammered, with prices down more than $3.50/MMbtu versus Henry Hub last fall, as much as $5.00/MMbtu this past winter, and about $2.00/MMbtu recently.  Dominion's south point, which had enjoyed much stronger pricing than TGP Zone 4 hit the skids in January and now is bouncing between $1.00 and $2.00 below Henry Hub.  But in the midst of this carnage, Columbia Gulf TCO basis is sitting pretty close to Henry.  What's up?  To figure that out, we'll focus on TCO and Dominion. 
To access the remainder of Misty Mountain Hop – Natural Gas Price Differentials Blow Out in Marcellus/Utica you must be logged as a RBN Backstage Pass™ subscriber.
Full access to the RBN Energy blog archive which includes any posting more than 5 days old is available only to RBN Backstage Pass™ subscribers. In addition to blog archive access, RBN Backstage Pass™ resources include Drill-Down Reports, Spotlight Reports, Spotcheck Indicators, Market Fundamentals Webcasts, Get-Togethers and more. If you have already purchased a subscription, be sure you are logged in For additional help or information, contact us at info@rbnenergy.com or 888-613-8874.