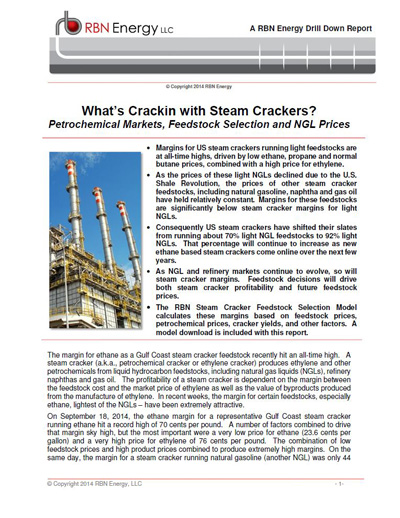 On September 19, 2014, the operating margin for a representative Gulf Coast steam cracker running ethane hit a record high of 70.4 cents per pound. The combination of a low ethane price and a high price for ethylene combined to produce an extremely high margin for that feedstock. But on the same day, the margin for a steam cracker running natural gasoline was 47.3 cents per pound. Also an attractive margin, but only 67% of the ethane margin.
That difference in relative feedstock margins is the most important factor that influences which feedstocks that steam crackers choose to run, and has a significant impact on the profitability of US petrochemical companies. Firms with crackers processing ethane are enjoying very healthy returns by maximizing the volume of ethane they are running. Petchems are investing heavily to minimize their runs of heavy feedstocks like natural gasoline, refinery naphtha and gas oil while increasing their runs of lighter feedstocks, including ethane and propane. Billions in new U.S. cracker investment are in the works, and European crackers are getting into the act with plans to use cheap U.S. ethane shipped from the East and Gulf coasts.
To understand the dynamics of these developments, you need to get into the details. This RBN Energy Drill-Down Report does that using the latest version of RBN's Steam Cracker Feedstock Selection Model, which calculates these margins based on feedstock prices, petrochemical prices, cracker yields, and other factors. A download of the model is included with this report.
Report highlights include:
Margins for US steam crackers running light feedstocks are at all-time highs, driven by low ethane, propane and normal butane prices, combined with a high price for ethylene.
As the prices of these light NGLs declined due to the U.S. Shale Revolution, the prices of other steam cracker feedstocks, including natural gasoline, naphtha and gas oil have held relatively constant. Margins for these feedstocks are well below steam cracker margins for light NGLs.
Consequently US steam crackers have shifted their slates from running about 70% light NGL feedstocks to 92% light NGLs. That percentage will continue to increase as new ethane based steam crackers come online over the next few years.
As NGL and refinery markets continue to evolve, so will steam cracker margins. Feedstock decisions will drive both steam cracker profitability and future feedstock prices.
What's Crackin with Steam Crackers is the ninth in RBN Energy's Drill Down report series, a suite of twelve reports coming from RBN during 2014 covering many of the key issues expected to impact the markets for crude oil, natural gas and natural gas liquids.
Drill Down reports are part of RBN Backstage Pass™ premium resources that also include Blog Archive Access, Spotcheck Indicators, Market Fundamentals Webcasts, Get-Togethers and more. By subscribing to RBN's Backstage Pass™ Premium Services, you plug into our network and get direct access to our premium resources.
Click to download a preview of What's Crackin with Steam Crackers.