With U.S. ethane prices low and ethane rejection expected to continue increasing, interest in exporting liquid ethane is ramping up. But there are significant barriers to these exports, including: (1) loading and unloading terminal infrastructure, (2) shipping, (3) pricing, and (4) petrochemical demand.  We examined the first two of these barriers earlier this week.  Today we wrap up this blog series, examining pricing and demand.
The first episode in our Changes in Longitudes blog series reviewed the big growth in U.S. ethane production over the past few years, the collapse of ethane prices in late 2012, and the rejection of ethane production (selling ethane as natural gas at fuel value rather than as a petrochemical feedstock) that has resulted from low ethane prices. We explored the new U.S. ethane-based Gulf Coast cracking capacity being developed and discussed our view that the growing volume of ethane that gas processors could produce will continue to outpace the volume that the U.S. petrochemical industry can consume. By our estimate, ethane rejection—that has recently been running at about 250 MB/d, will nearly triple over the next three years, to more than 700 MB/d in 2017.
In Episode Two we considered two of the four major barriers to significant U.S. ethane exports.  The first barrier is the lack of loading and unloading infrastructure.   At the loading end, chillers must be built to reduce the temperature of ethane to near-cryogenic levels so that it can be loaded onto ships.   At both the loading and unloading end, near-cryogenic tankage must be built in locations that don't have the advantage of nearby underground storage.  Then there are the ships, or lack thereof – barrier number two.  Several ethane-capable vessels are on order, primarily to handle the deals to supply petrochemical company INEOS with U.S. ethane from Marcus Hook, PA into crackers located in Norway and Scotland.  But these ships are expensive and have long lead times.  Many more ethane-capable ships will be required to move significant volumes of U.S. ethane to overseas markets. 
Pricing
The third potential barrier is pricing – more specifically pricing arrangements acceptable to both U.S. ethane sellers and overseas ethane buyers.  The commodity price benchmark for U.S. ethane is the Mont Belvieu purity ethane price.  Except for a short-term run-up this past winter, ethane prices have been at or near natural gas BTU equivalent levels since late 2012 due to surplus ethane supplies which have pushed the price of ethane down to rejection levels.  Of course, it is those low ethane prices that have been driving overseas interest in U.S. ethane in the first place.  But don't forget, it was less than three years ago when ethane prices were well above 90 cnts/gallon (see Figure #1 below – blue line).  As shown in the graph, this unique NGL has the potential for significant volatility.
Most overseas ethylene crackers use naphtha as their primary feedstock.  The cost of ethylene made from naphtha (as it is priced in the global market) is considerably higher than ethylene made from ethane priced in the U.S. at Mont Belvieu.  In effect, it is the spread between global naphtha prices and U.S. ethane prices that is driving all of the interest in U.S. ethane.  But what if large-scale exports of U.S. ethane were to drive the price of U.S. ethane back to where it was in 2012?  Clearly that would be bad news for any company that made large investments in the tankage, chillers, ships and other infrastructure needed to move U.S. ethane into overseas markets and use that ethane to make petrochemicals.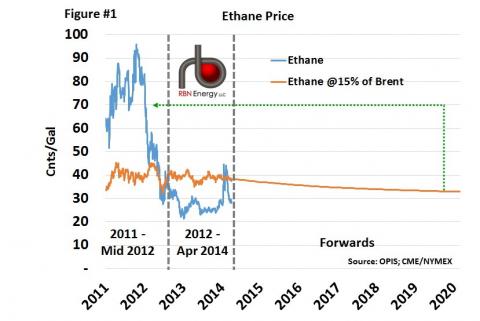 Figure #1 (Click to Enlarge)
For that reason, many international buyers pursuing U.S. ethane are trying to put together deals where the price they pay is not pegged to the U.S. ethane price at Mont Belvieu, but instead is based on some formula tied either to global naphtha prices or in some cases to a surrogate marker price closely correlated with global naphtha prices – like the price of North Sea Brent crude oil. That is a perfectly logical strategy for the buyer.  With the ethane price indexed to the economics of the alternative feedstock using a pricing formula, the buyer can be guaranteed to get the benefit of lower prices, regardless of what happens to ethane prices at Mont Belvieu.
To access the remainder of Changes in Longitudes — More Barriers to Ethane Exports you must be logged as a RBN Backstage Pass™ subscriber.
Full access to the RBN Energy blog archive which includes any posting more than 5 days old is available only to RBN Backstage Pass™ subscribers. In addition to blog archive access, RBN Backstage Pass™ resources include Drill-Down Reports, Spotlight Reports, Spotcheck Indicators, Market Fundamentals Webcasts, Get-Togethers and more. If you have already purchased a subscription, be sure you are logged in For additional help or information, contact us at info@rbnenergy.com or 888-613-8874.