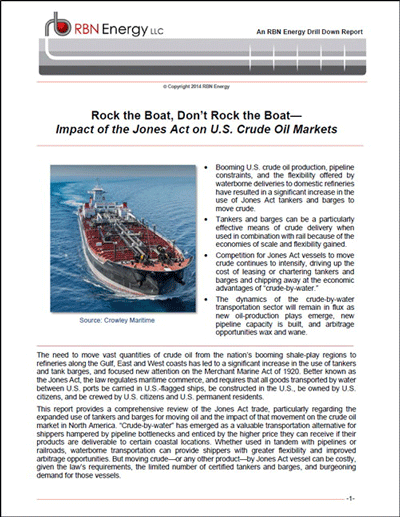 The need to move vast quantities of crude oil from the nation's booming shale-play regions to refineries along the Gulf, East and West coasts has led to a significant increase in the use of tankers and tank barges, and focused new attention on the Merchant Marine Act of 1920. Better known as the Jones Act, the law regulates maritime commerce, and requires that all goods transported by water between U.S. ports be carried in U.S.-flagged ships, be constructed in the U.S., be owned by U.S. citizens, and be crewed by U.S. citizens and U.S. permanent residents.
This report provides a comprehensive review of the Jones Act trade, particularly regarding the expanded use of tankers and barges for moving oil and the impact of that movement on the crude oil market in North America. "Crude-by-water" has emerged as a valuable transportation alternative for shippers hampered by pipeline bottlenecks and enticed by the higher price they can receive if their products are deliverable to certain coastal locations. Whether used in tandem with pipelines or railroads, waterborne transportation can provide shippers with greater flexibility and improved arbitrage opportunities. But moving crude—or any other product—by Jones Act vessel can be costly, given the law's requirements, the limited number of certified tankers and barges, and burgeoning demand for those vessels.
Key take-aways from the report include:
Booming U.S. crude oil production, pipeline constraints, and the flexibility offered by waterborne deliveries to domestic refineries have resulted in a significant increase in the use of Jones Act tankers and barges to move crude.
Tankers and barges can be a particularly effective means of crude delivery when used in combination with rail because of the economies of scale and flexibility gained.
Competition for Jones Act vessels to move crude continues to intensify, driving up the cost of leasing or chartering tankers and barges and chipping away at the economic advantages of "crude-by-water."
The dynamics of the crude-by-water transportation sector will remain in flux as new oil-production plays emerge, new pipeline capacity is built, and arbitrage opportunities wax and wane.
Rock the Boat, Don't Rock the Boat is the fourth in RBN Energy's Drill Down report series, a suite of twelve reports coming from RBN during 2014 covering many of the key issues expected to impact the markets for crude oil, natural gas and natural gas liquids.
Drill Down reports are part of RBN Backstage Pass™ premium resources that also include Blog Archive Access, Spotcheck Indicators, Market Fundamentals Webcasts, Get-Togethers and more. By subscribing to RBN's Backstage Pass™ Premium Services, you plug into our network and get direct access to our premium resources.
Click to download a preview of the Rock the Boat report.