The large and growing surplus of U.S. ethane is leading producers and shippers to step up efforts to export ethane to Europe and eventually to Asia. But there are several hurdles, including the need to construct specialized dock and loading facilities, special ships required to move ethane in overseas trade, unloading and storage facilities at the receiving end, and the need for ethylene crackers in the global market —most of which now use naphtha as their feedstock—to make costly modifications before they can switch to ethane. It may be costly, but it could happen.  There are those that hang on to the belief (a mistaken one, we think) that the ethane surplus will disappear later this decade as planned U.S. crackers come online and use increasing amounts of ethane.   It is true that those plants will use a lot of ethane.  But not nearly enough. Today in the first episode of this blog series we begin to explore the ethane-export issue.
One of our more frequently accessed blog topics during the past two years has been U.S. over-production of ethane, and what it would take to move the ethane market closer into balance. In Dirty Deeds Done Dirt Cheap—Will NGL Prices Continue to Drop? and No Particular Place to Go--What Will Happen to the Tsunami of Marcellus/Utica Ethane Production?, we discussed the sharp rise in ethane production, the collapse of ethane prices, and the growing volumes of ethane rejection (ethane left in the residue gas stream and sold as natural gas rather than extracted and sold as liquid ethane). As shown in Figure #1a below, ethane prices ramped up in the first two months of 2014 to almost $0.45/gal, primarily in sympathy with the big weather-related jump in propane and natural gas prices (see Beyond Hypothermia), but in the last couple of weeks ethane prices have fallen hard and now are only about $0.2825/gal (OPIS). 
Figure #1b shows what has happened to the relationship between ethane and natural gas, the key driver of ethane rejection.  This ratio is calculated by converting the ethane price in cents per gallon to dollars per MMbtu, and then dividing that result by the price of natural gas in dollars per MMbtu.  A ratio of less than 1X means that the natural gas price is higher than ethane on a BTU basis, and thus is an indicator of rejection economics.  Given that ethane must be transported and fractionated before being sold, the actual rejection threshold is above zero for most gas processing plants.  After dropping like a rock from 4X in early 2012 to less than 1X in late 2012, the ratio bounced on either side of 1X until this year when prices bumped up again.  However, in the past week the ratio is back down below 1X, where it is likely to stay for many years to come, except for weather-related aberrations.
[Note that we calculate this ratio each day and display the graphic results in Spotcheck, a service provided in RBN's Backstage Pass premium service.  For more information on Spotcheck, click here or scroll to the bottom of the RBN Energy home page.]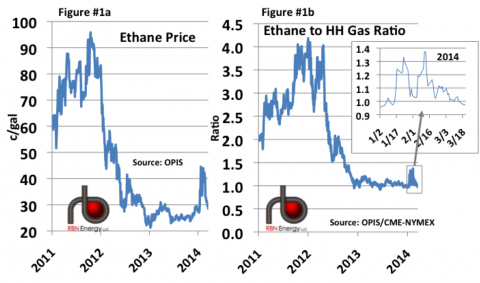 Source: RBN Energy (Click to Enlarge)
With rejection economics at this level we estimate at least 250 Mb/d of ethane is in rejection mode today, and as we discussed in The Gas is Hot Tonight it is going to get a lot worse.  By 2016, our current projections have that number above 700 Mb/d. Based on publically available reports, it seems that some believe the current glut of U.S. ethane is a relatively short-term phenomenon, and that most of the surplus will be soaked up by the new U.S. cracker capacity being planned and built, mostly scheduled to be completed in 2017, and most of them along or near the Gulf Coast. Assuming all that planned capacity becomes a reality, the new ethane demand would be considerable: 105.5 MB/d of incremental need by the end of 2015, and another 495 MB/d in the 2017-19 period (see Figure #2 below).
To access the remainder of Changes in Longitudes—Ethane Exports to Europe you must be logged as a RBN Backstage Pass™ subscriber.
Full access to the RBN Energy blog archive which includes any posting more than 5 days old is available only to RBN Backstage Pass™ subscribers. In addition to blog archive access, RBN Backstage Pass™ resources include Drill-Down Reports, Spotlight Reports, Spotcheck Indicators, Market Fundamentals Webcasts, Get-Togethers and more. If you have already purchased a subscription, be sure you are logged in For additional help or information, contact us at info@rbnenergy.com or 888-613-8874.