Enhanced oil recovery (EOR) offers the potential for releasing huge volumes of crude now stranded underground, but the pace of EOR is dependent largely on how much carbon dioxide can be captured and piped to mature oil fields where EOR would work best. Many of the best natural sources of CO2 near these fields have already been tapped, and while they will continue to provide most of the CO2 used in EOR, they need to be supplemented by expansions and by new, industrial sources of CO2 if EOR is to fulfill its promise. In today's blog, we continue our look at CO2-producing projects on the horizon, and assess the resulting outlook for CO2-based EOR.
Enhanced oil recovery, like just about any other part of the energy business, is driven largely by economics, and the recent (and significant) softening of oil prices may well have a dampening effect on EOR since oil prices need to be high enough to justify the investment. The real sticking point for expanding the use of CO2-EOR, though, has been the availability of large, reliable volumes of CO2 that can be piped to EOR-friendly oil fields. And CO2 production, just like production of oil and gas, is based in large part on economic factors—that is, it has to make economic sense to capture CO2 for use in EOR.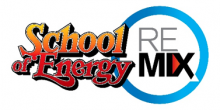 It's a REMIX!
RBN's School of Energy has been reworked, restructured and reorganized to make the conference even better - more content, more models and more labs.
Houston - October 29-31, 2014
Calgary - March 30 - April 1, 2015
As we said in Episode 1, primary recovery of oil from a conventional well (through natural pressure and pumps) typically removes only 10% of a reservoir's total oil, and secondary recovery (mostly injecting water to displace oil and drive it to a production wellbore) removes another 20 to 40%, leaving as much as 70% of a reservoir's oil in place. EOR—or tertiary recovery by injecting CO2—can unlock a significant portion of what's left. But producers need reliable access to large volumes of CO2—not just a natural or industrial source of the CO2, but also a pipeline to deliver it to the oil field. Pipelines are costly; then there's the cost of the CO2 itself and the costs of injecting the CO2 (usually with intermittent injections of water), removing any CO2 from the oil produced, and recirculating the CO2 for another go-round. In Episode 2, we discussed the natural sources of CO2 (mostly in Colorado and New Mexico) that provide much of the CO2 now used in EOR, the natural gas processing plants that help out, and the three US power generation-related CO2 projects that will further augment CO2 supplies in the 2015-18 period.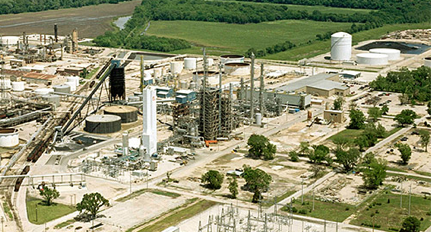 Coffeyville Fertilizer Plant; Source: National Energy Technology Laboratory (Click to Enlarge)
Natural sources of CO2 and natural gas processing plants that separate out CO2 have provided a steady 2.6 Bcf/d or so of CO2 for EOR, and other industrial sources pony up another 500 MMcf/d. There is a very rough ratio for EOR: 1 Bcf/d of new CO2 supply equals about 100 Mb/d of additional crude production. So the estimated 3.1 Bcf/d of CO2 now available for EOR can be counted on to extract about 310 Mb/d of crude out of mature fields. The CO2 from the three power-related projects we discussed last time—Kemper in Mississippi (165 MMcf/d), Petra Nova near Houston (75 MMcf/d) and the Texas Clean Energy Project near Odessa (130 MMcf/d)—together will increase the supply of CO2 for EOR by another 360 MMcf/d, or more than 10%. Still another boost will come from Kinder Morgan's $ 1 billion plan to tap the natural CO2 supply at St. Johns Dome in western New Mexico and pipe it east to the Permian starting in late 2016. (St. Johns Dome's initial capacity will be 300 MMcf/d.) But 3.7 Bcf/d of CO2 is only enough to squeeze a total of about 370 Mb/d of EOR crude out of EOR-friendly basins.
Getting EOR-related production to approach 600 Mb/d by the early 2020s, as the US Energy Information Administration (EIA) has suggested is possible (under a high-oil price scenario), would require at least another 2 Bcf/d of reliable CO2 supply, however, and the prospects for lining up that much new CO2 in the next six to eight years are iffy at best. As you may recall, in Episode 2 we showed a map of potential CO2-capturing industrial projects that were said to be "in the pipeline" through 2020. On close examination, a number of those projects have stalled or been cancelled, in part due to disconnect between their economic rationales and economic reality. First of all (and on a positive note) we should point out some of the several industrial projects that are producing CO2 for EOR. Projects like Conestoga Energy Holdings' Arkalon ethanol plant near Liberal, KS which produces about 14 MMcf/d of CO2 for EOR use in the Texas and Oklahoma panhandles, and Conestoga's Bonanza ethanol plant in Garden City, KS, which produces about 7 MMcf/d of CO2 for EOR use in southwestern Kansas. Then there's Air Products & Chemicals' CO2-capture project on two steam methane reformers at Valero Energy's Port Arthur, TX refinery, which since March 2013 has been capturing up to 48 MMcf/d of CO2 for EOR use nearly 100 miles away in the Hastings oil field in Brazoria County, TX. Other recent industrial CO2 success stories include the Coffeyville Resources Nitrogen Fertilizers plant in Coffeyville, KS (see photo above), which since June 2013 has been capturing and piping (nearly 70 miles) about 4 MMcf/d of CO2 to Chaparral Energy's North Burbank oil field in Osage County, OK. And there's ConocoPhillips' Lost Cabin natural gas processing plant in Fremont County, WY, which since March 2013 has been capturing about 50 MMcf/d of CO2 that is piped 232 miles for EOR use at Denbury Resources' Bell Creek oil field near Broadus, MT. (Denbury expects  EOR to result in at least 30 MMBbl of incremental crude production from the field.)
To access the remainder of EOR Don't Get No Respect—How Much CO2 Will Really Be Available? you must be logged as a RBN Backstage Pass™ subscriber.
Full access to the RBN Energy blog archive which includes any posting more than 5 days old is available only to RBN Backstage Pass™ subscribers. In addition to blog archive access, RBN Backstage Pass™ resources include Drill-Down Reports, Spotlight Reports, Spotcheck Indicators, Market Fundamentals Webcasts, Get-Togethers and more. If you have already purchased a subscription, be sure you are logged in For additional help or information, contact us at info@rbnenergy.com or 888-613-8874.