As we said in Part One of this series, the production of NGLs has risen sharply in the past five years, and the pace of growth is only increasing. In response, the four leading fractionators in Mont Belvieu have been adding new capacity and planning more. They also have been adding pipeline capacity to move NGLs in and out of Mont Belvieu's massive storage capacity and building and expanding export terminals nearby to facilitate the export of LPG, ethane and other NGL-based products to consumers overseas. We also discussed how geography and geology have helped to make Mont Belvieu (30 miles east of Houston) the center of US fractionation activity. As we said, it is located near several oil and gas production regions; it is in the heart of petrochemical production; it is along the coast (a must for importing and exporting); and it sits atop one of the world's largest salt dome formations). Finally, we talked about how fractionators in Mont Belvieu compete with each other for business primarily on price (fractionation fees) and logistics (the ability to provide the pipelines and storage needed to smoothly move product through the process), and how fractionators in other regions are always looking to take some of Mont Belvieu's market share.
Last time, we examined the Mont Belvieu fractionation capacity and expansion plans of the two largest players there: Enterprise Products Partners (EPD) and Targa Resources Partners. As you recall, EPD owns all or part of eight NGL fractionation trains in Mont Belvieu with a combined capacity of 670 Mb/d (EPD's share of that total is about 570 Mb/d), and Targa owns all or part of fractionators with a combined capacity of 538 Mb/d. EPD recently added two fractionator trains at Mont Belvieu; it also is expanding a nearby LPG export terminal and planning a big new ethane export facility. Targa, meanwhile, added a fourth fractionation train at its Cedar Bayou facility in Mont Belvieu last summer, and is likely to add two more trains there soon. It also is expanding its Galena Park export terminal near Houston.
By the way, if you are new to the business of fractionation, a train is not of the choo-choo variety. Instead a fractionation train is an integrated set of heaters, towers and other hardware that works together to split mixed NGLs into the purity products ethane, propane, normal butane, isobutane and natural gasoline.
Today we discuss the Mont Belvieu fractionation capacity and expansion plans of ONEOK Energy Partners and Lone Star NGL LLC.
ONEOK Partners
ONEOK Partners owns 80% of a 160 Mb/d fractionator (MB-1) at its Mont Belvieu complex and 100% of both a 75 Mb/d fractionator (known as either MB-2 or Frac-1) that came online in December 2013 and a 75 Mb/d fractionator (known as either MB-3 or Frac-2; estimated cost, $525 million to $575 million) that is under construction and expected to begin commercial operation in the fourth quarter of 2014 (see Figure #1).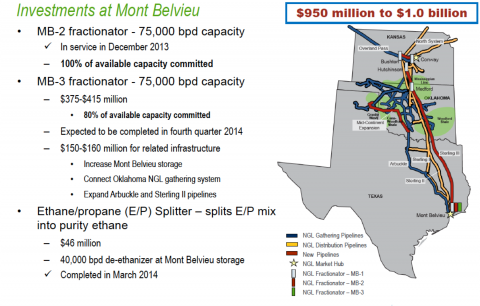 Figure #1
Source: ONEOK (Click to Enlarge)
At year-end 2013, 80% of MB-3/Frac-2's capacity was under long-term contract and, given the growing demand for fractionation services, the remaining 20% is likely under contract by now. In March 2014, ONEOK brought online a $46 million, 40 Mb/d ethane/propane splitter than can produce 32 Mb/d of purity ethane and 8 Mbd/ of propane. Also in March, ONEOK opened its new, 550-mile Sterling III pipeline (in Figure #1, the long red line), which can move 193 Mb/d of mixed NGLs or NGL purity products from Medford, OK to ONEOK's Mont Belvieu fractionation and storage facilities. With additional pumps, Sterling III's capacity could be increased to 260 Mb/d. As part of its NGL pipeline expansion effort, ONEOK also has been reworking its Sterling I and II NGL distribution pipelines (the yellow lines in Figure #1) so they can move mixed NGLs as well as purity NGL products.
To access the remainder of Talkin' 'Bout My F-F-Fractionation—Will the Mont Belvieu Expansions Be Enough? you must be logged as a RBN Backstage Pass™ subscriber.
Full access to the RBN Energy blog archive which includes any posting more than 5 days old is available only to RBN Backstage Pass™ subscribers. In addition to blog archive access, RBN Backstage Pass™ resources include Drill-Down Reports, Spotlight Reports, Spotcheck Indicators, Market Fundamentals Webcasts, Get-Togethers and more. If you have already purchased a subscription, be sure you are logged in For additional help or information, contact us at info@rbnenergy.com or 888-613-8874.