Permian crude oil production and pipeline takeaway capacity out of the region are in a horse race —it's a close one too, and the stakes are high. Twice in the past few years, Permian production growth has outpaced the midstream sector's ability to transport crude to market, resulting in negative price differentials that cost many producers big-time. Now, thanks to increased drilling activity and producers' heightened ability to wring more out of the play's multistack formations, Permian production is expected to rise by at least another 1.5 million barrels/day (MMb/d) by 2022 —a 60%-plus gain over five years —raising the threat of another round of major price hits, maybe as soon as later this year. Today we continue a blog series on the challenges posed by rapid production gains in the hottest U.S. shale play.
In Part 1 of this series, which is based on our new Drill Down Report, "With a Permian Well, They Cried More, More, More," we discussed the fact that the Permian for the past two years has been the engine propelling U.S. crude oil production upward. The Permian's Midland, Delaware and Central basins now produce 2.2 MMb/d, more than double the region's 1.0 MMb/d output in 2010 and up 200 Mb/d in the past six months alone. Because the Permian has been a major production area for decades —producing as much as 2.0 MMb/d back in the mid-1970s before the play entered a 30-year-plus, pre-Shale-Era decline —there was substantial pipeline infrastructure in place when the ongoing resurgence in Permian production started seven years ago.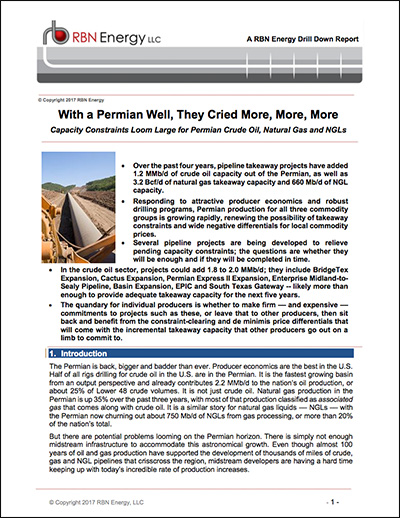 NEW Backstage Pass Drill Down Report
With a Permian Well, They Cried More, More, More: Capacity Constraints Loom Large for Permian Crude Oil, Natural Gas and NGLs
The Permian is back, bigger and badder than ever. Producer economics are the best in the U.S.  Half of all rigs drilling for crude oil in the U.S. are in the Permian. It is the fastest growing basin from an output perspective and already contributes 2.2 MMb/d to the nation's oil production, or about 25% of Lower 48 crude volumes. This RBN Drill Down Report is the first in a series of Permian assessments; we start with crude oil pipeline capacity and utilization. In it, we examine each of the nine pipelines currently providing crude oil pipeline takeaway out of the Permian. Our analysis includes a dossier on the owner, origin, destination, capacity, tariff rate, and other details about each system; a map of each pipeline; our assessment of current pipeline capacity utilization; and our projection of future capacity utilization of each pipe. With this analysis as a foundation, we then review potential capacity additions from seven expansion and greenfield projects. As with existing pipes, we provide details on each project and a map of the project's route.
However, as production in the play ramped up earlier this decade with the use of horizontal drilling and hydraulic fracturing, existing pipeline takeaway capacity was soon maxed out. As a result, the price differential between the Midland, TX, hub (in the heart of the Midland Basin) and the giant oil storage and primary distribution hub in Cushing, OK, blew out —twice. First, the differential spiked (from only a few cents/bbl previously) to $10/bbl in 2012 and to $20/bbl in early/mid 2013 (averaging $4/bbl during the period). A reprieve came in August 2013 when Magellan Midstream Partners completed a project to reverse and repurpose the 450-mile Longhorn Pipeline to move up to 275 Mb/d of Permian crude to the company's East Houston storage and distribution facility.
To access the remainder of Will It Go Round in Circles - Midstream Companies Struggle to Keep Pace with Permian Growth you must be logged as a RBN Backstage Pass™ subscriber.
Full access to the RBN Energy blog archive which includes any posting more than 5 days old is available only to RBN Backstage Pass™ subscribers. In addition to blog archive access, RBN Backstage Pass™ resources include Drill-Down Reports, Spotlight Reports, Spotcheck Indicators, Market Fundamentals Webcasts, Get-Togethers and more. If you have already purchased a subscription, be sure you are logged in For additional help or information, contact us at info@rbnenergy.com or 888-613-8874.