Big increases in LPG (propane and butane) exports are planned for the west coast.  In March (2014) Petrogas purchased the Ferndale, WA terminal from Chevron – the only existing west coast LPG terminal.  Then in April, Sage Midstream announced that the company is developing another LPG terminal about 200 miles south at the Port of Longview, WA.    Both terminals are primarily targeting propane exports, not the export of butane that has been the mainstay of Ferndale for decades.  What is the logic behind these deals?  What needs to happen to make them work?  Today in this second part of our series on the new west coast LPG game, we take a closer look at these two facilities, including their potential supply and market destinations.
We started this series in Part I of West Coast LPG Exports are a Brand New Game, where we focused primarily on Ferndale, including a description of the assets, its beginnings in the early 1970s and its long history as an export facility.  Here's the brief recap.  Ferndale is an import/export terminal in Washington State, with 750 Mbbl of above ground storage capacity in two tanks designed to hold propane or butane, two members of the natural gas liquids (NGLs) family that together are usually referenced as LPGs in the international market (liquefied petroleum gasses).  The tank is supported by rail and truck racks, a dock capable of handling VLGCs (very large gas carriers), and pipelines to two nearby refineries.  For most of its existence, Ferndale has been the backwater of NGL markets handling small volumes of seasonal refinery butane storage and occasional exports of butane to Latin America and the Asia/Pacific markets. 
Stacked Deck:

Why Producers Like Their Odds in the Permian

We recently released our sixth Drill-Down report for Backstage Pass subscribers examining recent, surprisingly positive results in the Permian, along with an analysis of a representative well in one of the most prolific plays – the Wolfcamp in the Midland Basin. Subscribers get full access to all Drill-Down reports, blog archive access, and much more. More information on Stacked Deck in the Permian here.
Now all that is changing dramatically due to the onslaught of increasing NGL production from the shale revolution.  The volume of U.S. NGL production is already more than U.S. demand, and the imbalance will continue to get larger in the coming years.  Consequently exports have become the market of choice for U.S. NGL surpluses.  Up to now, most of the action in exports has been along the Gulf Coast (see Sail Away), and to a lesser extent in the Northeast out of the Marcus Hook terminal (see Exports Prescribed for Propane Relief).   But now attention is shifting to the West Coast – with one of the big drivers being the proximity to Asia, the region with an outlook for demand growth bigger than all the rest of the world put together.  Put that together with U.S. surpluses that can get to the West Coast via rail and you have the basic premise for the recent two deals.   We'll explore each of these two projects below.
Ferndale
The new sheriff in town at Ferndale is Petrogas, a well-established NGL midstream company with an arsenal of strategic assets (including supply) and now has partners who appear to bring the rest of the package: AltaGas Ltd. ("AltaGas") who bring their own proprietary production to the table and Idemitsu Kosan Co. Ltd. ("Idemitsu"), who has its own LPG sales and distribution infrastructure in Japan. Idemitsu also owns 51% of Astomos Energy who supplies about 20% of the Japanese domestic market and controls 15% of the world's very large gas carriers (VLGC's).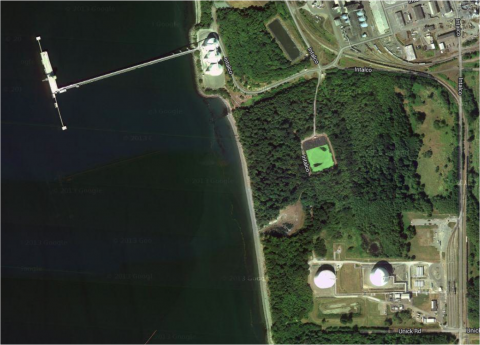 Source: Google Maps
As we understand it, this partnership has been investigating this and other projects to export LPG (mainly propane) from Canada to Asia for some time.  The idea is to use NGLs produced by AltaGas, a producer and marketer of NGLs.  Most of the supply will get there using Petrogas logistics infrastructure, consisting of over 1,500 rail cars and 24 rail and truck terminals in Fort Saskatchewan (near Edmonton), Sarnia, Indiana, Kansas and Texas.   
This new home for Western Canadian propane is showing up just in time.  As we saw in our blog a few months back titled Farmer Dries Corn and I Do Care, the Cochin pipeline which previously moved propane barrels from Fort Saskatchewan, Alberta and Windsor, Ontario to the U.S. Midwest has been reversed and converted into a diluent delivery system, which cuts off a major pipeline route to market for Alberta propane barrels.  Ferndale should provide a new, alternative market for those propane barrels. 
Local refinery supply should also be a reliable source of product for this terminal.  Rumor has it that the partners are also investigating the possibility of constructing a third LPG tank which would take Ferndale storage capacity to over 1MMBbls.
To access the remainder of West Coast LPG Exports are a Brand New Game II – The Ferndale and Longview Terminals you must be logged as a RBN Backstage Pass™ subscriber.
Full access to the RBN Energy blog archive which includes any posting more than 5 days old is available only to RBN Backstage Pass™ subscribers. In addition to blog archive access, RBN Backstage Pass™ resources include Drill-Down Reports, Spotlight Reports, Spotcheck Indicators, Market Fundamentals Webcasts, Get-Togethers and more. If you have already purchased a subscription, be sure you are logged in For additional help or information, contact us at info@rbnenergy.com or 888-613-8874.