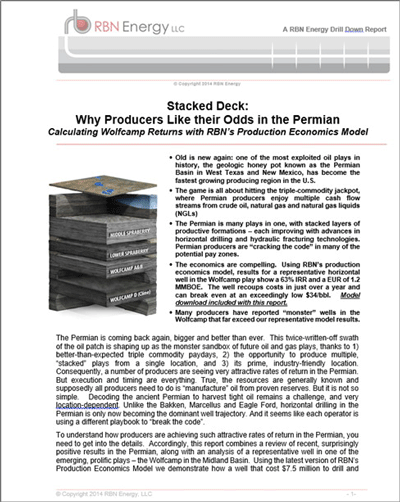 The Permian is coming back again, bigger and better than ever. This twice-written-off swath of the oil patch is shaping up as the monster sandbox of future oil and gas plays, thanks to 1) better-than-expected triple commodity paydays, 2) the opportunity to produce multiple, "stacked" plays from a single location, and 3) its prime, industry-friendly location. Consequently, a number of producers are seeing very attractive rates of return in the Permian. To understand how producers are achieving such attractive rates of return in the Permian, you need to get into the details. This report does that using the latest version of RBN's Production Economics Model, which demonstrates how a well that costs $7.5 million to drill and complete can generate a 63% discounted cash flow rate of return leveraging three commodity revenue streams - in our sample well's case: 60% oil, 18% gas and 22% NGLs on a BOE basis.
Production Economics Model Download Included With This Report!
Key take-aways from the report include:
Old is new again: one of the most exploited oil plays in history, the geologic honey pot known as the Permian Basin in West Texas and New Mexico, has become the fastest-growing production region in the U.S.
The game is all about hitting the triple-commodity jackpot, where Permian producers enjoy multiple cash flow streams from crude oil, natural gas and natural gas liquids (NGLs)
The Permian is many plays in one, with stacked layers of productive formations - with results from each improving due to advances in horizontal drilling and hydraulic fracturing technologies. Permian producers are "cracking the code" in many of the potential pay zones.
The economics are compelling. Using RBN's production economics model, results for a representative horizontal well in the Wolfcamp play show a 63% IRR and a EUR of 1.2 MMBOE. The well recoups costs in just under a year and can break even at an exceedingly low $34/bbl. Model download included with this report.
Stacked Deck: Why Producers Like their Odds in the Permian is the sixth in RBN Energy's Drill Down report series, a suite of twelve reports coming from RBN during 2014 covering many of the key issues expected to impact the markets for crude oil, natural gas and natural gas liquids.
Drill Down reports are part of RBN Backstage Pass™ premium resources that also include Blog Archive Access, Spotcheck Indicators, Market Fundamentals Webcasts, Get-Togethers and more. By subscribing to RBN's Backstage Pass™ Premium Services, you plug into our network and get direct access to our premium resources.
Click to download a preview of Stacked Deck: Why Producers Like their Odds in the Permian.