Western Canada's vast bitumen sands are estimated to contain reserves of 575 billion Bbl of recoverable crude oil. The largely untapped bitumen carbonate formations lying beneath the oil sands could contain another 243 billion Bbl of recoverable reserves. When added to untapped tight oil shale reserves these huge hydrocarbon deposits potentially could make the Province of Alberta the world's largest crude oil resource. Today contributor Mike Priaro concludes his description of Alberta's crude oil reserves.
In Episode 1 of this series we learned about the history and nature of Alberta's vast bitumen sand deposits in the Western Canadian Sedimentary Basin (WCSB) as well as three extraction techniques used to produce bitumen crude – surface strip mining and in-situ thermal recovery using cyclic steam stimulation (CSS) or steam assisted gravity drainage (SAGD). In this episode we update efforts to exploit Alberta's bitumen carbonates that are situated underneath the bitumen sands formations. We then discuss recovery factors achieved by the various bitumen extraction techniques, and describe how Alberta's crude oil reserves compare with those of OPEC giants Venezuela and Saudi Arabia.
Alberta's Bitumen Carbonates
Underneath the extensive 54,000 square miles of Alberta's bitumen oil sands lies a bitumen-saturated carbonate formation known as the Grosmont. The formation extends over 6,800 square miles, with a reservoir deemed to contain a net pay thickness of 120 meters or 394 feet. The photo below shows bitumen oozing from large vugs and fractures in a Grosmont carbonate core. The Grosmont is the most significant of four major carbonate reservoirs in Alberta that include the Nisku, Shunda and Debolt formations. These bitumen resources have only just begun to be exploited commercially.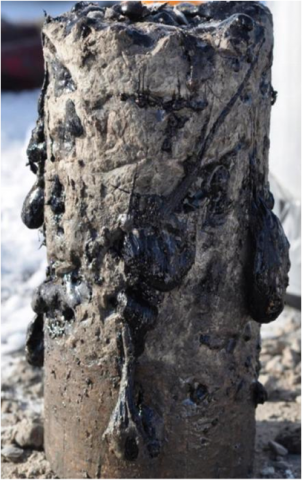 Source, OSUM Oil Sands Corp.
In the 1980s, pilot projects in the Grosmont carbonate were conducted using CSS in vertical wells some of which produced promising amounts of bitumen. However those trials ended in 1986 when the price of oil dropped making further development uneconomic. Since then, application of technologies such as horizontal drilling, SAGD and 3-D seismic have dramatically improved recovery factors in Alberta's bitumen sands and carbonates. OSUM OIL SANDS CORP and Laricina Energy have recently successfully completed commercial production pilots in the Grosmont bitumen carbonate. Both pilots are now proceeding to full-scale development of their mineral leases. Shell, Suncor and Husky hold the majority of the remaining mineral leases in the Grosmont carbonate.
Estimating Alberta's Oil Reserves
Reserves calculations start with an estimate of the total oil in the formation – called the original-oil-in place (OOIP). Not all the hydrocarbons can be recovered from any formation, so then recovery factors measure how efficiently the OOIP can be harvested by the production technology being used to extract the oil.  The estimation of recovery factors can be as much art as it science. Thus, oil reserve estimates can be somewhat subjective.
In 2013, the Alberta Energy Resource Conservation Board (ERCB) estimated 1,270 billion Bbl of OOIP in Alberta's bitumen sands deposits and 574 billion Bbl of OOIP in Alberta's Grosmont and other bitumen carbonates to give total bitumen OOIP of 1,844 billion Bbl (ERCB Report ST98-2013). The ERCB estimates that 7 percent of the OOIP in the bitumen sands is accessible by surface strip mining and 93 percent by in situ methods.
The ERCB also estimates an additional 424 billion Bbl of OOIP in Alberta's tight oil shales and siltstones.  These contain conventional light crudes in a variety of different formations such as the Montney but little development has occurred to-date and no technically-recoverable reserves are as yet officially determined.
To access the remainder of We Are The Champions – Could Alberta's Oil Reserves Be The Largest on Earth? – Part 2 you must be logged as a RBN Backstage Pass™ subscriber.
Full access to the RBN Energy blog archive which includes any posting more than 5 days old is available only to RBN Backstage Pass™ subscribers. In addition to blog archive access, RBN Backstage Pass™ resources include Drill-Down Reports, Spotlight Reports, Spotcheck Indicators, Market Fundamentals Webcasts, Get-Togethers and more. If you have already purchased a subscription, be sure you are logged in For additional help or information, contact us at info@rbnenergy.com or 888-613-8874.