Last Friday (May 8, 2015), Baker Hughes data showed the Permian basin oil rig count up by two – suggesting that drilling may be picking up in West Texas. A week earlier at the end of April, Enterprise Products Partners (EPD) announced they are moving ahead with a new pipeline from the Permian basin to the Houston area – set to come online in 2017. The new pipeline will add 540 Mb/d of takeaway capacity and comes on top of 450 Mb/d being added in the Permian this year by the Plains All American Cactus and Energy Transfer Partners Permian Express II pipelines. Today we look at the new project and whether the incremental takeaway capacity is necessary.
EPD announced it's latest  – yet to be named – new construction crude pipeline project at the end of April. The 540 Mb/d capacity pipeline will run 400 odd miles from Midland, TX (the main crude trading and storage hub in the Permian basin) to an existing Enterprise terminal at Sealy, TX (black oval on the map in Figure #1). At Sealy the pipeline will connect with EPD's existing Houston crude distribution network – principally via the Rancho II pipeline, due online this July (2015) that will connect Sealy with the EPD storage hub at ECHO – southeast of Houston (see ECHO and the Blending Men). The Rancho II pipeline will have initial capacity this year of 480 Mb/d but can be expanded to as much as 1 MMb/d if required and as we described recently forms a key component of EPD's pipeline network to deliver crude from the Eagle Ford (and now the Permian) into ECHO (see When Are You Going to Come Down). The new Midland pipeline is supported by long-term agreements with shippers and is expected online (subject to approvals) by 2Q 2017. The pipeline will be supplied at Midland by a combination of truck and pipeline deliveries into the existing EPD terminal that had 1.4 MMBbl of crude storage as of March 2014 and is going to be expanded for the new pipeline. EPD already own a 674-mile West Texas gathering system in the Permian (turquoise lines on the map) including three terminals in New Mexico at Hobbs, Lynch and Jal. The existing throughput at the Midland terminal is about 335 Mb/d of crude (according to EPD's Analyst Day presentation in March 2014).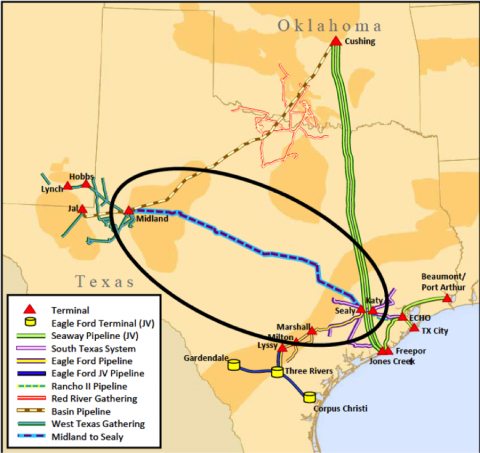 Figure #1, Source; Enterprise Presentation (Click to Enlarge)
EPD said the new pipeline is designed to ship four different grades of crude – West Texas Intermediate (WTI – the U.S. domestic benchmark light sweet crude), West Texas Sour (WTS – a medium sour crude), light WTI (presumably a WTI with higher than normal API gravity – i.e. above 40 degrees) and condensate (above 50 degrees API). These four streams of crude will be segregated in the pipeline using a batch process (see You Can't Always Get Out What You Put In for more on batch pipeline systems). As we have explained previously, segregation is an important requirement for maintaining crude quality in-transit and also required when transporting processed condensate for export in order to prevent co-mingling of approved export quality condensate with other crude when the condensate is en route to an export dock (see Condensate City). By offering a batch-segregated pipeline, EPD can therefore attract shippers hoping to export processed condensate under a newly emerged exception to the 1970's crude oil export ban (see CCATS Scratch Fever). The Midland to Sealy pipeline offers a route via ECHO to tidewater at Texas City from where EPD has been by far the most active condensate exporter so far (see What Condition My Condensate Was In).
Join Backstage Pass to Read Full Article