Houston area refineries are currently operating with about a third less onshore storage (measured in storage days) than comparable refineries in other regions. Waterborne crude imports help to alleviate the challenges that this constraint can cause. But Houston is importing less waterborne crude nowadays – down by 0.5 MMb/d since 2011 to just under 1 MMb/d and that number will continue to fall as US production increases. When you add the challenges of handling crude quality issues, including apotential new requirement to segregate certain types of condensate, the storage shortfall looks even worse. Today we continue our analysis of Houston area crude storage.
In Part 1 of this series covering the changing crude storage situation at the Gulf Coast – home to 50 % of US refining capacity - we discussed how storage provides a buffer or slack in the distribution chain from wellhead to refinery. In Part 2 we showed that the typical imported waterborne barrel delivered to Houston refineries spent 17-20 days in transit. That floating storage period provides refiners with flexibility to withstand supply shocks such as refinery outages but it is going away as more crude is delivered from onshore production. We also calculated "storage days" for crude delivered to Gulf Coast region refineries at 32 in April 2014. In Part 3 we calculated Houston area refinery storage days at 21-23 days depending on refinery throughput. In Part 4 we reviewed new crude pipeline flows into the Houston area from Texas, (Permian Basin and Eagle Ford) and from Cushing that are routed through key terminals to refineries. Current pipeline capacity is about 1.4 MMb/d with another 1.5 MMb/d expected online by the end of 2015. In this episode we look at the challenges refiners could run into unless more storage flexibility is added to the system than current plans allow.
Current Challenge
Our analysis so far in the series has shown that Houston area refineries are operating with less onshore storage than other regions of the US. In Part 3 we estimated Houston area storage availability as about 40 MMBbl of capacity today – made up of about 20 MMBbl of refinery storage and approximately 20 MMBbl of commercial storage. Even when we added in expected storage build outs and additions due online by the end of 2016, refineries only have access to 21 days of storage – at least 10 days less than for the US as a whole (average 32 days). However, as we noted in Part 2, as long as Houston refiners can take advantage of floating storage – in the shape of an average 17-20 days in transit for imported waterborne crude, there is still plenty of slack in the system. But with all the new pipeline crude coming online, imported crude has been backed out of Houston over the past three years. The chart in Figure #1 shows monthly company level data from the Energy Information Administration (EIA) reporting imports into the Ports of Houston, Galveston and Texas City since the beginning of 2008. Over the whole period, imports into the Houston area have dropped by 0.5 MMb/d or 1/3 of the 1.5 MMb/d volumes in January 2008. Over the past 3 years since US crude production started to boom as a result of shale oil drilling, daily average imports into Houston have dropped by 36 percent (red arrow on the chart).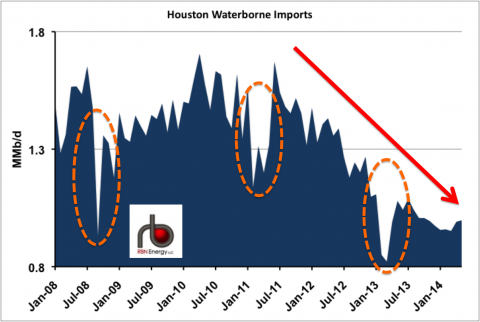 Figure #1
Source: EIA  and RBN Energy (Click to Enlarge)
One more thing to note in the chart is that the monthly import levels are not smooth. There are periodic sharp drop offs in imports (orange circles on the chart). These drop offs typically occur because of refinery turnarounds or maintenance periods when refiners reduce processing to clean or repair units (see Turn Around). This volatility in the level of imports is quite manageable with waterborne crude imports because refiners can just postpone a tanker of oil or sell it to another refiner if it is not needed. That is one of the big advantages of floating storage. As Houston refineries turn to a diet of pipeline fed crude, they will lose much of that flexibility. Refinery outages – even planned outages – are more difficult to work around when a refiner has a regularly scheduled contract volume pipeline shipment of crude on the way. Producers and crude shippers can also expect a more challenging environment when crude is delivered by pipeline and refinery consumption is volatile from month to month. Storage is the only mechanism to smooth out such supply volatility. Any shortfall of available storage in the Houston area will therefore have potentially undesirable consequences.  
To access the remainder of Saving All My Crude for You – Houston We Have A (Storage) Problem you must be logged as a RBN Backstage Pass™ subscriber.
Full access to the RBN Energy blog archive which includes any posting more than 5 days old is available only to RBN Backstage Pass™ subscribers. In addition to blog archive access, RBN Backstage Pass™ resources include Drill-Down Reports, Spotlight Reports, Spotcheck Indicators, Market Fundamentals Webcasts, Get-Togethers and more. If you have already purchased a subscription, be sure you are logged in For additional help or information, contact us at info@rbnenergy.com or 888-613-8874.