The boom in U.S. oil and natural gas production has grabbed the headlines the last few years. What shouldn't be forgotten, though, is that Americans depend on refined petroleum products like gasoline, diesel and jet fuel—not crude—to get from Point A to Point B, and that in some parts of the country, especially the Northeast, fuel oil—not natural gas or electricity—remains the space-heating fuel of choice. Transporting large volumes of petroleum products from refinery to consumer is a monumental and complicated task, a mission accomplished primarily by a still-growing, ever-evolving network of pipelines and storage facilities. Today, we begin a new series on how gasoline, distillate (diesel and heating oil), and jet fuel get to where they're needed.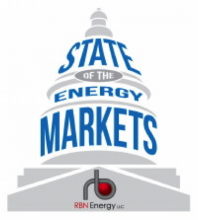 State of the Energy Markets
What is going on in today's markets for natural gas, NGLs and crude oil, why it is happening, and what is likely to happen next?
July 23rd, 2015 New York City
The U.S. produces and consumes more refined petroleum products than any other nation on Earth. According to the U.S. Energy Information Administration (EIA), production of finished motor gasoline (which includes ethanol) is averaging more than 9.5 MMb/d (brown line in Figure #1), while distillates production (blue line) is flirting with 5 MMb/d and production of kerosene-type jet fuel (the most widely used; also known as kero-jet or jet-kero) has been holding steady at about 1.6 MMb/d (yellow line). Residual fuel oil, a heavier fuel often referred to as Number 5 or 6 and used for power generation, among other things, has gradually been falling out of favor and is being produced in smaller and smaller quantities (green line).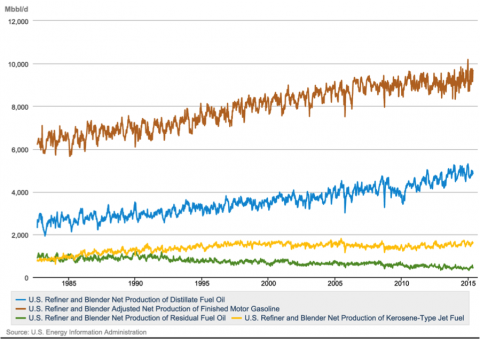 Figure #1; Source: EIA (Click to Enlarge)
U.S. consumption of gasoline, meanwhile, has been on a generally downward slope the last few years as fuel-efficiency gains outpace the gradual rise in the numbers of vehicles on the road and miles driven (see No Apparent Demand). Last year, gasoline consumption (again including ethanol) averaged just over 8.9 MMb/d (blue line in Figure #2; the green line shows gasoline minus the ethanol), and it's expected to inch down through the early 2020s as the federal government's Corporate Average Fuel Economy (CAFE) standards ratchet up, although that trend may be slowed by lower prices since last year that have boosted domestic gasoline consumption through June 2015. Consumption of distillates (diesel and heating oil; red line) topped 4 MMb/d in 2014, and is seen rising modestly the next few years as diesel use in cars (already common in Europe) catches on among Americans. Kero-jet consumption (purple line) approached 1.5 MMb/d last year; its use also is expected to rise at a modest pace. And demand for residual fuel oil (orange line) continues to peter out (see If The Price Is Right). We should also point out that U.S. refiners have increasingly been producing refined products for the export market as well as for domestic consumption (see Living With A Material Surge).
To access the remainder of Refined, Piped, Delivered, They're Yours—Moving Petroleum Products to Market you must be logged as a RBN Backstage Pass™ subscriber.
Full access to the RBN Energy blog archive which includes any posting more than 5 days old is available only to RBN Backstage Pass™ subscribers. In addition to blog archive access, RBN Backstage Pass™ resources include Drill-Down Reports, Spotlight Reports, Spotcheck Indicators, Market Fundamentals Webcasts, Get-Togethers and more. If you have already purchased a subscription, be sure you are logged in For additional help or information, contact us at info@rbnenergy.com or 888-613-8874.