The U.S. energy production renaissance isn't just changing where we get our crude oil and natural gas from, it's forcing major shifts in the domestic oil refining sector. Gulf Coast, East Coast and Midwest refineries that used to depend heavily on foreign oil are turning to domestic sources, refiners' ability to process very light U.S. crude is being stretched, and traditional pipeline flow patterns—for crude and refined products alike--are being up-ended. Today, we continue our look at fast-changing petroleum products markets and the infrastructure that supports them.
The infrastructure developed over the past 70-plus years to move, store and export refined petroleum products is an unending work-in-progress that reflects (among other things) ongoing changes in the sourcing of crude, the types of crude being produced, and the demand for gasoline, diesel, heating oil, kerosene-type jet fuel (kero-jet, also known as jet-kero) and other refined products. The petroleum products-related infrastructure—how it fits together, and how it's still evolving—is the focus of this series. As we said in Episode 1, the U.S. produces and consumes more refined petroleum products than any other nation on earth. Production of finished motor gasoline (which includes ethanol) now averages more than 9.5 MMb/d, while distillates production (mostly diesel and heating oil) is approaching 5 MMb/d and production of kero-jet stands at about 1.6 MMb/d. These fuels need to be moved as efficiently as possible from refineries to where they are stored and (ultimately) consumed domestically or exported. More often than not, they are moved much--or, in a few cases, all--of the way to market via petroleum product pipelines (more than 63,000 miles of them) to storage terminals in areas with significant fuel demand. From there fuels are generally distributed by tanker trucks to heating oil dealers and gas stations; many airports get their kero-jet delivered by smaller-diameter pipeline. In our series opener, we also explained how petroleum product pipelines typically transport specific products in a series of "batches" that are diverted to the proper tanks in sequence as they arrive at downstream storage facilities. In today's episode, we'll focus on refineries—where they are, and how their feedstock sourcing is changing.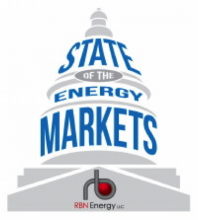 TODAY IS THE LAST DAY for the Early Bird Special!! (July 10, 2015)
State of the Energy Markets
What is going on in today's markets for natural gas, NGLs and crude oil, why it is happening, and what is likely to happen next?
July 23rd, 2015 New York City
Despite declines in crude oil prices the U.S. oil refining sector has been doing quite well during the past 12 months of oil-market upheaval, processing record amounts of crude and enjoying strong margins based in good part on access to ample supplies of advantaged-priced domestic crude from shale plays (see Living With A Material Surge). According to the U.S. Energy information Administration's (EIA) June 2015 Refinery Capacity Report, the capacity of domestic refineries operable has inched up to 18 MMb/d, and virtually all of that capacity is being used day in and day out (see Figure #1).
To access the remainder of Refined, Piped, Delivered, They're Yours—A Challenging Era for U.S. Refineries you must be logged as a RBN Backstage Pass™ subscriber.
Full access to the RBN Energy blog archive which includes any posting more than 5 days old is available only to RBN Backstage Pass™ subscribers. In addition to blog archive access, RBN Backstage Pass™ resources include Drill-Down Reports, Spotlight Reports, Spotcheck Indicators, Market Fundamentals Webcasts, Get-Togethers and more. If you have already purchased a subscription, be sure you are logged in For additional help or information, contact us at info@rbnenergy.com or 888-613-8874.