The acquisition of Williams Companies by Energy Transfer will create a midstream behemoth. The deal is expected to close during the first half of 2016 subject to regulatory approval. Once complete the main holding company Energy Transfer Corp (ETC) will be a C-Corp entity sitting atop Master Limited Partnerships (MLPs – see Masters of the Midstream for a more complete explanation of these structures) containing the assets of Energy Transfer Partners (ETP), Williams Energy Partners (WPZ), Sunoco LP (SUN) and Sunoco Logistics (SXL). The combined natural gas pipeline network will carry as much as 45% of U.S. Lower 48 dry gas production. Today we take a look at the natural gas infrastructure assets in the deal.
The Disclaimer
Before we start – a quick disclaimer. RBN Energy does not advocate investment in Energy Transfer. We are not an investment advisor.  The purpose of this blog is not investment advice or endorsement.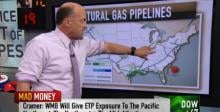 Source: CNBC Mad Money - Click to View Video
Last Monday our good friend Jim Cramer did a Mad Money segment examining the Energy Transfer – Williams transaction, and used RBN analysis and maps to help tell the story.
Recap of Liquids Assets
Last time (see Episode 1) we took a look at the financial intricacies of the ETE/Williams acquisition ("the deal") – noting that the parent company will be a C-Corp entity subject to regular corporate taxes unlike the MLP subsidiary companies. The C-Corp structure seems to be back in vogue again, particularly for large entities like ETE and Kinder Morgan – especially since MLPs have fallen out of favor with investors since the oil price crash in 2014. We then looked at the natural gas liquids (NGL) assets of both companies – noting that there is considerable synergy in the Marcellus and Utica as well as at the Gulf Coast. The two companies should be able to leverage each other's assets to offer customers better options for gas processing, fractionation and routes to market. We also looked at the crude and refined products infrastructure assets in the deal – finding that Williams brings little to the table other than some gathering infrastructure. Most of the oily assets belong to SUN and SXL with the latter owning important crude pipelines out of the Permian basin and being in the process of building an important crude link between North Dakota and Eastern Gulf Coast refineries. This time we look at the two company's natural gas transmission assets as well as LNG exports.
Natural Gas Transmission
The most immediately apparent synergy between these two companies is in the Interstate natural gas transmission business where both own substantial assets that appear to be quite complimentary. The map in Figure #1 shows the two main Interstate transmission pipelines owned by Williams in blue. The first of these is the Northwest pipeline that delivers gas produced in the Rockies and the San Juan basin (New Mexico) to customers in Idaho, Oregon and Washington. Second is the nation's largest and fastest growing interstate pipeline system built on the backbone of the TRANSCO mainline that spans the Gulf and East Coasts from Texas to New England.  The huge TRANSCO system (that carried a record 13.4 Bcf on January 7, 2015) is supplied at its southern origin by conventional offshore Gulf of Mexico gas production as well as newer output from the Eagle Ford. However, like most pipelines flowing into the Northeast, TRANSCO is rapidly evolving into a bidirectional pipeline that will deliver Marcellus and Utica gas northbound into New York and New England (as well as Canada) and southbound to new mid-Atlantic, Southeast and Gulf Coast demand centers stretching as far south as Texas and (via the Gulfstream undersea pipeline) into Florida. We counted no less than 15 expansion projects connected to TRANSCO that will serve new markets in the next two years and are expected to increase TRANSCO capacity to 18 Bcf/d by 2017 (see 50 Ways to Leave The Marcellus).
To access the remainder of Oh Lord Won't You Build Me a Midstream Behemoth? – The Energy Transfer/Williams Acquisition – Natural Gas Markets you must be logged as a RBN Backstage Pass™ subscriber.
Full access to the RBN Energy blog archive which includes any posting more than 5 days old is available only to RBN Backstage Pass™ subscribers. In addition to blog archive access, RBN Backstage Pass™ resources include Drill-Down Reports, Spotlight Reports, Spotcheck Indicators, Market Fundamentals Webcasts, Get-Togethers and more. If you have already purchased a subscription, be sure you are logged in For additional help or information, contact us at info@rbnenergy.com or 888-613-8874.