In a $38 Billion transaction announced September 28, 2015, Energy Transfer Equity (ETE) agreed to gobble up The Williams Companies in a deal expected to close during the first half of 2016. The combination of these two companies creates a U.S. midstream giant that will own infrastructure including gas pipelines carrying as much as 45% of U.S. Lower 48 dry gas production, processing capacity producing16% of domestic natural gas liquids (NGL's) and crude oil pipelines in the Permian, Eagle Ford and Bakken. Today we take a look at the liquids infrastructure assets in this giant deal and provide a download of RBN's maps of the infrastructure involved.
The Disclaimer
Before we start – a quick disclaimer. RBN Energy does not advocate investment in Energy Transfer. We are not an investment advisor.  The purpose of this blog is not investment advice or endorsement.
The Deal
The financial intricacies of the ETE acquisition of Williams (let's call it "The Deal") are complex to say the least. ETE is today the parent company of the Energy Transfer group and a publically traded Master Limited Partnership (MLP – see Masters of the Midstream for a more complete explanation of these structures). ETE sits atop four companies – three of which – Sunoco LP (SUN), Energy Transfer Partners LP (ETP) and Sunoco Logistics Partners LP (SXL) – are also publically traded MLPs with the fourth being Energy Transfer LNG – the vehicle behind the group's proposed Lake Charles LNG export terminal. The Deal calls for a new company called Energy Transfer Corp (ETC) to take over the reins from ETE at the top of the group – ruling over four MLPs with Williams Partners LP (WPZ) joining SUN, ETP and SXL as well as Lake Charles LNG (that will become an MLP when and if the terminal comes online (expected mid-2020). The big deal is that ETC is a C-Corp entity – meaning that it is treated as a corporation for tax purposes and therefore does not have all the tax advantages associated with MLPs. The advantage of C-Corp status is access to a broader spectrum of institutional investors (MLP's are messy investments for tax reporting). C-Corp status also reduces some of the baggage associated with MLP structures that have lost significant market value since oil prices crashed in 2014. For example ETE rival Kinder Morgan transformed back to a C-Corp in November 2014 by acquiring its Kinder Morgan Energy Partners MLP in a $76 billion transaction. ETE's acquisition of Williams leaves a considerably more messy mixture of C-Corp and MLP structures in place than the Kinder deal but one that the company claim has more optionality. That means the four MLPs under ETC retain much of their own identity and WPZ retains its name and public listing.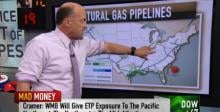 Source: CNBC Mad Money - Click to View Video
On Monday our good friend Jim Cramer did a Mad Money segment examining the Energy Transfer – Williams transaction, and used RBN analysis and maps to help tell the story.
Guinness Book of Records?
Together ETE and Williams will become one of the largest energy franchises in the U.S. with an expected valuation of about $149 billion. That will make ETC the 5th largest publically traded energy company in the world behind ExxonMobil, PetroChina, Shell and Chevron – bigger than BP ($139 billion), Kinder Morgan ($108 billion) or Enterprise Products Partners ($73 billion). The following stats indicate the significance of this deal in U.S. hydrocarbon midstream sector terms:
Largest gathering and processing MLP and natural gas liquids (NGLs) producer
Largest transporter of natural gas
Third largest NGL business
Third largest MLP transporter of crude oil
Second largest planned LNG export terminal
Leading non-refining gasoline distributor
We take a look at the NGL and crude oil assets in this blog then look at natural gas and LNG in a second installment.
Gathering, Processing and Natural Gas Liquids
Both ETE and Williams own extensive networks of natural gas gathering and processing assets in key shale basins across the U.S. Williams has gathering assets in the Texas Barnett, Mississippi Lime, Texas/Oklahoma Granite Wash and Colony Wash and the Louisiana Haynesville. Many of these assets were acquired with Access Midstream – formerly a midstream subsidiary of producer Chesapeake. Williams also has gathering and processing assets in the Appalachian Marcellus (Bradford and Susquehanna hubs) and Utica (see Join Together With Demand) as well as Wyoming and Piceance in the Rockies (linked to the Conway NGL hub by the Overland Pass pipeline, a JV with Oneok - see blue line in Figure #1). ETE has one of the largest gathering and processing networks in the Texas Eagle Ford and Permian basins with multiple pipelines delivering NGL's to Mont Belvieu (green lines on the map) and also has a presence in the Haynesville and East Texas Fayetteville plays. Wherever the natural gas gathering systems handle wet or rich gas that contains liquids that have to be removed before the residue gas can be delivered to customers – the two companies provide NGL processing and fractionation infrastructure for producers.
To access the remainder of Oh Lord Won't You Build Me a Midstream Behemoth? – The Energy Transfer/Williams Acquisition – Liquids Pipelines you must be logged as a RBN Backstage Pass™ subscriber.
Full access to the RBN Energy blog archive which includes any posting more than 5 days old is available only to RBN Backstage Pass™ subscribers. In addition to blog archive access, RBN Backstage Pass™ resources include Drill-Down Reports, Spotlight Reports, Spotcheck Indicators, Market Fundamentals Webcasts, Get-Togethers and more. If you have already purchased a subscription, be sure you are logged in For additional help or information, contact us at info@rbnenergy.com or 888-613-8874.