As a group, the nine natural gas-focused exploration and production companies that were analyzed in our Piranha! market study are forecasting a 62% increase in capital spending in 2017 compared with 2016, a significantly higher percentage gain than their oil-focused and diversified counterparts. The driver of accelerated investment is the expected completion of natural gas infrastructure that will boost takeaway capacity from the Marcellus and Utica shales, the operational focus of eight of the nine gas-weighted E&Ps.  Expanded access to Canadian, Midwestern, Gulf Coast and export markets should significantly boost realizations and margin. Production growth by the nine E&Ps, which slowed to 4% in 2016 after a 19% rise in 2015, is expected to accelerate to 10% in 2017 and to rise rapidly in 2018 and beyond. Today we continue our analysis of U.S. E&P capital spending and production trends by taking a deep dive into the investment strategies of the natural gas-weighted peer group.
U.S. oil and natural gas E&P companies, anticipating continuing low crude oil and natural gas prices, have been reshaping their portfolios to focus on a half-dozen top-notch resource plays whose production economics can hold up even if prices were to soften further. The biggest of these asset purchases and sales grab the headlines, but countless other, smaller-bite deals are having profound effects too. Taken together, this piranha-like devouring of E&P assets in the Permian, the SCOOP/STACK and other key production areas is transforming who owns what in the plays that matter most, and positioning a select group of E&Ps for success.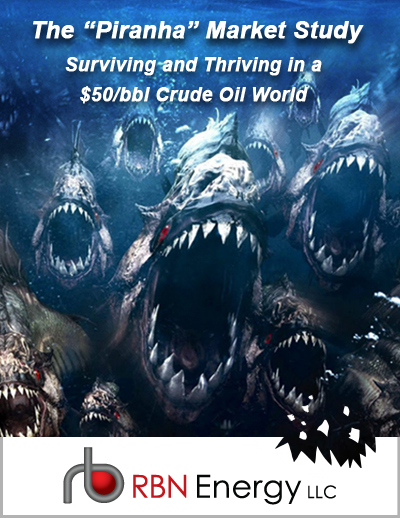 Piranha! The "Piranhaization" Of U.S. E&P
Concentration Of Assets, Targeted Acquisitions, And Strategic Divestitures Separate The Winners From The Losers In A $50/Bbl Crude Oil World
Piranha! is a market study about understanding this industry-wide transformation, identifying the companies best positioned for success, and predicting how the changes in U.S. E&P sector will continue to dominate the supply side of the supply/demand balance, not only in the U.S. but around the globe.
We examine this ongoing transformation in Piranha!, our market study of 43 representative U.S. E&Ps. Of that universe of companies, 21 focus on oil (60%+ liquids reserves), nine are gas-weighted producers (60%+ natural gas reserves) and 13 are diversified producers. All the major U.S. shale/unconventional plays are represented in the combined portfolios of these firms. In Very Particular Places to Go, we discussed the purpose and organization of our analysis. The first part of the four-part market study examines the strategies that companies are adopting to thrive in a $50/bbl world, breaking down merger and acquisition (M&A) activity by basin to show where these firms are selling and where they are buying. The second part considers the E&P sector's 2017 capital spending plans and production expectations as a whole, while the third delves into what these companies have been doing to maintain and improve their financial health. The fourth and final section of Piranha!, which accounts for more than 120 of the report's 150-plus pages, examines each company in our universe of 43 firms at a granular level, looking at their financial condition, capex plans, geographic focus, M&A strategies and a general assessment of the company's position in today's U.S. E&P industry.
To access the remainder of Let It Grow - Gas-focused E&Ps Doubling Down on Marcellus/Utica in 2017 Capex Plans you must be logged as a RBN Backstage Pass™ subscriber.
Full access to the RBN Energy blog archive which includes any posting more than 5 days old is available only to RBN Backstage Pass™ subscribers. In addition to blog archive access, RBN Backstage Pass™ resources include Drill-Down Reports, Spotlight Reports, Spotcheck Indicators, Market Fundamentals Webcasts, Get-Togethers and more. If you have already purchased a subscription, be sure you are logged in For additional help or information, contact us at info@rbnenergy.com or 888-613-8874.