Concentration of Assets, Targeted Acquisitions, and Strategic Divestitures Separate the Winners from the Losers in a $50/bbl Crude Oil World
For More Information and Pricing Click Here
"Piranha! is a market study about understanding this industry-wide transformation, identifying the companies best positioned for success, and predicting how the changes in U.S. E&P sector will continue to dominate the supply side of the supply/demand balance, not only in the U.S. but around the globe." -Rusty Braziel
Despite predictions of widespread bankruptcies and credit defaults after the plunge in oil prices in late 2014, most of the upstream industry weathered the crisis remarkably well through high-grading of portfolios, impressive capital discipline, and an intense focus on operational efficiencies. 
"The RBN Piranha market study is so important – it's a head to head analysis with each company having its own distinctive strategy. Not judgmental, just laying it out in one place for all to see. Comprehensive, definitive and well-written. If I ran a major oil and gas company I would buy 40,000 copies and give it to all the top people to say 'here's your menu.'"
-Jim Cramer, Mad Money on CNBC
The strongest and most aggressive of U.S. E&Ps have been behaving like schools of piranha, eating away at small pieces of other companies in hundreds of transactions that are simultaneously fragmenting and reconstituting the U.S. E&P sector. 
How will this reconstituted E&P sector perform? Where will E&Ps invest? Which companies will be successful and which will fall by the wayside? How will these companies impact world oil and gas markets? 
To answer these and many more questions RBN Energy has joined with Oil & Gas Financial Analytics to create our new market study titled Piranha!  The "Piranhaization" of U.S. E&P. This study is an in-depth assessment of the reconstituted E&P sector covering 43 U.S. E&Ps, which are most representative of the U.S. upstream industry.  Collectively, these companies produce about half of total U.S. oil and gas output, and have a total enterprise value of over $650 billion. 
Download a Preview of PIRANHA! HERE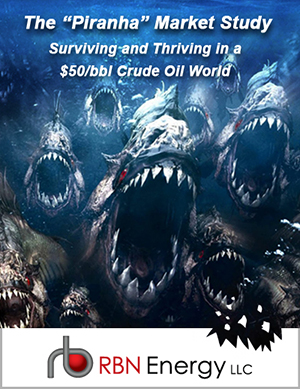 Piranha! Is a 150-page assessment of today's E&P industry trends, strategies, and profitability.  Among various topics, we examine U.S. upstream M&A activity and capital investment (CAPEX) spending plans by the 43 companies to determine how aggressive they are planning to be.
We then present our "Financial Strength Analysis" which evaluates companies on two metrics: financial position and equity valuation. Financial position is measured through the debt to total capital ratio. A company with a strong financial position can borrow money to invest, won't be constrained by debt and interest payments, and may buy assets from weak companies instead of selling their own. Conversely, a company in poor financial position will be focusing on survival, which will result in capital spending being slashed, and may be candidates for sales of individual assets or of the entire company.
The winners in this industry-wide transformation will be the companies that:
Adopt and articulate clear, straightforward strategies to maximize investment returns by focusing on their core operating areas
Maintain a strong balance sheet that will enable them to weather future commodity price downturns
Demonstrate the ability to execute through adoption of new technologies, effective operations, and prudent acreage acquisitions
Download a Preview of PIRANHA! HERE
Piranha! The "Piranhaization" of U.S. E&P is a special RBN Market Study not included with any other subscription service.
For more details and pricing contact sales@rbnenergy.com or call 281-819-1983.