Recent rumors coming out of Washington DC suggest that changes to US regulations that severely limit exports of US crudes are being discussed with a view to changes – perhaps even repeal. One idea that keeps popping up is a change to allow the export of lighter hydrocarbons that have a high API Gravity (above 55 or some other number), classified by the US rules as crude, but known to the rest of the world as condensate. Allowing the export of such field condensates could alleviate an oversupply glut of these lighter hydrocarbons that US refineries are not best configured to process. Today we ponder the impact of an end to the prohibition of condensate exports.
As we have described in previous posts, condensates are light hydrocarbons containing a significant percentage of naphtha range material.  There is no universal standard for what defines a condensate, but some number between 50 and 55 degrees API gravity is typically used to differentiate condensates from light crude oil (see Fifty Shades of Condensate Which One Did You Mean?). US condensate is arbitrarily divided into two broad categories. The first is lease condensate produced at or near the wellhead when it condenses from natural gas at surface temperature and pressure. Some lease condensate is also produced at the wellhead in stabilizer units designed to remove more volatile hydrocarbons from crude. The second category is plant condensate, also known as natural gasoline, pentanes plus or C5+, that remains suspended in natural gas at the wellhead and is removed at a gas processing plant (see Like A Box of Chocolates – The Condensate Dilemma). Both categories of condensate are substantially similar in composition but the US Energy Information Administration (EIA) arbitrarily defines lease condensate as crude oil and plant condensate as an NGL (pentanes plus). Furthermore, Department of Commerce - Bureau of Industry and Security (BIS) regulations also define lease condensate as crude oil.  As such, lease condensate is included in BIS regulations introduced in the 1970's to restrict the export of US crude oil except to Canada or in specific circumstances from Alaska and California (see I Fought the Law).  Thus lease condensate exports are prohibited even though plant condensate exports are perfectly legal.,
US lease condensate production is booming. Figure #1 below shows our estimate of current production (now above 1.2 MMb/d) and where it is being produced. You can see that the engines of condensate growth are the Eagle Ford and Permian basins in Texas and the Anadarko primarily in Oklahoma in areas like Granite Wash and SCOOP (South Central Oklahoma Oil Province).  But the big driver is Eagle Ford where we believe that up to 45 percent of crude production is more correctly categorized as condensate. We expect lease condensate production to increase to 1.6 MMb/d by the end of 2018.These numbers are only estimates because the EIA do not separate out crude and condensate production statistics in current production numbers and they may be even higher than we suggest because surging tight oil production from horizontal drilling in the Permian Basin is likely producing increasing volumes of condensate (see Stacked Deck).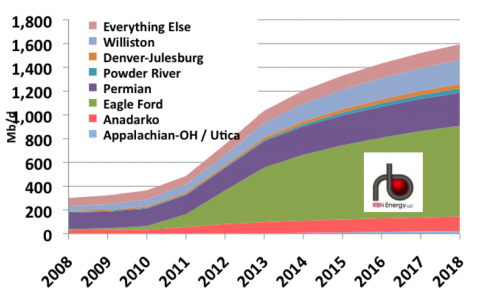 Figure #1
Source: RBN Energy (Click to Enlarge)
While production of lease condensate is booming, the market for this very light hydrocarbon is rather limited. The obvious solution to the condensate market challenge is to process it like crude oil as a refinery feedstock. However that is hard to do because refiners have a low opinion of condensate, which is currently flooding the Gulf Coast market (see Don't Let Your Crude Oils Grow Up to be Condensates). Part of the problem is quality – the wide variation in specifications like the API gravity of condensate and part is that most Gulf Coast refineries are not configured to process large quantities of very light crude because it can overwhelm their downstream upgrading capacity. As a result, lease condensate is a buyer's market in the US at the moment – especially in the condensate rich Eagle Ford basin. Producers suffer unwanted discounts from refiners – of up to $20/Bbl at the Gulf Coast versus light sweet crude benchmark Louisiana Light Sweet (LLS).
In our view, the disposition and price impact of light crude surpluses are some of the most important issues in the crude oil and petroleum product markets today, and will continue to be for the next few years – regardless of what happens to BIS regulations.  For that reason, RBN has joined with Turner, Mason and Company to provide a conference focused specifically on this topic.  "Surviving the Flood of Light Crude Oil" is scheduled for August 19-20 in Houston, and is designed around many of the principles used at RBN's School of Energy, including laptop computer access to all presentation materials and spreadsheets in real time, structured content from RBN and Turner Mason experts, and no executive project sales-pitches. Register now while space is still available. For more information on the conference, you can download the brochure here. 
To access the remainder of Imagine There's No Export Ban – No Need to Split The Condensate you must be logged as a RBN Backstage Pass™ subscriber.
Full access to the RBN Energy blog archive which includes any posting more than 5 days old is available only to RBN Backstage Pass™ subscribers. In addition to blog archive access, RBN Backstage Pass™ resources include Drill-Down Reports, Spotlight Reports, Spotcheck Indicators, Market Fundamentals Webcasts, Get-Togethers and more. If you have already purchased a subscription, be sure you are logged in For additional help or information, contact us at info@rbnenergy.com or 888-613-8874.