In 2010 Enterprise Products Partners signed a ten-year agreement with Pioneer Natural Resources to transport, process and market their crude, gas and liquids production from the Eagle Ford. Today that agreement seems to have put Enterprise in the catbird seat after the Department of Commerce softened rules governing the export of lease condensate.  Today in the second of a two part series we describe stabilizer capacity and export routes to market for Pioneer, Anadarko and ConocoPhillips in the Eagle Ford.
In Part 1 of this series we described how the US Department of Commerce Bureau of Industry and Security (BIS) issued private letters to Enterprise and Pioneer granting them permission to export lease condensate from their Eagle Ford production (see With or Without Splitting and if you are unfamiliar with the whole issue of the lease crude and condensate export ban, reviewing that blog first will make this one easier to understand). We covered the apparent loosening of the rules whereby stabilization units used to remove volatile components from condensate would count as processing – meaning that many producers with acreage in the wet gas / condensate window of the Eagle Ford basin in South Texas could now potentially export condensate. Indeed Enterprise will export their first 400 MBbl cargo later this month (July 2014) to Japanese trader Mitsui and has already lined up additional sales to Mitsubishi in September. We also started to look at condensate splitter capacity – covering the third party midstream assets of Plains All American at Gardendale and Howard Energy Partners at Live Oak. This time we take a look at stabilizer facilities owned by or operated on behalf of producers in the Eagle Ford.
Surviving the Flood of Light Crude Oil

A JOINT CONFERENCE PRESENTED BY

RBN ENERGY AND TURNER, MASON & COMPANY

Why are refineries limited in the portion of light crude that can be run?  What are the current limits on light crude runs?    These questions and many more will be addressed at this conference, to be held August 19-20 in Houston.  Register Now.
Pioneer Natural Resources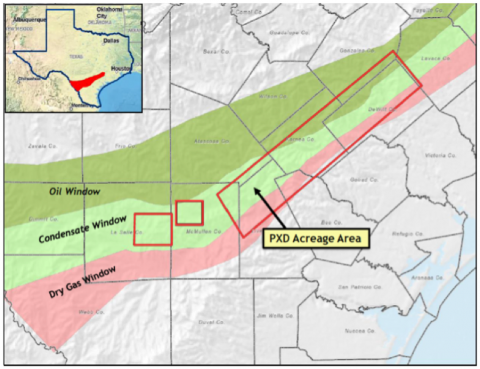 Figure #1
Source: Pioneer (Click to Enlarge)
Pioneer has producing assets in the Eagle Ford stretching over 90 miles from McMullen to Lavaca Counties in the condensate window of the play (see the red boxes in Figure #1). Current production from Pioneer operated wells in the Eagle Ford is about 50 Mb/d of oil – a large percentage of which can be classified as condensate with an API gravity over 50 degrees. Pioneer owns about 35 percent of that output or 17 Mb/d. Pioneer is developing its Eagle Ford assets in a joint venture with Indian company Reliance Industries. That joint venture includes a midstream asset development company called EFS Midstream. EFS provide gas and liquids gathering, treating and transportation services for Pioneer and have built 12 central gathering plants (CGP's) connected by more than 400 miles of pipeline (see Figure #2). These central gathering plants each have condensate stabilizers. We don't know the capacity on these units, or their configuration, but it seems reasonable to assume that these stabilization units must at least have capacity to handle Pioneer's existing production of about 50 Mb/d in the Eagle Ford. 
To access the remainder of You're A Stabilizer Baby – Eagle Ford Condensate Infrastructure: Pioneer, Anadarko and ConocoPhillips you must be logged as a RBN Backstage Pass™ subscriber.
Full access to the RBN Energy blog archive which includes any posting more than 5 days old is available only to RBN Backstage Pass™ subscribers. In addition to blog archive access, RBN Backstage Pass™ resources include Drill-Down Reports, Spotlight Reports, Spotcheck Indicators, Market Fundamentals Webcasts, Get-Togethers and more. If you have already purchased a subscription, be sure you are logged in For additional help or information, contact us at info@rbnenergy.com or 888-613-8874.