CME/NYMEX Henry Hub natural gas futures prices for August delivery continue to trail $1.50/MMBtu behind year-ago levels and natural gas production volumes show little sign of softening. Gas demand is rallying to record-setting levels and the balance is tightening. But there is still a long way to go before the storage inventory surplus is reined in. Today we revisit supply/demand balance and its impact on storage this summer.
This is our latest update on the fundamental factors influencing the natural gas market – especially the supply/demand balance. At the end of April in My Sweet Hoard we recapped the storage picture going into the start of summer 2015, which indicated the possibility of an end-of-season inventory balance substantially above last year.  From the vantage point of April, the looming questions presented by this year-over-year surplus  were whether production would slow, how big would the demand response be to the supply glut and resulting lower prices, and how would the weather wild-card factor in.   In the previous episode of Tightening Up in Mid-May we reviewed supply/demand balance data from PointLogic Energy's Daily Market Report to highlight fundamentals contributing to the storage inventory situation as of mid-May. NYMEX Henry Hub price activity at the time signaled some level of confidence in the market that a production slowdown and demand response from the power and industrial sectors would eventually resolve a potential year-over-year storage surplus. Now with June, one of the hotter months, under our belt, we revisit that data to see whether changes in supply or demand have moved the needle.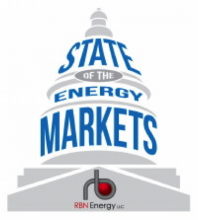 Only 2 Days Left Before Early Bird Special Ends On July 10th !!
State of the Energy Markets
What is going on in today's markets for natural gas, NGLs and crude oil, why it is happening, and what is likely to happen next?
July 23rd, 2015 New York City
Table 1 below shows PointLogic's supply/demand balance data as of June 30, 2015 with month-to-date and year-to-date averages in billion cubic feet (Bcf), and a comparison to the same period last year. [Note the report also contains daily data.] The model used uses natural gas pipeline flow data posted by individual pipelines, which is the basis for supply numbers (production, imports, etc.) and demand (power, industrial, residential/commercial and the net into and out of storage).  We've added the colored circles in Table 1 to highlight the numbers discussed below.
To access the remainder of Tightening Up? Natural Gas Demand Response Emerging you must be logged as a RBN Backstage Pass™ subscriber.
Full access to the RBN Energy blog archive which includes any posting more than 5 days old is available only to RBN Backstage Pass™ subscribers. In addition to blog archive access, RBN Backstage Pass™ resources include Drill-Down Reports, Spotlight Reports, Spotcheck Indicators, Market Fundamentals Webcasts, Get-Togethers and more. If you have already purchased a subscription, be sure you are logged in For additional help or information, contact us at info@rbnenergy.com or 888-613-8874.