Between 2015 and 2018 five new U.S. propane dehydrogenation (PDH) plants are expected online – producing over 9 billion pounds a year of propylene. Williams are building another new PDH plant in western Canada. Five of these plants will be located on the Texas Gulf Coast – the center of the world's chemical industry. Once they are up and running they should have a profound impact on U.S. and international markets for propane and propylene. Today we describe plans to develop these new plants.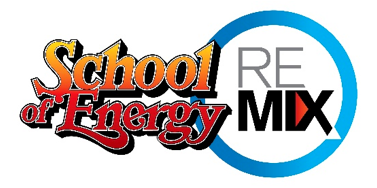 ONLY 1 MORE DAY!!
Until the early bird rate for School of Energy – REMIX HOUSTON expires
Conference Scheduled for
October 29-31, 2014
For more information see:
In Part 1 of this two part series we explained how PDH plants transform propane into the more valuable propylene that is a feedstock for downstream petrochemical plants that manufacture a myriad of fibers and plastics. About two thirds of propylene is used to make polypropylene - one of the best-selling plastics, second only to polyethylene. Propylene demand – tied closely to economic growth – is growing – driven mostly by Chinese economic expansion. Previously almost exclusively made as a byproduct of olefin stream crackers or oil refinery gasoline cracking processes, greater volumes of propylene will soon be made "on-purpose" because olefin crackers are using lighter feedstocks like ethane that produce less propylene byproduct and refinery output of propylene is falling in the west as gasoline demand stagnates. On-purpose propylene can be made with a number of feedstocks including coal and biomass, but in the U.S. abundant supplies of natural gas liquids (NGLs) from the boom in "wet", high-BTU shale gas drilling, make propane the obvious choice. As a result, six new plants are planned in North America in the next five years that use PDH technology and will (if built) produce 9.4 billion pounds of propylene a year by 2019. In this episode we detail these new investments – summarized in Table #1 below.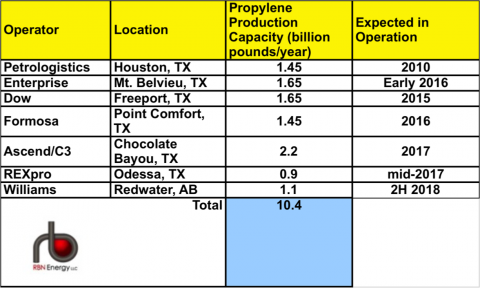 Table #1
Source: Company Presentations, RBN Energy (Click to Enlarge)
The following are details of the existing and proposed PDH plants in North America listed in the order they appear in Table #1:
To access the remainder of Son of a PDH Man? – Six New North American Propylene Plants On The Way you must be logged as a RBN Backstage Pass™ subscriber.
Full access to the RBN Energy blog archive which includes any posting more than 5 days old is available only to RBN Backstage Pass™ subscribers. In addition to blog archive access, RBN Backstage Pass™ resources include Drill-Down Reports, Spotlight Reports, Spotcheck Indicators, Market Fundamentals Webcasts, Get-Togethers and more. If you have already purchased a subscription, be sure you are logged in For additional help or information, contact us at info@rbnenergy.com or 888-613-8874.