In the stormiest market environment for crude oil in many years, it's hard to find a spot where the sailing is smooth. If even-keel conditions exist anywhere in the oil-producing world today, it might be the offshore Gulf of Mexico, where producer decisions to invest in new platforms or subsea tiebacks are based on very long-term oil-price expectations and the production, once initiated, is steady. In the second half of the 2010s, Gulf producers significantly reduced the average breakeven prices needed to justify their most promising new investments — from more than $55/bbl back in 2015 to less than $35/bbl today. Given what's happened to crude oil prices the past few days, however, it's logical to wonder whether any of even the best prospective Gulf of Mexico projects will be sanctioned this year. Today, we discuss how cost-cutting and efficiency improvements have made the offshore Gulf a comparatively steady, growing base of U.S. crude oil production that so far has been less vulnerable than shale output to oil-price gyrations.
As we said last spring in Take a Look at Me Now, crude oil production in the federal offshore Gulf of Mexico is a topic that generally flies below the radar, unless there's a major hurricane that causes a big, downward spike in output or a man-made disaster like the Macondo/Deepwater Horizon blowout in April 2010, which effectively halted drilling in the Gulf for more than a year. Crude production in the federal GOM dropped by ~500 Mb/d (to ~1.1 MMb/d) between March 2010 (the month before the blowout) and September 2011, and it took almost four years (until August 2015) for Gulf production to return to pre-Macondo levels. (All data is from the Energy Information Administration, or EIA.) And it took another year and a half — until February 2017 — for GOM output to top the all-time record of 1.75 MMb/d hit in September 2009 (see Don't You Forget About Me). GOM production has continued rising since then, topping 2 MMb/d for the first time ever last August and hanging out in the ~1.9-to-2-MMb/d range ever since — see Figure 1.
Figure 1. U.S. Offshore Gulf of Mexico Crude Oil Production, 2005-19. Source: EIA (Click to Enlarge)
Unlike new shale production, where the time-gap between committing to a project and first-oil is very compressed, it can take three or four years to build and install a new platform in the GOM and at least a year or two to hook up a new subsea tieback. In The Crude Genie, we noted that most of the large GOM projects that came online in 2016-18 had reached final investment decision (FID) before the mid-decade oil-price crash that by early 2016 sent prices to ~$26/bbl, although some of these projects were shrunken or otherwise modified to cut costs.
As for the GOM projects that started producing in 2019 and the ones scheduled to begin doing so this year or next, nearly all involve the development of fields close to existing production hubs with wells linked, or "tied back," to existing platforms. Tieback schemes require a lot less up-front capital investment than developments requiring big new platforms, because, by making use of processing and transportation facilities already in place, they don't need nearly as much steel and engineering. Here's a sampling of the subsea tiebacks that were finished last year and that are under construction now, and the volumes of crude they are expected to produce:
LLOG Exploration Co. in June 2019 started production in the first phase of its Buckskin subsea development (#1 star in Figure 2) with two wells, completed in 6,920 feet of water and flowing to Occidental Petroleum's (Oxy) Lucius spar (a spar is a common type of platform with a cylindrical hull) six miles away. Buckskin, whose first-phase production is expected to ramp up to 30 Mboe/d (thousands of barrels of oil equivalent per day) is in the Keathley Canyon area off Louisiana.
Anadarko Petroleum, operator of a joint venture with BP, brought the Constellation tieback (#2 star) online in January 2019 before Anadarko's acquisition by Oxy. Production of 10 Mboe/d of oil and gas flows 30 miles to the Constitution spar, now operated by Oxy, in the Green Canyon area off Louisiana.
W&T Offshore in the third quarter of 2019 started production from its Gladden Deep discovery (#9 star) in the Mississippi Canyon area off Louisiana. The well, which was completed subsea in 3,000 feet of water, is connected to an existing marine flowline that carries production to the Medusa spar operated by Murphy Oil.
This year, BP plans to start production of 38 Mboe/d from eight subsea wells in its Atlantis Phase 3 project. The wells, in about 7,000 feet of water, are tied back to the company's Atlantis semi-submersible floating production system (FPS; #3 star) in the Green Canyon area.
Among other subsea start-ups due this year is Talos Energy's Bulleit project (#4 star) in 1,300 feet of water, which will produce 7-10 Mboe/d that will be delivered to the company's Green Canyon 18 fixed production platform.
Other subsea tieback projects on the horizon include BP's Manuel (#14 star), Hess Corp.'s Esox (#16 star), LLOG's Stonefly (#15 star) and Nearly Headless Nick (presumably named for the resident ghost of Gryffindor Tower at Hogwarts School of Witchcraft and Wizardry; #17 star), Fieldwood Energy's Orlov (#18 star), Murphy Oil's Ourse (#19 star) and Shell's PowerNap (#20 star). Overall, we're aware of at least nine subsea tieback projects set to begin producing oil in 2020 or 2021. As a group, they are seen as more than offsetting the relatively gradual, natural decline in production from existing GOM wells.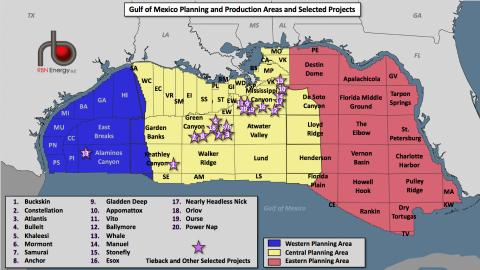 Figure 2. Gulf of Mexico Planning and Production Areas and Selected Projects. Source: RBN (Click to Enlarge)
As for new platform developments, Shell will be busy this year and next. It's expected to start production from its Vicksburg field in 2020, the second field to be developed via the Appomattox floating platform (#10 star) in 7,400 feet of water in the Mississippi Canyon area. Flows from Appomattox began in 2019 through a platform with capacity of 175 Mboe/d of oil and gas. In 2021, Shell will start up the Vito field (#11 star) in 4,000 feet of water in the Mississippi Canyon area with a semisubmersible FPS expected to handle plateau production of 100 Mboe/d. If plans remain intact, Murphy Oil in 2022 will start production of as much as 80 Mb/d of oil and 100 MMcf/d of gas from three subsea fields — Khaleesi (#5 star), Mormont (two names familiar to "Game of Thrones" fans; #6) and Samurai (#7 star), in 3,600-3,800 feet of water — that are tied back to a new FPS, King's Quay.
The big news on the stand-alone platform front in the past few months was Chevron's December 2019 announcement that it had reached a final investment decision (FID) on its $5.7 billion Anchor project (#8 star), whose first phase will consist of seven subsea wells producing through a new semisubmersible floating production unit in 5,200 feet of water in the Green Canyon Area. The platform has a design capacity of 75 Mb/d and 28 MMcf/d of natural gas. The Anchor platform will be the first facility in the deepwater GOM designed to handle pressures of 20,000 psi. Chevron is trying to keep Anchor's development costs — including the first-time cost of engineering its ultra-high-pressure technology — in the $16-20/bbl range; Anchor's operating costs will add another $10/bbl, putting the all-in break-even costs at $26-30/bbl. Because the company is using standardized designs, it will be able to replicate Anchor development at other 20,000-psi fields, which therefore won't have all the new-technology costs. Chevron also expects to reach FID on the deep-water Whale project (#13 star) in the Alaminos Canyon area off Texas this year and is studying development alternatives for the Ballymore field (#12 star) in 6,500 feet of water in the Mississippi Canyon area.
Across the GOM, Chevron says development costs for its new projects are down by nearly one-third from those of last-generation greenfield projects. It attributes the savings to standardization of equipment, use of fit-for-purpose surface facilities that lower capital requirements, and deployment of "drill to fill" strategies, which align drilling with production rates needed to optimize utilization of infrastructure downstream of the wells.
We should note that GOM crude oil is of particular value in that it generally fits nicely into the crude slates of Gulf Coast refiners. As we said in I'll Be Alright Without You, a number of refiners there have adjusted to the loss of heavy crude from Venezuela by increasing their runs of medium-gravity feedstock. According to the EIA, that adjustment — along with growing supplies of light oil from U.S. shale plays — have raised the average API gravity of crude charged to Gulf Coast distillation towers to 32.6 degrees. Nearly two-thirds of GOM production has an API gravity of between 30.1 and 40.0 degrees, and most of the other third is 30-degree API or heavier –– making offshore output an important contributor to the U.S. refining sector (see Strange Brew).
Of course, in the end, the prospects for additional development of new platforms and subsea tiebacks will depend on the long-term outlook for crude oil prices, and on the ability of producers and their engineering and construction partners to reduce project breakeven costs. With operational and strategic improvements made since the last crash in oil prices, though, GOM operators and production should be able to ride out the current storm and, especially after the opening of a new technological frontier, grow again when fair weather returns.
"Smooth Sailing" was written by Matthew Ramsey, Trevor Rosen, Brad Tursi and Jesse Frasure, and it appears as the second cut on Old Dominion's third studio album, Old Dominion. The album was recorded in Nashville, and produced by Shane McAnally. Released in October 2019, Old Dominion went to number nine on the Billboard Top 200 Albums chart. Three singles have been released so far from the album. "One Man Band," the second single from the album, went to #20 on the Billboard Hot 100 Singles chart, becoming the band's highest-charting single. Personnel on the album were: Matthew Ramsey (lead vocals), Trevor Rosen (guitar, keyboards), Whit Sellers (drums), Geoff Sprung (bass) and Brad Tursi (lead guitar). 
Old Dominion is a country rock band formed in Nashville in 2007. The group was formed to showcase the songwriting talents of band members Ramsey, Rosen and Tursi, who had already made a name for themselves writing songs for many popular Nashville artists. The name "Old Dominion" was chosen because it's a nickname for Virginia, the state where four of the band members were originally from. They have released three studio albums, two EPs and 10 singles. They have won three Academy of Country Music Awards and one Country Music Association Award. The band still records.