There are only 42 self-propelled petroleum tankers in the Jones Act Fleet serving the US East, West and Gulf Coasts. Another 49 large ocean going articulated tank barges round out the fleet of vessels that can carry crude oil and refined products between US Ports. Surging domestic crude production and pipeline congestion on land have propelled charter rates for the larger vessels over $100,000 / day in the spot market. Most vessels are fully booked on term charters. Today we examine the ATB fleet.
Recap
In the first episode in this series we described the regulations of the Jones Act that restricts marine transport between US inland and coastal ports to US Flag vessels (see The Jones Act Coastal Trade).. In episode two we began a deep dive look at the Jones Act self-propelled tanker fleet and its ownership covering Crowley Maritime, Seabulk Tankers and the recent Kinder Morgan acquisition American Petroleum Tankers. In Episode Three we rounded out coverage of the Jones Act tanker fleet owners with a look at Overseas Shipping Group and the ExxonMobil, BP and Conoco Alaska fleets. This time we turn our attention to the large Ocean going articulated tank barge (ATB) fleet that also operates in the coastwise trade.
ATB's are 50 MBbl and larger capacity tank barges with hinge-like connections between the tug and the barge that increases the stability, speed and maneuverability of the tug barge unit compared to traditional barges. Take a look at this video link to see how the tug fits snugly into the barge – incidentally the tug does not pull the barge but pushes it.
Our survey of publically available data identified 86 Jones Act ATB's being operated in the coastal barge trade with capacity varying between 50 MBbl and 350 MBbl. Some of these ATB's are specifically designed to move very heavy fuel oil or crude and have heating coils installed to prevent the cargo turning into an ice puck on water. The table below summarizes the 49 Jones Act ATB tug/barge units that we identified having 140 MBbl capacity and higher. The largest vessels have over 300 MBbl capacity – making them as big as many of the Jones Act tankers we covered in the previous two episodes of this series. The total capacity of these larger vessels is 9.3 MMBbl of crude or petroleum products. For reference the total capacity of the 42 Jones Act tankers (self-propelled) is just under 9 MMBbl.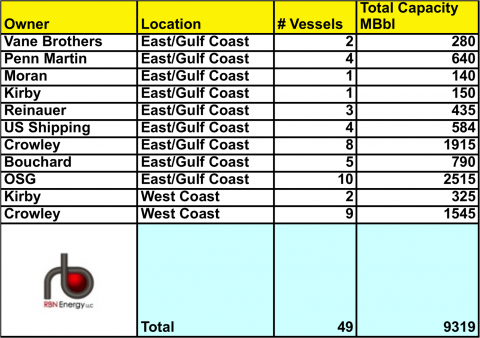 Source: RBN Energy, Industry Presentations (Click to Enlarge)
Demand for the US coastal ATB fleet is currently running at over 90 percent according to Kirby Corporation, the largest US tank barge owner. On January 16, 2014 Kirby placed an order with Gunderson Marine (Portland, Oregon) for a new 185 MBbl ATB with tugboat to be completed by 2015 costing an estimated $75 to $80 Million with an option for a second identical unit. Another barge operating company, Bouchard Transportation placed orders with VT Halter Marine (Mississippi) for two 250 MBbl ATB's in February and March 2013 for delivery in mid-2015 and February 2016 respectively.
Join Backstage Pass to Read Full Article