No fewer than 28 publically listed companies are currently drilling in the Permian Basin – including industry stalwarts like Occidental Petroleum, ConocoPhillips, Chevron, and Shell as well as independent producers like EOG Resources, Pioneer Natural Resources, Concho Resources and Apache. Overall crude production is over 1.5 MMb/d and headed to 1.7 MMb/d by the end of 2014. Current hot spots include the Wolfcamp horizontal shale play in the Midland Basin – featured in our latest Drill Down Report. Today we look at new gathering systems in the Midland that will transport up to 490 Mb/d of crude to Crane and Colorado City, TX.
Recap
In Episode 1 of this series we reviewed crude prices and takeaway capacity in the booming Permian Basin. At the moment, production exceeds local demand and takeaway capacity so that producers are experiencing price discounts at Midland, TX for West Texas Intermediate (WTI) and West Texas Sour (WTS) crudes versus the Cushing, OK trading hub of around $7/Bbl. The spread between Midland WTI and the Gulf Coast benchmark light sweet crude Light Louisiana Sweet (LLS) is about $9/Bbl. As soon as the new 300 Mb/d BridgeTex pipeline – a joint venture between Magellan Midstream and Occidental – comes online (now expected in June/July of this year) we believe that the Midland/LLS spread will narrow. In the meantime, the price spreads are generally too low to justify more expensive rail transport out of the Permian.
In Episode 2 we provided an overview of mainline pipelines out of the Permian and the current centers of production activity and then started our survey of gathering systems with the new Cline Shale pipeline lateral expected online in June of this year that will deliver up to 75 Mb/d of crude to the Centurion and BridgeTex pipelines in Colorado City. In Episode 3 we covered pipeline additions and expansions planned by Plains All American who own and operate the Basin pipeline that runs from Jal, NM through the Permian and delivers up to 450 Mb/d from Colorado City, TX to Cushing, OK. Plains are in the process of building extensions and expansions to increase the flow of crude between Jal and Wink, TX as well as gathering systems delivering Permian crude to the origin of their Cactus pipeline at McCamey, TX. The Cactus pipeline, due to be completed in mid-2015 will deliver Permian crude south to the Eagle Ford basin with options to continue to Corpus Christi or head into Houston on the Plains/Enterprise joint venture Eagle Ford pipeline.
Today's episode describes new infrastructure being built to get production from the booming Wolfcamp Play in the Midland Basin to market. The production economics in this part of the Permian Basin are the focus of RBN's latest drill-down report for our Backstage Pass subscribers released on Monday – see the ad below for details.
N E W ! !   Stacked Deck:

Why Producers Like Their Odds in the Permian

We have just released our sixth Drill-Down report for Backstage Pass subscribers examining recent, surprisingly positive results in the Permian, along with an analysis of a representative well in one of the most prolific plays – the Wolfcamp in the Midland Basin. Subscribers get full access to all Drill-Down reports, blog archive access, and much more. More information on Stacked Deck in the Permian here.
Blueknight Energy Partners
Blueknight Energy Partners is a Master Limited Partnership (MLP – see Masters of the Midstream) jointly owned by Swiss trader Vitol (the world's largest independent oil trading company) and private equity company Charlesbank Capital Partners. Traders like Vitol used to strictly wheel and deal over the phone – buying and selling physical cargoes on the high seas. Nowadays they are increasingly getting their hands dirty in oil patch operations – witness Vitol rival Mercuria's recent purchase of JP Morgan's commodity assets. Here in the US Vitol's MLP vehicle Blueknight has acquired interests in and operates crude oil storage, gathering and pipeline systems in KS, OK, TX and NM including 6.6 MMBbl of storage in Cushing, OK and a million barrel storage terminal at Midland, TX (both owned by Vitol and operated by Blueknight). The company owns a 30 percent interest in and operates the recently completed 150 Mb/d Pecos River pipeline gathering system linking the Delaware Basin in Ward County to Crane, TX (see map in Figure #1). Advantage Pipeline LLC owns the other 70 percent of the pipeline.
The Pecos River system began service in September 2013 operating from Grandfalls, TX (Highway Station 18) to the origin of the Magellan Midstream Longhorn Pipeline in Crane that transports crude to Houston (orange line on the map). The pipeline also connects to the Cushing, OK bound Occidental Centurion Pipeline at Crane. A second phase expected to be operational by the end of 3Q 2014 will extend the pipeline an additional 29 miles to the west (Highway 285 Station) to capture volumes in Reeves, Culberson, Pecos and Ward counties. Blueknight is currently soliciting shipper interest in a 110 mile Pecos River Extension project that would extend the pipeline north through Pecos to Loving, NM (red dotted line on the map) connecting producers further north in the Delaware Basin with takeaway capacity to Houston or Cushing at the Crane hub. If sufficient shipper interest is shown, Blueknight and Advantage expect the Pecos River Extension to take 15-18 months to build.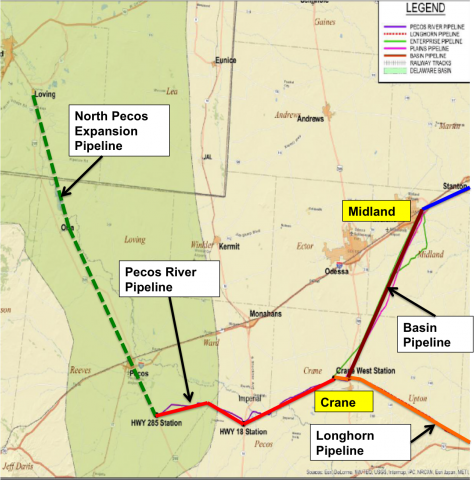 Figure #1
Source: Blueknight Presentation and RBN Energy
SunVit Pipelines LLC
Vitol has also formed a 50-50 joint venture with Sunoco Pipeline LP (part of Sunoco Logistics Partners – a subsidiary of Energy Transfer Partners) called SunVit Pipelines LLC to build a new 20 inch diameter (approximately 200 Mb/d) crude oil pipeline from Vitol's oil storage hub in Midland to Garden City, TX, about 40 miles east, where it will connect into Sunoco's 200 Mb/d Permian Express 2 pipeline to Nederland, TX expected online in mid-2015. The SunVit pipeline will also offer shippers connections to other Sunoco Logistics pipelines via Colorado City and Corsicana. SunVit's primary operating assets, including an anticipated 500,000 barrels of operating storage, will be constructed adjacent to Vitol's existing Midland crude oil terminal and will have receipt and delivery connectivity with Vitol's tanks. The SunVit pipeline will operate under a joint tariff as part of Permian Express 2 and is expected to commence operation in 2015.
Join Backstage Pass to Read Full Article