Despite the challenges they would likely face, as many as four companies are exploring the possibility of exporting liquefied natural gas (LNG) from the Canadian Maritimes [1] to Europe, Latin America and Asia. Their thinking is, with Marcellus natural gas production expected to continue increasing, with Sable Island and Deep Panuke gas just offshore, and Europe little more than a week's boat ride away, LNG exports from Nova Scotia and New Brunswick may well make economic sense. But LNG export terminals are among the most capital-intensive projects; also, piping Marcellus gas through New England—a region with serious wintertime gas-delivery constraints—to the Maritimes would require major pipeline upgrades. Today we look into the LNG project plans and the pipeline expansion needs in more detail.
As we said in Part 1, natural gas markets in the U.S. Northeast and the Canadian Maritimes have been turned on their heads the past few years. Gas from the Sable Offshore Energy Project (SOEP) and Deep Panuke (both located off the coast of Nova Scotia) were once seen as a godsend to increasingly gas-hungry New England, but production from SOEP is down by more than half from its peak to 200 MMcf/d, and by the time Deep Panuke production hit its mark of 300 MMcf/d in December 2013 (three years late), New England, was turning increasingly to gas from the Marcellus.
The Maritimes & Northeast Pipeline (MNP), built 15 years ago to move as much as 833 MMcf/d of Maritimes-sourced gas south to near Boston, has been operating at less than half that capacity for some time, in part because SOEP production has been on the decline. Now there is serious talk of reversing MNP. Spectra Energy, majority owner in MNP, in early February initiated an open season on the proposed Atlantic Bridge project, which would expand Spectra's Algonquin Gas Transmission and MNP systems, and move Marcellus and other U.S.-sourced gas north on MNP into Maine. Unitil Corp., Maine's largest gas provider, has agreed to be an anchor tenant on Atlantic Bridge, taking 100 MMcf/d. Depending on market response, Spectra could add 600 MMcf/d or more of northbound capacity, most of it by late 2017 and the rest in 2018. That would be a start in providing the through-New-England pipeline capacity that Maritimes LNG exporters would need, but a lot more pipeline capacity through New England would need to be built for their projects to become a reality.
Time will tell how many of the four possible LNG export projects are developed. In our first episode, we described the plan by Pieridae Energy (Canada) Ltd. to export up to 10 million metric tons per year (MMtpa)--or 1.5 Bcf/d gas equivalent--of LNG from a proposed terminal in Goldboro, Nova Scotia (see Figure #1) starting as soon as 2019. While Pieridae is getting its ducks in a row, H-Energy, Repsol Energy Canada (REC) and Anadarko Petroleum are considering LNG-related projects of their own in the Maritimes. H-Energy's project, like Pieridae's, would be a standard "greenfield" liquefaction-and-export facility project, while REC and Anardarko at least so far have been talking up the idea of using their facilities (REC's existing Canaport LNG import terminal in St. John, New Brunswick and Anardarko's partially built LNG import terminal in Melford, NS) as LNG "warehouses" a concept we explain below.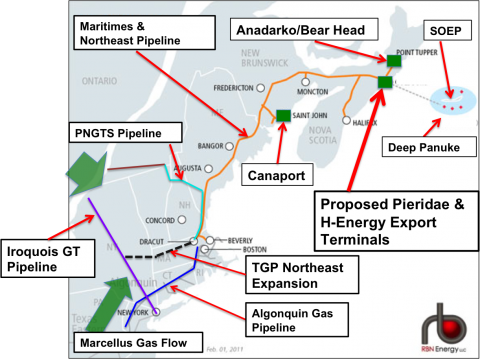 Figure #1
Source: RBN Energy (Click to Enlarge)
The liquefaction and LNG export terminal planned by H-Energy (a subsidiary of Indian conglomerate Hiranandani Group) in Melford (near the Pieridae/Goldboro site) would export 4.5 MMtpa (675 MMcf/d) of LNG starting as soon as 2020, and may be expanded to two or even three times that size later. The 4.5 MMtpa first phase alone would cost US $3 billion, a reminder of how heavy a capital lift these projects are. Like Pieridae, H-Energy is looking at sourcing its gas from the Marcellus and offshore Nova Scotia, and at shipping LNG to buyers in Europe, Latin America and Asia. A feasibility study is now underway. H-Energy said when it unveiled its plan in May 2013 that the Nova Scotia project would provide Indian LNG buyers "an opportunity to have a back-to-back arrangement as H-Energy is in the process of developing two LNG regasification terminals in India." A key question that Pieridae and H-Energy will need to address is, why does it make more sense to export Marcellus gas as LNG through the Maritimes than through, say, Dominion's planned LNG export facility in Chesapeake Bay, which is closer to the gas production source and less pipeline-constrained?
Join Backstage Pass to Read Full Article