There will be no RBN blog published on Monday, January 20th in honor of the Martin Luther King holiday.
Spectra Energy and NextEra Energy's planned Sabal Trail natural gas pipeline from near Transco Station 85 in southwestern Alabama to near Orlando in central Florida will do more than provide additional gas-delivery capacity to Florida and the welcomed redundancy of a third pipeline to the Sunshine State. The big news is that Williams' Atlantic Sunrise project by July 2017 will enable large volumes of Marcellus-sourced gas to be shipped south (backwards!) along the Transco pipeline all the way to Station 85. That (and Sabal Trail) will give Marcellus producers something unthinkable until now: access to major gas users as far south as Miami. Today we lay out the basics of what is being planned.
As we explained in "Mickey Mouse Gas Hub in Orlando? New Florida Interstate Pipelines Drive Demand," the 460-mile, 1.1 Bcf/d Sabal Trail pipeline planned by a joint venture of Spectra and NextEra will provide Florida with a third major gas pipeline, as well as additional gas-delivery capacity to the state's biggest gas user—NextEra's Florida Power & Light (FPL) subsidiary.  FPL needs that gas to meet fuel requirements for its expanding gas-fired generation fleet. FPL has committed to take 400 MMcf/d of Sabal Trail's capacity when the pipeline opens in May 2017, increasing to 600 MMcf/d in May 2020 and possibly to 800 MMcf/d a few years after that. The Florida Public Service Commission ruled in late October that FPL's commitment for Sabal Trail capacity is "prudent", and at least two other big electric utilities—Duke Energy Florida and Tampa Electric—are looking into making smaller commitments of their own. The $3 billion Sabal Trail pipeline will begin near Station 85 on Transco's mainline (in Choctaw County, AL) and end at a planned new gas hub in Osceola County, FL, near Orlando. From there, 400 MMcf/d of gas will move further south (to Martin County, FL) through the $550 million, 126-mile Florida Southeast Connection (FSC) that NextEra will build on its own (see Figure 1). FSC will be finished by May 2017 as well.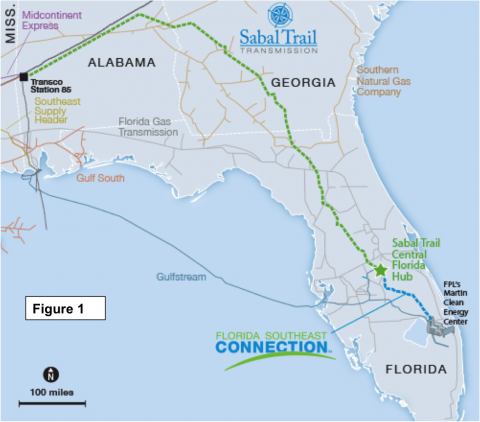 Source: Spectra Energy and NextEra Energy (Click to Enlarge)
The initial thinking about Sabal Trail was that, unlike the two existing pipelines to Florida (Panhandle Energy's Florida Gas Transmission and Spectra and Williams' Gulfstream), which receive most of their supplies from conventional Gulf Coast production, the new pipeline would likely be fed by shale production from the Midcontinent and Texas. Midcontinent and Texas supplies have been looking for a home in the Gulf as surging Marcellus production overtakes their traditional markets in the northeastern US. But Marcellus producers, eager to continue ramping up their operations, are looking for gas buyers well beyond the Northeast. Williams (the owner of Transco, the mainline that runs from Texas to New York City) is helping them in that effort by developing the Atlantic Sunrise project (and the related Hillabee Expansion—a Station 85-to-Sabal-Trail connector we'll get to in a bit) to help make Marcellus gas deliveries to the southeastern US possible. Atlantic Sunrise would include pipeline looping, compressor additions, and modifications to Transco's mainline to accommodate southerly flow. By July 2017 the project would provide Marcellus producers with somewhere between 450 Mdth/d up to more than 1 Mdth/d of firm, southbound transportation capacity on Transco as far south as Station 85 (see Figure 2).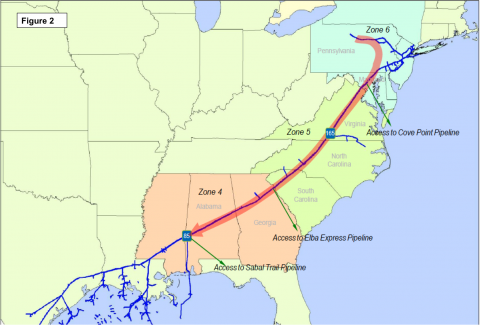 Source: Williams (Click to Enlarge)
Receipt points for Marcellus gas delivered under the Atlantic Sunrise project would be along a prime stretch of Marcellus activity: Transco's Leidy Line between the existing Grugan Interconnect in Clinton County, PA and Transco's Station 515 in Luzerne County, PA (see Figure 3). The gas would run east along the Leidy Line to Transco's mainline, which with the Atlantic Sunrise project's improvements would make the mainline bi-directional through Transco zones 4, 5 and 6. (Atlantic Sunrise would be a follow-up to the Leidy Southeast project, which by 2015 will enable increasing amounts of Marcellus gas to move southward by building about 30 miles of additional looping in Pennsylvania and New Jersey.) Williams has called the response to Atlantic Sunrise's open season (which ended September 27, 2013) "overwhelming" and said the open season indicated very strong levels of interest from both the gas supply and market sides. The project looks very much like a go.
Join Backstage Pass to Read Full Article